Five reasons why Kim agreed to meet Trump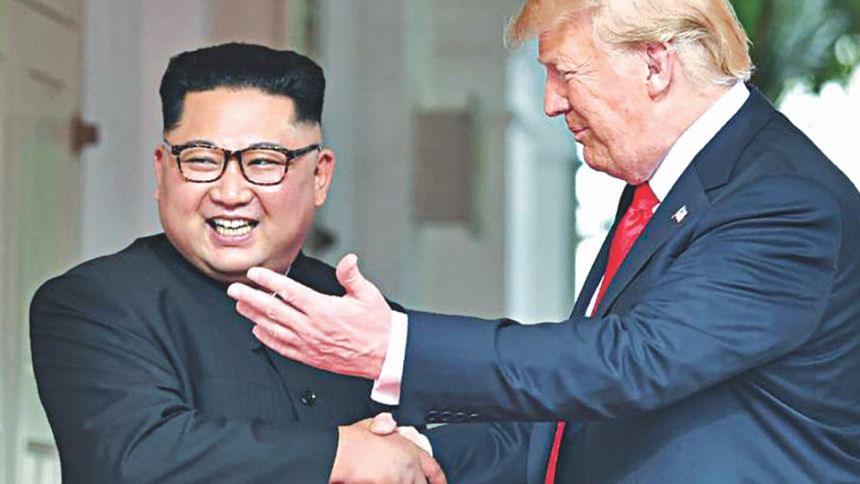 No sitting US president has ever met a North Korean leader before. The historic meeting on June 12 between US Donald Trump and North Korean Supreme leader Kim Jong Un ended with historic results. The meeting generated so much goodwill that the US President expressed his desire to visit North Korea and to invite the North Korean leader to Washington.
After initial exchanges lasting around 40-minutes, Kim was heard telling Trump through a translator "I think the entire world is watching this moment." As the two leaders met, Singapore navy vessels and air force Apache helicopters patrolled as fighter jets and Gulfstream 550 early warning aircraft circled.
The US President lavishly praised the North Korean leader as "very smart" and "a very worthy, very hard negotiator", as they met on the veranda of the Capella, a refurbished 19th century British regimental mess at Sentosa Island.
Both the leaders shook hands during their first meeting which, according to analysts, could fundamentally change the security landscape of Northeast Asia, just as former US President Nixon's visit to China in 1972 had led peaceful co-existence between the two countries.
Trump reportedly said that the joint military exercises with South Korea would be halted and the North Korean leader told him that he was destroying a major engine-testing site for missiles.
In Singapore, the US committed to provide security guarantees for North Korea while in return, Kim reportedly said that the world would see a major change as he reaffirmed his firm commitment to complete denuclearisation of the Korean peninsula. The US President reportedly said that the denuclearisation process was to start "very, very quickly". US Secretary of State Mike Pompeo would hold follow-up negotiations "at the earliest possible date" with the officials of North Korea.
Why did the North Korean leader change his posture? It could be argued that the North Korean leader agreed to a summit in Singapore with the US President Donald Trump for the following reasons.
First, the North Korean leader recognises that when cooperation with other countries has been a norm after the Second World War, it has to follow the same direction. Second, remaining isolated from this change does not bring any dividend for North Korea. Third, the desire of the North Korean leader to normalise relations with Japan and other countries in the region will be possible only if North Korea abandons the path of nuclearisation. Fourth, the North Korean leader wants respect from world leaders and he is aware that it can come only with the denuclearlisation of his country. Fifth, like any other world leader, in the interests of the country, he can abandon manufacturing of nuclear weapons.
North Korea has been perceived as a mysterious country ruled by a reclusive leader. The country is considered as a threat to South Korea and other neighbours after it possessed nuclear weapons (it reportedly possesses more than 50 nuclear weapons) and developed capacity to eject missiles to the neighbouring countries including Japan.
It is noted that this year's thaw in icy relations between the two Koreas began to melt when the North Korean leader invited South Korea for the joint attendance at the 2018 Winter Olympics and a summit meeting was arranged on April 27. On this occasion, the North Korean leader was the first, since the 1950-53 Korean War, to set foot in South Korea after shaking hands with his counterpart over a concrete curb marking the border.
When the two leaders met on April 27, they planted a commemorative tree at the truce village of Panmunjom inside the de-militarised zone separating the two Koreas. The pair shovelled soil on the roots of the tree and unveiled a stone marker featuring their names, official titles and a message that read: "Planting peace and prosperity."
On this occasion of the inter-Korean summit, the leader of North Korea is quoted to have said "I feel that [we] have fired a flare at the starting point...the moment of writing a new history vis-à-vis peace, prosperity and North-South relations. A new history begins now," the North Korean leader wrote in a guestbook.
Critics say that the summit did not require North Korea to destroy its nuclear weapons, although Trump was reported to dangle the prospect of investment in North Korea as a sweetener for doing so.
The Trump-Kim summit led Tokyo to arrange a summit between Prime Minister Shinzo Abe and North Korean leader Kim in September in Russia, after Kim expressed his readiness to meet with Abe during his meeting with US President Donald Trump, a government source said on June 14.
It has been reported that the two leaders could meet in Russia's Far Eastern city of Vladivostok on the side-lines of the Eastern Economic Forum, which Abe is expected to attend. Kim has also been invited by Russia to take part.
Incidentally, it has been noted that many countries which were divided such as Germany, Vietnam and Yemen became a united country. It is hoped that both Koreas with a population of 80 million would in future be a united country.
It may be noted that North Korea first conducted its nuclear and missile tests in 2006 and continued its nuclear and missile tests in 2016 and 2017. The rapprochement began in January, 2018 when North Korean leader suggested he was "open to dialogue" with South Korea. The following month the two countries marched under one flag at the opening ceremony of the Winter Olympics. It is noted that after the Second World War, many countries were divided on the basis of ideology: non-communist and communist, such as Germany, Vietnam, Yemen, South Korea and North Korea. When USSR (United States of Soviet Republics) became a non-communist Russian Federation, the divided-countries were inspired and gradually became one. Peace between the two Koreas will eliminate an important cause of destabilisation to global peace. We should also hope that the two Koreas will turn back into one country for peace and prosperity for the 80 million living there.
---
Barrister Harun ur Rashid is a former Bangladesh ambassador to the UN, Geneva.
---
Follow

The Daily Star Opinion

on Facebook for the latest opinions, commentaries and analyses by experts and professionals.
To contribute your article or letter to The Daily Star Opinion, see our

guidelines for submission

.
---