2019 SUMMER DAVOS FORUM
An open world economy in a new era of globalisation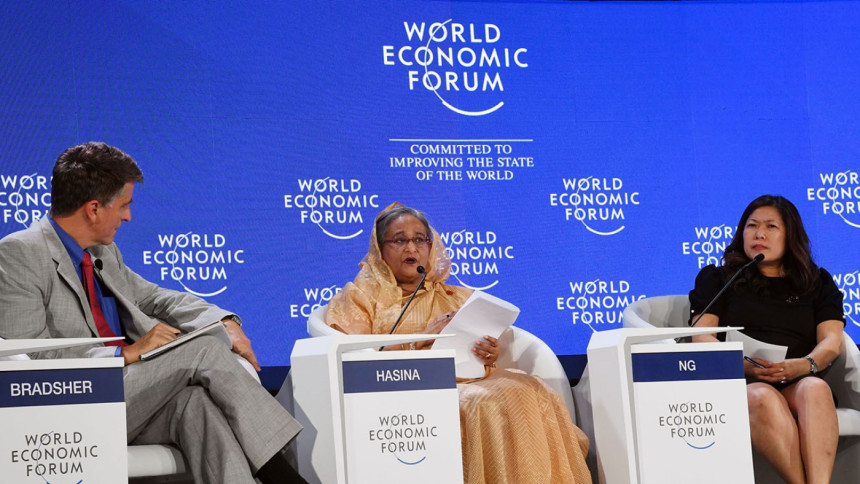 The 2019 Summer Davos Forum, also known as the "World Economic Forum's 13th Annual Meeting of the New Champions," was held during July 1-3, 2019 in the coastal city of Dalian in northeast China's Liaoning province. The theme this year was "Leadership 4.0: Succeeding in a New Era of Globalisation," and more than 1,900 delegates, including leaders of states and governments, businesspeople, scholars, civil society members, academicians, and media representatives across the globe, attended WEF's 13th annual meeting.
Established in 2007, the WEF Summer Davos is held alternately on an annual basis in China's two port cities, Dalian and Tianjin. The forum has gradually become a significant platform for attracting investment and supporting market confidence across the globe.
The theme of 2019 Summer Davos Forum underscores economic globalisation and innovation-driven development as the latest round of industrial revolution. The focus of the 13th Annual Meeting of the New Champions remains timely and meaningful in the context of the new era of globalisation. It accentuates a technology-oriented, sustainable, cooperative, and inclusive global system with enhanced global leadership and governance against the imbalanced and disruptive pattern of global economy.
Following significant changes of the global economy and the geopolitical landscape, including technological advancements and environmental challenges, the world has entered a new era of globalisaton. Openness, sustainability, and inclusiveness are considered to be the momentous features for a new model of global development and for a world of profound economic interdependence. In contrast, isolationism, unilateralism, and protectionism have emerged to be key issues of concern.
Chinese Premier Li Keqiang delivered his speech at the World Economic Forum on July 2, 2019, where he reiterated further opening China's domestic markets and manufacturing sector by making it transparent and predictable for foreign investment and also improving China's business environment. More facilities and bigger scope have therefore been pledged by China to both foreign investors and global manufacturers to boost their business ties with China along with the rest of the world.
A significant decision on ending limits for foreign investors in China's financial sector within 2020 has been made at the Summer Davos Forum as part of its all-round opening-up policy and the vision of building an open economy of higher standards. In this regard, China announced shortening the negative investment list to foreign investors. Premier Li reaffirmed China's goal of abolishing the limits on foreign ownership in securities, futures, and life insurance and opening up foreign ownership of financial firms in 2020.
Premier Li also promised to reduce the existing restrictions for foreign investment in transportation, value-added telecommunication services, and internet industries. In order to advance the opening up of the manufacturing sector, China reiterated its commitment to ease foreign equity restrictions in the auto industry, among others. Foreign investment has been encouraged in high-quality and advanced manufacturing, such as electronics and information technology, equipment manufacturing, pharmaceuticals, and new materials. Foreign investment in such sectors will be eligible for preferential treatment in terms of import of self-use equipment, corporate income tax and land use.
However, following the emergence of US-China trade tensions and the risk of the global economy being slowed down, many multinational companies are paying attention to the relocation of production facilities outside of China to escape the fallout from the trade war between the two nations. It is important to mention that many foreign companies have shifted their production from China to Taiwan, Vietnam, Cambodia, Thailand and other parts of Southeast Asia amid rising tensions between the US and China, mainly to avoid tariffs imposed by the US administration on Chinese exports to the US.
Given this backdrop, Premier Li stressed on openness, inclusiveness, common ground, spirit of partnership, and equal consultations while dealing with the risk of global growth. Li also equally prioritised protecting intellectual property rights and creating a "transparent and predictable" regulatory environment for a sustainable global economy. China has also promised to lower tariffs, remove non-tariff barriers, boost the imports of goods and services, and enhance import facilitation.
The 2019 Summer Davos Forum is also significant from the perspective of Bangladesh. Prime Minister Sheikh Hasina attended the inaugural ceremony of the WEF Summer Davos at the invitation of Chinese Premier Li Keqiang. At a panel discussion on "Cooperation in the Pacific Rim" during the WEF annual meeting, Sheikh Hasina proposed five points: creation of an environment of peace, harmony, and stability of all countries; focusing on all aspects of sustainable development; engaging countries based on mutual trust and respect for mutual benefit; focusing on inclusive development, i.e. wealth creation for all; and, finally, a need for fair competition that is free from rivalries by all the involved countries to successfully implement any Indo-Pacific initiative across the region. At the meeting, the Bangladesh PM particularly raised issues involving smaller communities and weaker economies that are crucial for ensuring a sustainable global economy.
Sheikh Hasina also highlighted Bangladesh's peaceful resolution of disputed issues with its neighbours, e.g. the Ganges Treaty with India and maritime demarcation with both India and Myanmar. She also reiterated the significance of Bangladesh-China bilateral relations based on mutual respect and benefits, emphasising that China's involvement with several of Bangladesh's mega projects and contribution to economic advancements have enhanced close ties between the nations.
From the global perspective, the 2019 Summer Davos Forum encouraged a breed of globalisation that is more open, inclusive and economically balanced—so that it is beneficial for all—by countering the risks facing the world economy, such as lack of inclusiveness, protectionism, competitive devaluation, uneven benefit distribution, inequality in opportunity, inequalities between and within countries, shocks to traditional industries and employment, and sluggish global growth. The inclusive discussion forum also urged for jointly building an open world economy and steering globalisation in the direction of win-win cooperation.
---
Sultana Yesmin is a PhD Candidate, School of Politics and International Studies, Central China Normal University (CCNU), Wuhan, Hubei, China.
---
Follow The Daily Star Opinion on Facebook for the latest opinions, commentaries and analyses by experts and professionals.
To contribute your article or letter to The Daily Star Opinion, see our guidelines for submission.
---