Digital finance needs more attention to drive growth in 2020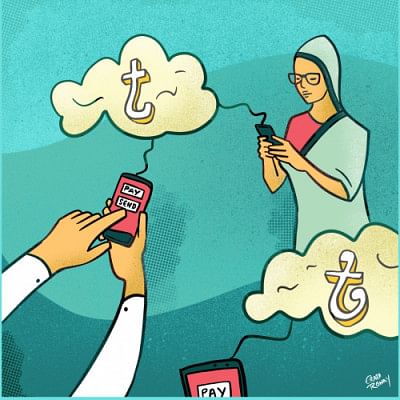 The global economy is poised for a modest rebound in 2020, as predicted by the International Monetary Fund (IMF), but economists are divided over Bangladesh's economic growth forecasts for the fiscal year 2019-2020, which the government has set at 8.2 percent, while the World Bank has predicted a more moderate 7.2 percent. However, all have agreed on one point—the year 2020 will be a tough year for Bangladesh since macroeconomic stability is weaker and some key economic indicators are under mounting pressure, which may lead to a structural slowdown, as observed by economists at the Centre for Policy Dialogue.
The big concern for the Bangladesh economy is that private investment has been hovering at around 23 percent of GDP and the private sector, the main driver of the growth, is increasingly being affected by an erratic credit flow, which has dropped to below 10 percent. The situation will be tough in the days ahead as the government is going to put a cap on interest rates, which will ultimately hit economic growth, with major negative impacts on low income people that will eventually discourage financial inclusion. While lower lending rates may be intended to address industrial growth and increase pressure to give loans to small and medium-sized enterprises (SME) and people with low incomes, an IMF study on interest rate caps in Kenya shows that it may also have the unintended consequence of reducing credit to the private sector and damaging economic growth.
The state of affairs has been aggravated by higher government borrowing from the banking system and from the public through savings, which will push up inflation when the economy is affected by rising compliance issues, stiff competition from many emerging economies, mounting tension in the Middle East, and the consequences of Brexit. Many exporters are already concerned about the US-China trade war and the Brexit climax, as most global buyers have already shifted their eyes towards other emerging economies like Vietnam and Thailand.
Bangladesh is moving ahead with the target to become a middle-income country by 2040. Therefore, it needs to provide an equitable life to every citizen by raising standards of living, reducing poverty, building infrastructure and exploring investment possibilities. It needs to create more jobs for millions of young people—the largest segment of the population. Around 60,000 students graduate each year and roughly 20 percent of them need jobs, especially when the plummeting growth of the ready-made garments (RMG) sector is signaling major job loss for blue collar workers. Expanding the private sector, especially SME and startups, can be one of the most effective solutions for keeping the economy thriving.
So the big question is: how can the Bangladesh economy keep up its pace of growth in 2020?
Many economists believe that Bangladesh can move forward with the digital economy to meet its growth targets, and it should focus more on digital finance to manage its rising growth rate. The reason for this is the changing business environment. The Fourth Industrial Revolution is rapidly creating transformations across every sector. By 2022, over 60 percent of global GDP will be digitized, and an estimated 70 percent of new value created in the economy over the next decade will be based on digitally enabled platforms. Industry structures and business models are being disrupted by innovations in new products and services, changing cost structures, lowering barriers to entry and shifting value pools.
In 2020, new technologies, especially Artificial Intelligence (AI), will inevitably lead to a major shift in the labour market, including the disappearance of jobs in some sectors and the creation of opportunities in others, on a massive scale. Digitalisation will also transform people's jobs in the near future when trade flows will continue to recover and deepen. Keeping in mind the current vision of "Digital Bangladesh", Bangladesh should expand its digital finance landscape, as industry and client expectations of trade finance are evolving, both in relation to traditional trade finance and newly emerging solutions in supply chain finance.
To foster the digital economy of Bangladesh, digital finance—including mobile money, debit and credit cards, and e-commerce platforms— is the ultimate option to keep up the pace of growth in 2020 and beyond. The reason is obvious. Digital finance can spur growth with its multidimensional impacts. For example, digital payment innovation helps reduce cost and time, and increases transparency and trade flows. Above all, it creates a virtual economic cycle to enhance outputs and bring greater economic prosperity through a digital payment ecosystem. This is backed by the recent economic development of Bangladesh, which witnessed sustained economic growth over the years, fueled by digital payments and related innovations, according to studies.
Economists like Douglas R. Emery, Professor of Finance at the University of Miami, have shown that digital payments, particularly mobile money, creates a ripple effect that drives broader economic growth and provides an economic stimulus to communities. After analysing macroeconomic data for 70 countries and regions between 2011 and 2015, Moody's Analytics, a global financial research body, found that digital payments contributed an astounding USD 296 billion to GDP during the period studied. As a result, around 2.6 million jobs were created from 2011 to 2015, and each 1 percent increase in usage of digital payments produced, on average, an annual increase of around USD 104 billion in the consumption of goods and services across the 70 regions and countries studied. The most interesting fact is that this growth was seen in both developed and developing nations.
The most successful area of Bangladesh's digital financial inclusion landscape is mobile financial services (MFS), which allows anyone to make financial transactions from anywhere and at any time, at low costs. This low cost leaves them with more disposable income and a more secure way to store cash, including those working in the informal economy, since it allows poor and unbanked people to make financial transactions and money transfers from the comfort of their homes. It supports the economy by allowing migrants to send remittances to their relatives quickly and cheaply, and allows small merchants, particularly SME entrepreneurs, to buy and sell products without any risks. According to a World Bank report from 2014, Bkash, the largest MFS operator in the country, has had a huge impact on financial inclusion, with around 23 million relying on the service, thus creating positive impacts on reducing poverty, particularly in households that are led by women.
SMEs are the cornerstone of the economy, while exports and remittances are the two main drivers of growth. Millions of young consumers are now using MFS to buy food in restaurants, groceries in stores and clothing items in shopping malls. In the days ahead, Bangladesh has a bright prospect in pushing up its economic growth through this payment tool, especially since the global digital payment market is expanding greatly and is expected to reach USD 8686.68 billion by 2025, recording a compound annual growth rate of 13.7 percent.
Another possible area of improvement for the Bangladesh economy is e-commerce, which is also growing rapidly thanks to mobile payments, especially since more than 30 percent of banks now have an "Online Payment Gateway Service" for e-commerce payment processing. The e-commerce market of Bangladesh now stands at USD 1.6 billion and is estimated to reach USD 3 billion by 2023, with a helping hand from "state of the art" payment services offered by MFS operators like bKash, Rocket, Upay and iPay under a conducive yet stringent regulatory environment.
Faruk Ahmed is a senior financial journalist and Chairman of Bangladesh Journalists' Foundation For Consumers & Investors (BJFCI). He can be reached at [email protected].