The silent killer lurking in the air
Air pollution in Dhaka has reached an alarming level. We must act now.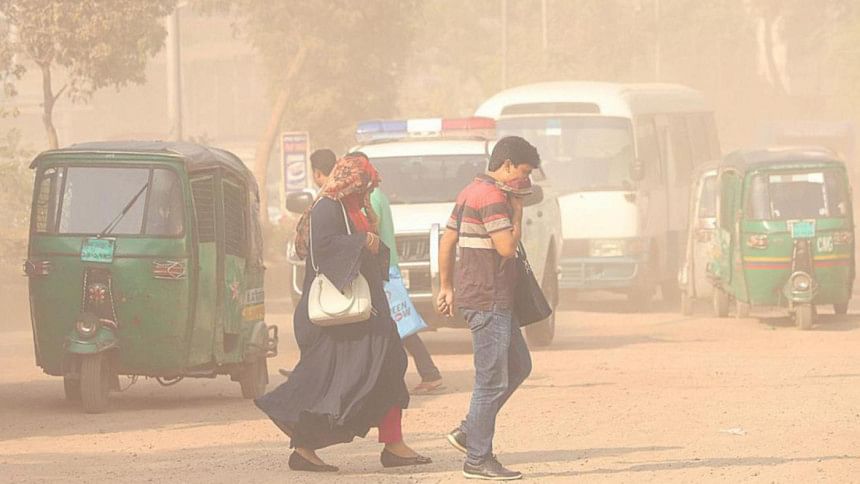 Surprising as it may seem to some, non-smokers in Bangladesh can die of lung cancer, and we are not talking about passive smoking here. Dr Chandra Prakash Dokwal, a senior consultant for respiratory medicine at the Apollo Hospitals Dhaka, says he has found younger non-smoking patients suffering from lung cancer due to exposure to air pollutants in the city. He also mentions that during the dry, winter season (November-March), the air particle concentration increases along with fog, and the particulate matter (PM) remains suspended in the air for a longer time, which precipitates health hazards among people with respiratory diseases.  
Over the years, respiratory diseases have increased in Dhaka as it emerged as one of the most polluted cities in the world, in terms of the annual average PM 2.5 concentration. The so-called fine particulate matter or PM 2.5, is an air pollutant that risks people's health when average levels in air are higher than 35 micrograms per cubic metre for 24 hours. According to IQAir AirVisual, Dhaka scored 192 as of yesterday, ranking as the second most air-polluted major city in the world, after China.
However, countries like China have made significant strides in the fight against air pollution showing remarkable recovery. The average levels of PM 2.5 concentrations in China had dropped by 9 percent in 2018 compared to 2017. Latest data from the Chinese Ministry of Ecology and Environment shows that some 120 Chinese cities met national air quality standards in the first five months of 2019.
With an enormous investment of time, resources and political will, China has brought evident changes. The reduction came from the Chinese government taking strong measures to control coal-fired boilers, provide cleaner domestic fuels, and industrial restructuring. China is providing us with a roadmap to fight air pollution. So, why are we still lagging behind other developing countries in terms of taking appropriate measures to tackle this life-threatening condition?
One of the major reasons for Dhaka to dominate the list of most polluted cities in the world is the rise in commercial and construction activities in recent years. The two major sources of air pollutants in the city come from industrial and vehicular emissions. The vicinity of Dhaka has around 2,295 brick kilns (according to the latest Department of Environment report) which emit fine particles in the air, accounting for a staggering 58 percent of the overall air pollution in the capital.
Also sharing the blame for air pollution, the ongoing metro rail construction project has led to traffic congestions in most of the significant parts of the city, exposing everyday commuters and pedestrians to not only fume emissions from old, unfit vehicles, but also dust particles generated through the frictions of heavy trucks and cars with the roads, along with dust particles generated at the construction sites. The latest study by the Norwegian Institute for Air Research (NILU) under the Clean Air and Sustainable Environment project attributed about 10.4 percent of fine particles in Dhaka to vehicular emissions and 7.7 percent to road dust.
Apart from that, smoking, burning of fossil fuels from air conditioners, coal-fired power plants and outdoor burning—burning of municipal and agricultural waste—emit nitrogen oxides rendering the air quality of the metropolis "unhealthy".
This silent yet deadly killer—air pollution—has been disrupting our life for long. According to the WHO, five out of ten deaths in Bangladesh are caused by air pollution. We often overlook the short-term discomforts like eye irritation, headache, dizziness, sneezing and coughing from breathing in toxic air and end up facing long-term consequences. Fine particles in polluted air can enter deep into our lungs and cardiovascular system, causing diseases such as stroke, chronic obstructive pulmonary diseases (COPD), asthma, bronchiolitis, respiratory tract infections, and so on. According to the National Institute of Diseases of the Chest and Hospital (NIDCH), nearly seven million people in Bangladesh suffer from asthma, over half of them children.
For a sustainable solution against the scourge of air pollution, we need to start by targeting the key polluters (brick kilns and vehicles) and take effective measures to reduce the gaseous emissions from the sources. The government should develop a database software for the brick kilns, which will contain information like registrations, type of technology being used, chimney height, address and owner details. The database will not only help monitor the stack emissions (gases that come out of the chimney during the burning process) and ambient air quality, but will also aid in decluttering the number of brick kilns built in one particular area. Also, regular inspection and enforcement programmes should be conducted to ensure that the kilns are using modern and environment-friendly technology in compliance with the Brick Production and Brick Kiln Building (Control) Act of 2013 (amended in 2018). 
Besides, collaborative efforts by the two Dhaka city corporations, Bangladesh Road Transport Authority (BRTA), Dhaka Transport Coordination Board (DTCB), the Dhaka Metropolitan Police (DMP), and bus owners and operators will help minimise the vehicular emissions and dust. Beginning with a comprehensive vehicle emission inventory in Dhaka, BRTA should start working on dumping old buses and trucks. Also, the DMP must play an active role in conducting routine inspections on roads and vehicles, and if any vehicle owner fails to show fitness registration papers, they should be penalised as per traffic rules.
Upon High Court orders, the two DCCs had initiated projects to spray water on primary roads to reduce dust pollution, but the plan did not bring much relief. While the trucks sprayed water at a slow pace on their designated routes, irregular traffic flow following the trucks aggravated the citizens' dilemma. Traffic congestion can be minimised by developing better infrastructure and alternative routes to commute.
In order to reduce air pollution, better public transport management along with better traffic and parking management are required, among other measures. The government must install more foot overbridges, pedestrian paths and traffic signals to better maintain the traffic flow. The people must sincerely use foot overbridges to reduce traffic congestion. Traffic signals should also be strictly adhered to by the drivers of various vehicles. 
We also need the public to develop a stronger sense of environmental responsibility. The Department of Environment (DOE) should focus on conducting mass awareness campaigns to highlight the impacts of local and global emissions from the transport and industry sectors. Third parties like environmental organisations can promote better understanding of air quality knowledge, a sense of environmental responsibility, and encourage participation of the young people in environmental actions like tree-plantating, workshops on smoking hazards, etc.
With the help of the government, the NIDCH can conduct widespread health awareness campaigns to help citizens understand the health symptoms and take preventive measures which may include giving away air-filtering masks to pedestrians at areas which are particularly prone to air pollution, build free health check-up camps outside schools and offices, etc. Further, smoking should not be allowed everywhere, and with a few designated areas for smoking, the number of passive smokers will also decrease.
However, it is the government that has to play the leading role in improving the air quality of Dhaka by enforcing strong policies on the environmental issues. Citizens must also come forward and help the government, abiding by the laws and restraining themselves from augmenting fine particles in the air through smoking, driving unfit vehicles, and burning fossil fuels.
Joana Nomrata Mazumder works at The Daily Star.