World Teachers' Day: Time to rethink teaching to salvage our education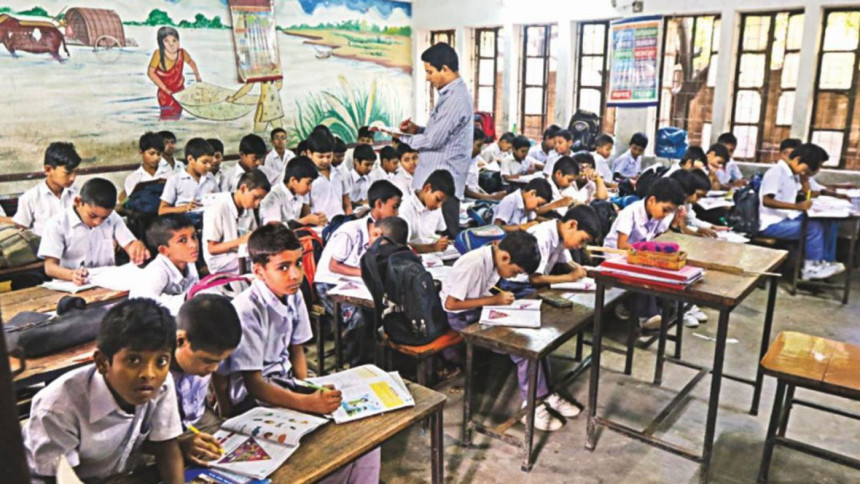 Does Bangladesh education need salvaging? The official narrative is equivocal. Most young children are in primary school. The system has expanded to comprise 40 million students, over 200,000 institutions, and over a million teachers. Girls and boys are equally enrolled in schools, a feat not achieved by many developing countries. We do need to work more on improving quality. So why is the despair?
Is it a matter of describing the glass as half full or half empty? This rhetorical question does not capture reality. Is it acceptable that more than three quarters of the children—after five years of primary schooling—cannot read, write or use rules of counting at a basic level (according to the National Student Assessment survey)? But 97 percent of the students pass the primary education completion public examination, which raises questions about what is taught in school and what is measured by the examination.
Is it acceptable that graduates of tertiary education have to wait up to three years to land a job? Close to thirty percent of young people of age 15 to 24 years are not in employment, education or training—a tell-tale category called NEET.
On September 24, 1972, inaugurating the Education Commission headed by Dr Qudrat-e-Khuda at Ganabhaban, Bangabandhu had asked the Commission to expedite its work keeping in mind the requirements of the present as well as the future generations, and to cater to the vocational and agricultural needs of the country and eradicate illiteracy. Forty-eight years later, the same challenges are being discussed.
Most people, besides the quarter of the total population who are students, have views about education as parents, guardians, teachers, academics, and as concerned citizens, most having gone through a school experience themselves. There is no dearth of advice about what may be done. In the complex, large and many-faceted phenomenon called the education system, it is difficult to see the large picture and tempting to either point at diverse partial solutions or come up with a long laundry list of activities.
A favourite solution is curriculum reform—contradictorily proposing addition of new content about various social problems, or reduction of burden and simplifying it, and so on. Student assessment and examinations are another hot topic. Physical facilities—safe building, classrooms, toilet for girls—are a common concern. Decentralisation of education management is recommended to change the present highly top-down structure. IT-based learning and online instruction as a silver bullet has come to the fore lately.
All of these are important and must play their role. But, each by itself cannot make enough difference in students' learning outcome. How they come together, what is the gel that binds them and makes an impact on measurable change in children's learning, the ultimate criterion, remain the problem.
No education system can be better than its teachers. This is a truism that happens to be true despite all that is said and done about technology-based learning. Are teachers the thread that ties various reform and change initiatives to bring about the transformation in education?
To draw attention to the teacher's paramount role in education, Unesco observes October 5 as the World Teachers' Day each year. The theme of the celebration this year is "Teachers: Leading in crisis, reimagining the future"—an opportune theme as the coronavirus pandemic upends all education activities and plans.
Nadiem Anwar Karmali was appointed the Minister of Education and Culture last October when Joko Widodo won a second term as President of Indonesia. Karmali, a graduate of Brown and Harvard Universities, at age 35 was a super-successful entrepreneur who had launched in 2010 the app-based transportation, delivery and payment service Gojek and built it up into a USD 10 billion business. The new minister faces the most formidable entrepreneurial challenge of transforming Indonesia's education. It has the fourth largest population in the world (compared to Bangladesh's 8th largest), 60 million students and 3 million teachers.
In his first Indonesian Teachers' Day message last year, Karmali gave a short speech, "speaking from heart," which went viral. He said, "Changes cannot be started from above. Everything starts and ends with the teacher." He pleaded, "Don't wait for cue, don't wait for orders. Take the first step. Tomorrow, wherever you are, make small changes in your class."
The small changes that Karmali urged teachers to begin making were to invite students to join in discussion in class, not just listen; give students the chance to take part in teaching their peers; start a social service project in which the whole class can join; find a talent in students who lack confidence; and offer help to fellow teachers who are experiencing difficulties.
In his first few months, Karmali announced the abolition of the old textbook-based public examinations for grades 4, 8 and 11 and introduction of assessment of minimum competency in language and math and moral development, with more emphasis on school-based evaluation. Karmali believes that the biggest risk is staying in place, sticking to the status quo, when the system is not working for many.
Karmali enjoys an advantage over his Bangladesh counterpart because Indonesia has been spending on education 20 percent of its national budget (of USD 193 billion in 2020), compared to under 12 percent in Bangladesh (out of a national budget of USD 67 billion in 2020). Indonesia also took steps to decentralise education management involving local government and communities. Taking individual schools as the unit of change, Karmali aims to transform 10,000 schools in the remaining four years of his tenure, so that these become the model and catalyst for change in the whole system. He admits that the results will be truly visible in ten years, but nothing will happen unless a beginning is made.
A comparative disadvantage of Bangladesh along with countries in South Asia—unlike other regions of the world—is that it does not have a well-established, pre-service teacher education programme. Yet school teaching is the single largest field of employment for college graduates. The common practice is to first recruit college graduates as primary or secondary teachers and then let them go for one-year to 18-month pedagogy training. Bangladesh also needs to double its teaching force to reach Indonesia's student-teacher ratio.
School teaching is not the first choice as a career for higher education graduates, especially the talented ones. It, therefore, ends up attracting the "bottom of the barrel" of the graduates. The basic talent gap cannot be remedied by in-service teacher training. The need to think afresh about attracting and keeping talented people in the teaching profession is a major challenge for improving education system performance.
A teacher's professional preparation model following what is known as the "concurrent" approach of combining subject content and pedagogyin the four-year degree programme, followed in most better performing education systems, is likely to be a way out of the problem. This approach would replace the present sequential model. Along with measures to improve career path, incentives and social status of teachers, the approach is likely to break the vicious cycle of poor teacher quality and poor student learning 
Prime Minister Sheikh Hasina spoke about turning each secondary school in the country into a "digital academy" as a step towards preparing the youth with skills and knowledge for the Fourth Industrial Revolution (Speech at High-level event "Digital Cooperation: Action Today for Future Generations," United Nations Headquarters, on the sidelines of the 75th session of the UN General Assembly, September 22, 2020). Teachers have to be prepared to become the mediators to help students navigate the new learning pathways.
New thinking about the education workforce can be implemented only by adopting a longer term approach and preparing the ground, rolling out the plan gradually, taking into confidence the education stakeholders, including teachers and parents, and applying a transition arrangement so that there is no disruption in the on-going school system. As the new graduates emerge from the programme, they would be integrated into the system. Over a period of 10 to 15 years, a change in the system will become evident. The present arrangement and current lateral entry into teaching will continue simultaneously during the transition, perhaps inspiring the current teachers to aspire higher and perform better. 
The new approach to the school education workforce is proposed in the Education Sector Plan for 2021-25 that the government is in the process of submitting to the Global Partnership for Education (GPE). Preparation of the Education Sector Plan is a requirement for seeking international financial support from GPE. The 8th Five Year Plan for Bangladesh coinciding with this time period is also under preparation. The Education Sector Plan and the 8th Plan are an opportunity to reimagine teachers and teaching to make a beginning towards transformative change in the educations system. 
Dr Manzoor Ahmed is professor emeritus at Brac University. The views expressed here are his own.