Will there be relief from waterlogging?
City authorities must bolster efforts to prevent it this monsoon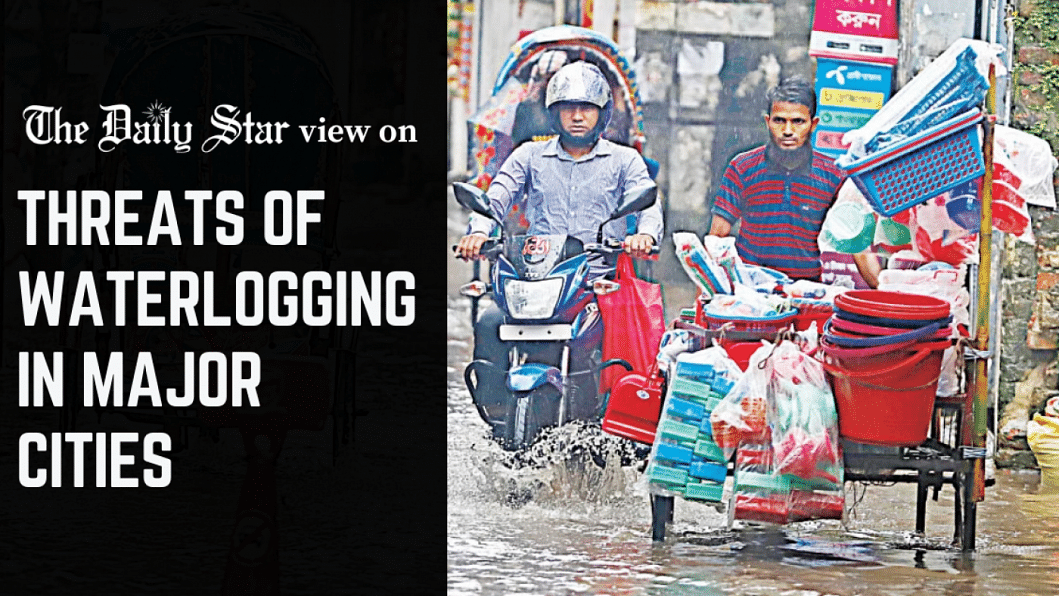 With the monsoon season approaching fast, there are growing concerns about waterlogging which seems certain to haunt residents and commuters in major cities, like in the past years. Already, intermittent rain has exposed cracks in the fragile defences put up by city corporations and other relevant authorities. On Wednesday, Chattogram, where waterlogging has long been a major issue, saw heavy rainfall causing waterlogging in various low-lying areas. People had trouble move freely as traffic was slow on many roads, because excess water could not be channelled away. Over the last week or so, we have had similar reports from Dhaka, Khulna, Sylhet, Cumilla and other cities on waterlogging thanks to clogged drains, blocked canals, and streets full of potholes.
The sufferings caused in the process are not unknown. First, there is the public health issue as stagnant water becomes a breeding ground for mosquitoes, leading to risks of diseases such as dengue, which last year saw the highest death toll on record. Moreover, waterlogged areas may cause accidents and hinder mobility, making it difficult for people to commute, access healthcare, etc. The question is, why does the problem persist to this day despite the many crores spent in upgrading infrastructure, clearing blockages in canals, and building drainage systems to dispose excess water?
In Dhaka, both city corporations have various projects in place, and the authorities are confident that streets will not be submerged after light rain. But in recent days, intermittent rain was invariably followed by waterlogging in many areas, suggesting that there will not be expected relief when the monsoon brings more frequent and heavy precipitation. At the DNCC, 103 places were apparently identified where sustained waterlogging is anticipated. At the DSCC, delayed dredging of four major canals, which remain clogged with garbage, is expected to exacerbate people's suffering come monsoon. In Chattogram, ward councillors at a city corporation meeting on Wednesday blasted the Chittagong Development Authority (CDA) and Wasa for lack of action and coordination on this issue.
Clearly, the authorities have a lot to do to address the impending waterlogging menace but little time to do it. This is totally unacceptable. Already, dengue is threatening to come back with greater force than last year. We urge the government to take the situation seriously, and direct all departments and agencies to bolster their efforts to prevent waterlogging and associated problems.