Will our footpaths finally be free?
Improving Dhaka's walkability will be a long journey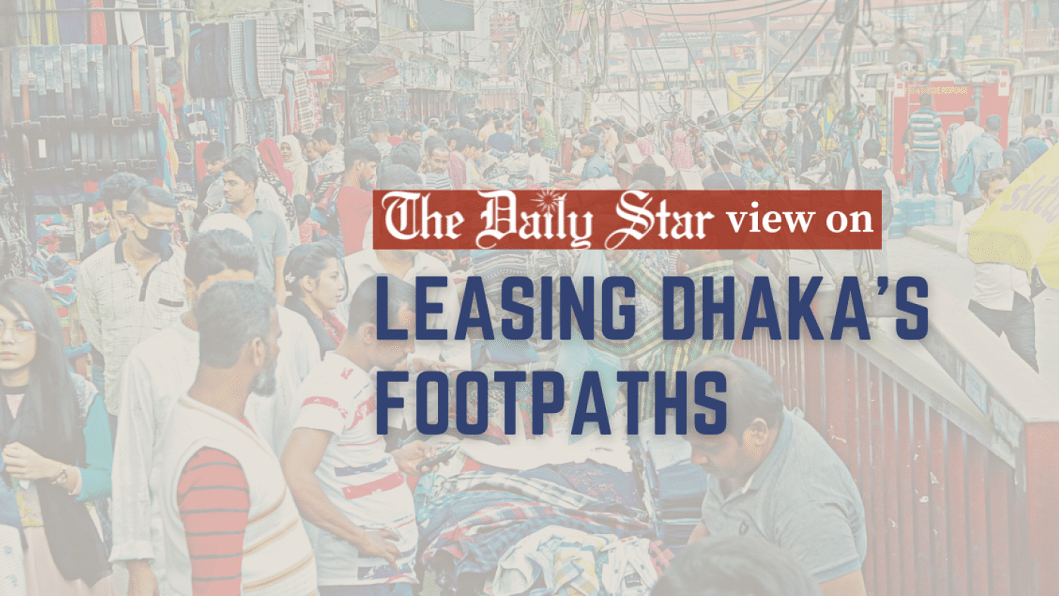 An obvious symptom which tells us that our cities, especially the capital, have been unsustainably urbanised is our footpaths – and often the lack thereof. As such, we welcome the High Court's directive towards relevant government authorities to stop "leasing" footpaths in Dhaka within seven days and to take legal action against offenders, as reported by this daily on Monday. The HC ordered the government to constitute a five-member high-powered committee to identify those leasing out footpaths and submit a list of their names to the court in 60 days. We also appreciate the HC's issuing of a rule asking the officials concerned to explain in four weeks why their inaction to stop "selling and leasing" footpaths should not be declared illegal.
Footpaths being occupied by vendors and other structures has been a longstanding issue in the capital, with corrupt groups (often politically influential locals) making a business out of renting out these public spaces. To be able to identify the culprits and bring them to book will set a much-needed example of accountability for all city authorities. Certainly, the small businesses which thrive thanks to these footpaths also need to be integrated into our city through conscious planning (as many citizens rely on them for their necessary purchases, too), but taking up walkways is not the way to go. 
However, it is not only informal businesses that our footpaths need to be freed of in order for pedestrians to actually be able to use them. Just a week ago, we wrote in this column about how the roads and walkways of our major cities are littered with open manholes and drains. Some of these have been marked with bamboo fences, while others remain open for weeks, while citizens often sustain injuries slipping a limb or few into these traps. And this is not due to the greed of any anonymous influentials. It is the respective city corporations of each area and their ward councillors who fail to ensure that manholes and drains in the middle of our streets and footpaths are properly covered. 
We hope that the HC stepping in and demanding accountability from city authorities will jolt the latter into action and fix every issue ailing our footpaths, which makes them nearly unusable for citizens in many areas. Urbanism experts have long told us how, in addition to other areas of our cities being improved, authorities must focus on making footpaths more walkable. And as much as we appreciate the development of better roads and more flyovers to make the generally terrible commute within Dhaka city easier for citizens, all this means nothing if our capital is also not walkable. 
In a city that is becoming increasingly expensive, and where the average vehicle speed is less than 7 km/h, walking remains the most feasible option for many people. And as public servants, the least our city fathers can do is ensure that walkways are not illegally occupied by powerful influentials or do not have gaping holes in them that pedestrians could easily fall into.