Why the fall in remittances?
Take concrete steps to address loopholes in the system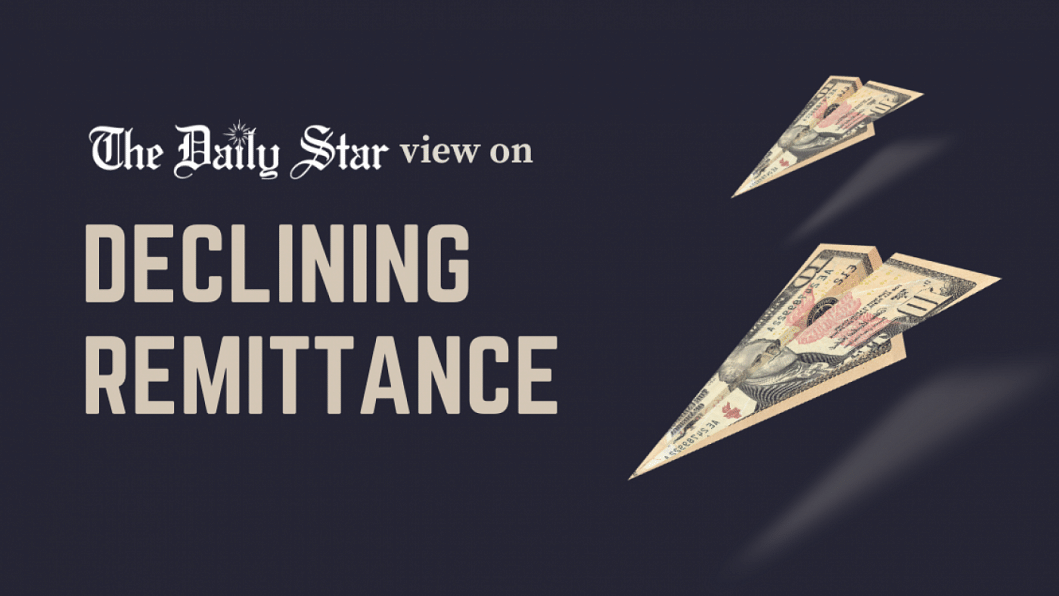 For a country that depends on the earnings of migrant workers for its economic stability, it is certainly a worrying trend when remittance keeps on declining year after year. What is particularly perplexing is that this is happening despite an increasing number of Bangladeshis leaving for jobs abroad each year. In 2021, for instance, 617,209 workers left for overseas jobs, bringing in $22.07 billion in remittances. In 2022, a record 1,135,873 workers found jobs abroad, which should have almost doubled our earnings. Yet, the remittance inflow was actually 1.5 percent lower year-on-year at $21.25 billion. 
One of the major reasons for this fall – and the one most often highlighted by the government – is that an unknown volume of money is being transacted through unofficial channels, i.e. hundi. Migrants prefer unofficial channels because they are offered better exchange rates than banks, they are not charged any transaction fees, there is no unnecessary paperwork or bureaucracy, and it is easier and considerably faster for them to send money to their families in the villages than through banks. 
Given these realities, the question is, what has the government done to ease banking through official channels? The 2.5 percent incentive provided by banks is simply not sufficient to counter the attractive package offered by hundi agents, unless exchange rates are made competitive, transaction costs are removed, and bank services are made efficient and migrant-friendly. In addition, the lack of financial literacy and difficulty in accessing banks, particularly of female family members of migrants, must also be addressed through sensitive policymaking. 
Another reason highlighted by migrant rights experts is the exorbitant recruitment costs, about 50-60 percent of which goes towards "paying" visa traders in the destination countries, even though selling or buying job visas is illegal. According to the Bangladesh Bureau of Statistics, on average, the recruitment cost of a Bangladeshi migrant worker is $4,903 or Tk 4.16 lakh, while the average monthly salary is Tk 23,093, which means it takes 17.6 months for a worker to simply recoup the amount he or she has to spend for recruitment. Many of them end up with no job even after spending such a huge sum of money, and are subsequently deported. Without meaningful efforts to reign in the ever-increasing recruitment costs, particularly the illegal visa trade both in home and destination countries, migrants will continue to bleed financially. 
Additionally, most of our migrant workers are employed in low-paying, unskilled jobs, as a result of which the amount of money they eventually send back to the country – after their recruitment and living costs are deducted – are pitiful. According to the Refugee and Migratory Movements Research Unit (RMMRU), 78.64 percent of workers who migrated in 2022 were less skilled, and are prone to fraudulence and exploitation. It is of urgent importance that Bangladesh takes steps to upskill its workers and look for emerging markets where they can compete successfully. 
The government needs to come up with a holistic plan to address the complex reasons that are holding back the growth of our remittance earnings. It needs to ensure coordination among different ministries to address migrants' needs and concerns at all levels, and to provide them and their families with the necessary knowledge and skills to prosper.