Why are BCL members cut so much slack at our universities?
The rules must be equal for all students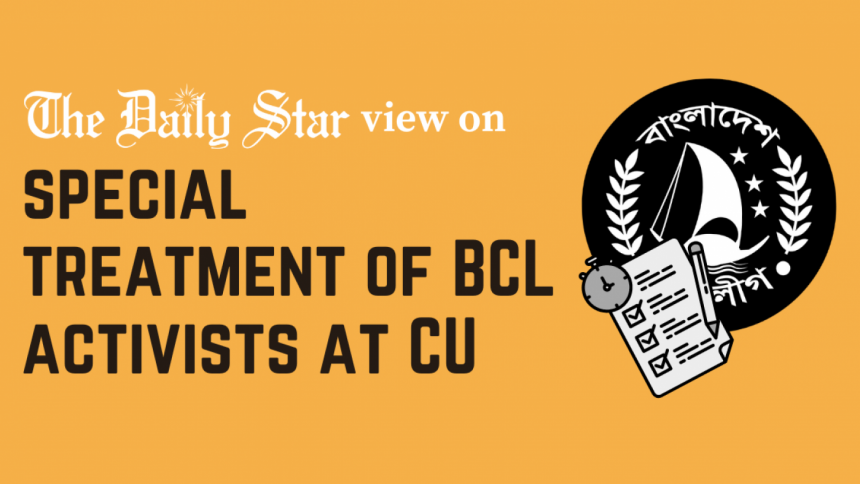 After making the headlines only a couple of days back by calling a strike at Chittagong University (CU) to fulfil their personal agenda – a condemnable act that disrupted the university's academic functioning, including holding of semester final examinations for over two days – members of Bangladesh Chhatra League (BCL) are again under the media limelight. Reportedly, two BCL activists, namely Imon Ahmed and Rakib Hassan, who were suspended by the CU authorities on July 25 for one year for harassing some female students on the campus on September 16 last year, sat for the second-year semester final examination with other students on August 3.
The registrar in-charge's clarification for why the suspended students were allowed to sit for the final examination is quite unsatisfactory. That the letter regarding the students' suspension had not reached the department heads even 10 days after the decision to suspend them was announced goes to show how little the authorities regard the concerns and safety of other students, especially female students. Of course, when the news media began reporting on this inefficiency, the acting registrar confirmed that the suspension letters would reach all the departments and the students concerned by August 4. The question is: Why must the media get involved for a major public university to carry out a crucial and urgent task? Are we to assume that BCL members are given too much leeway by university authorities when they are at fault? At least, that is what past records indicate.
In October 2021, the CU authorities suspended 12 students for six months following a brawl between two BCL factions. But within two months, some of them sat for exams, claiming they had not received any letters confirming their suspension.
We believe it is time for the CU authorities and that of other public universities to review the transgressions where BCL activists have been involved. And if the BCL's claims that the questionable acts of their members are not their business is true, then such "wayward" activists should not be allowed by the leaders to tarnish the image of an organisation that played such important roles in all the major historical movements of Bangladesh. Most importantly, university authorities must prioritise the safety of all their students, and punish those who break rules and the law accordingly, regardless of their affiliation to any groups. The impunity enjoyed by the ruling party's student wing must be curbed and some form of accountability restored within the student organisation, whose members have become increasingly more ruthless and reckless over the years.