BCL must answer for forced CU closure
No one has the right to hold students hostage for their own agenda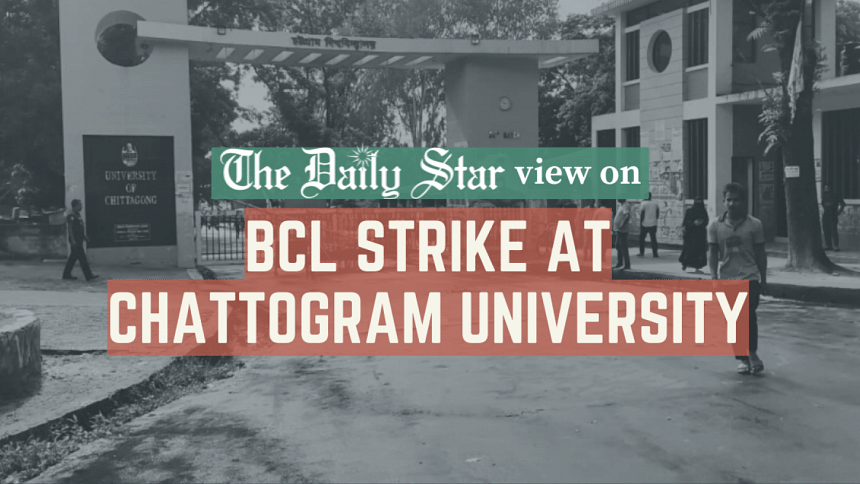 There is something deeply problematic when a major public university is forced to remain shut not because of the expression of genuine grievances by students, but because of unruly political thugs holding them hostage for their own petty gains. Yet, this continues to be tolerated. Most recently, we saw this when the activists of a faction of the Chattogram University (CU) wing of Bangladesh Chhatra League (BCL) enforced a shutdown after they failed to secure positions in the newly formed BCL committee there. As a result, all kinds of academic activities including examinations remained suspended for 35 hours.
Though the strike was called off on Tuesday morning, no exams could be held that day as fear still gripped the campus. We are told that because of the shutdown and ceasing of shuttle train and other transport services, 11 final examinations of nine departments could not be held, although nearly 700 students had taken full preparation for the exams. Understandably, it may take some time for the students and teachers to overcome their fear and uncertainty. The deans and department heads will have to prepare new schedules which may take some time. The students, with their academic life frequently halted by the pandemic, have now been put through the same experience. For what? Who will answer for this?
Reportedly, over the past three years, different factions of the CU-BCL committee have enforced eight shutdowns in the university, all because of such non-academic issues. The latest shutdown came to an end only after the state minister for education criticised the activities of BCL in a Facebook post urging the authorities to deal with them firmly. Within half an hour, the BCL fraction lifted the strike. This makes us wonder why such student organisations are not permanently stripped of the power to call strikes whimsically, which are disrupting regular academic activities.
Unfortunately, what happened in Chattogram University is a reality shared, or rather suffered, by many other public universities in Bangladesh. The ruling party's student wing continues to enjoy impunity despite the massive disruptions caused by its leaders and activists to pursue their own petty agenda. It is the general students who have to pay the price ultimately. This must not be tolerated any longer. We urge the administrations of public universities to take a tougher position when it comes to maintaining order on the campus. Most importantly, the ruling party must discipline their student-activists. The BCL must be held accountable for the activities of its members.