Who are these mystery shoppers and billers in public hospitals?
Government must investigate bloated Covid-time spending by public health facilities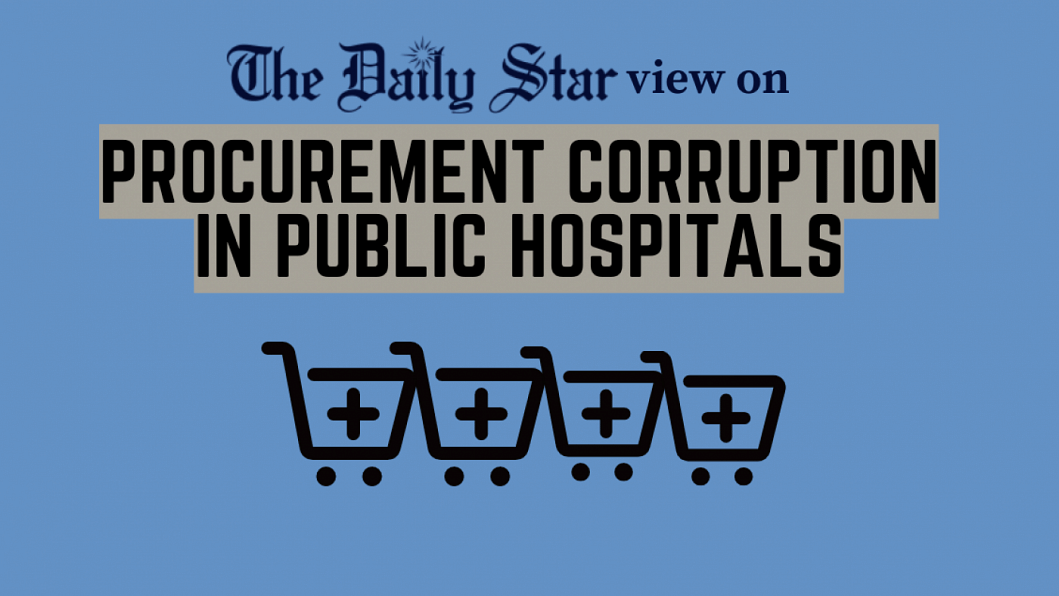 There is no denying that public hospitals, just like any other service sector in the country, are riddled with corruption, so much so that what we know is assumed to be the tip of a colossal iceberg. These institutions remain a cog in the big corruption machine that the health sector has turned out to be. Having commented on this sector just the other day, when it was reported that financial irregularities worth Tk 193 crore were found by the Comptroller and Auditor General (CAG) in Health Directorate purchases, it is painful to see a similar case so soon, this time involving public hospitals in Dhaka. Reportedly, the CAG, after auditing their spending in the early stages of the pandemic in FY 2019-2020, found that these hospitals purchased medical equipment at astronomical prices.
Overall, thanks to such irregularities, the government lost at least Tk 29.94 crore of the Tk 320.23 crore it had spent during that time, as per an audit report of the CAG. There was an additional loss of Tk 10 crore if the estimate given by an additional secretary is factored in. All this was due to procurement and billing irregularities, committed by those in charge of the hospitals as well as syndicates operating behind the scenes.
For example, the Kuwait-Bangladesh Friendship Government Hospital (KBFGH) bought two ECG Machines at Tk 6.25 lakh each, although the market price was Tk 1.99 lakh. Kurmitola General Hospital purchased a high-flow oxygen therapy device for Tk 7.5 lakh when its price was Tk 4.9 lakh. Mugda General Hospital bought a Video Laryngoscope for Tk 6.25 lakh when its price was Tk 1.99 lakh. Similar anomalies were also found in the purchase of medical and surgical requisites (MSR) and Covid-19 quarantine expenditure of 15 public medical college hospitals and specialised healthcare institutions in Dhaka. The difference between the buying and market prices was also seen in the procurement of drugs and pathological accessories.
One example of irregularities in quarantine bills was paying for hotel rooms (for medical professionals) that didn't exist. In short, there was misappropriation of money in every area where emergency spending was required, which remains unaddressed to this day.
These mis-procurements and false billings – two familiar enablers of corruption in our public sector – only lend credence to the media portrayal of a ministry that earned notoriety for its mishandling of the pandemic in its early stages, causing massive public suffering. And far from punishing those who exploited this once-in-a-lifetime health crisis to fill their own coffers, it continued to tolerate and even enable them. The question is, who are these mystery shoppers and billers? Who operate these syndicates which we so often hear about? How long will public hospitals and health departments remain unaccountable?
The health ministry must take strong actions against the architects of its Covid failure. There must be accountability in a vital sector like healthcare, and it is the duty of the ministry to establish that.