Time to equip fire service properly
Increasing fire risks mean the fire service too must increase its capability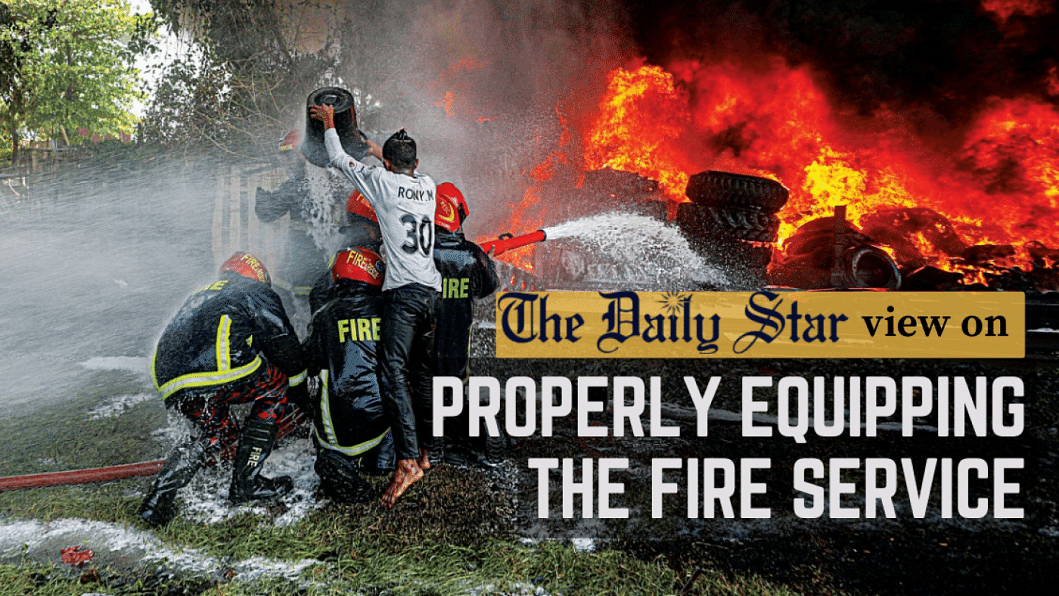 We are quite concerned about how ill-equipped the Fire Service and Civil Defence (FSCD) is to deal with the growing threat of fire in our cities, especially the capital. While the number of fire incidents doubled in the last 14 years thanks to unplanned urbanisation – it was 12,182 in 2009, which swelled to 24,102 by 2022 – the capacity of the fire service hasn't grown concomitantly. This is quite frustrating.
There is no doubt that firefighting has become much more difficult these days. Firefighters have to deal with traffic on their way to a scene, often navigating through narrow streets ill-fitted for large vehicles. Then there is the challenge of finding water in a city with few ponds and lakes. Once on location, they also have to deal with curious onlookers crowding round the scene, and the increasingly tricky fire situations putting their life at greater risk, as seen in some recent incidents. Against such a backdrop, it is unacceptable that the firefighters would also be hamstrung by institutional challenges such as lack of training and proper equipment, manpower crisis, budget constraints, etc.
It is partly because of these problems that 14 firemen were killed and 225 injured while on duty over the last five years, according to an estimate. These challenges have been highlighted in a recent report by this daily which shows how the fire service is being overwhelmed by the triple whammy of increased fire incidents, increased external challenges, as well as internal issues. One of the issues that has been flagged is the lack of training and specialisation. Firefighters need both advanced and specialised training. As a former fire chief has said, there should be specialised teams within the fire department to tackle different kinds of fire situations. "Police or Rab have their specialised units like the bomb disposal unit or cybercrime unit, but for firefighters, there are no specialised units," he said.
Given the current situation, there is a dire need for increasing budgetary support to the FSCD as well as recruiting and training more firefighters. In the current fiscal year, the FSCD got a budget of around Tk 733.57 crore, which translates to around Tk 44 per capita. For context, this is far less than what the Delhi state government spends (around Tk 332) or West Bengal spends (around Tk 65) per capita. Also, in any modern city, the ratio of police and firemen should be 2:1, meaning one firefighter against two policemen. In Bangladesh, however, there are less than 14,000 firefighters against 2.13 lakh cops. These people – as first responders to any fire, explosion, road crash, landslide, launch capsize or any other calamity – have to endure physical and mental trauma on a regular basis.
They need more, not less, support, and not just financial. Before expecting them to save citizens from every calamity imaginable, we need to create a conducive environment for them to function well, both for their sake and that of the wider society. We, therefore, urge the higher authorities to properly fund, equip and train the fire service so that it can serve us better going forward.