There's a new kit in town
Locally developed Covid testing kit opens a new window for Bangladesh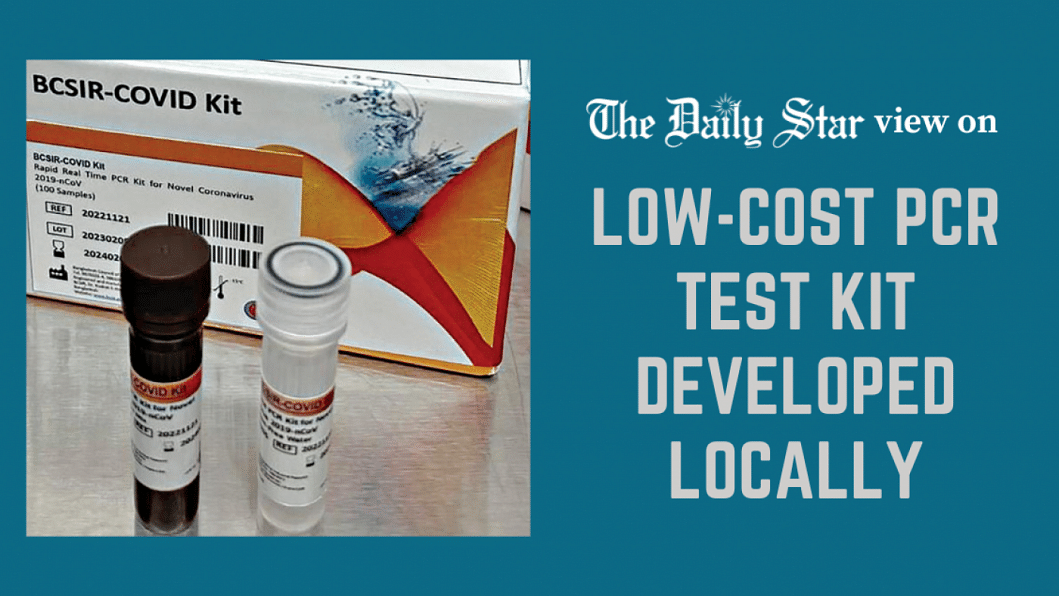 It is heartening to know that local researchers have developed a new RT-PCR testing kit that can apparently detect coronavirus infections much more effectively than other RT-PCR kits in the country. Developed by a team led by Bangladesh Council of Science and Industry Research (BCSIR), it comes off a year-long trial run where it showed 98 percent sensitivity to the virus. RT-PCR kits are developed by targeting different coronavirus genes, so any change in the gene structure of the virus due to mutation can make them unable to detect it. But the BCSIR kit was developed by targeting a gene that usually does not change over time, making it highly durable and effective, even in asymptomatic cases.
We congratulate the team that has developed the kit, which has already been approved for commercial use. We are told that 500,000 kits will be produced initially – each will cost Tk 250. The low cost of production is an added advantage, as it promises to take a substantial burden off the government which still relies on imported kits. The kits currently in use at the 57 government-run and 105 private-run RT-PCR testing laboratories are imported from China, South Korea and the US. Already, a huge amount of foreign currency has been spent to import such kits, with more than 1.34 crore samples tested using the RT-PCR method alone. Moving away from this obligation will be a relief amid the ongoing forex reserve crisis.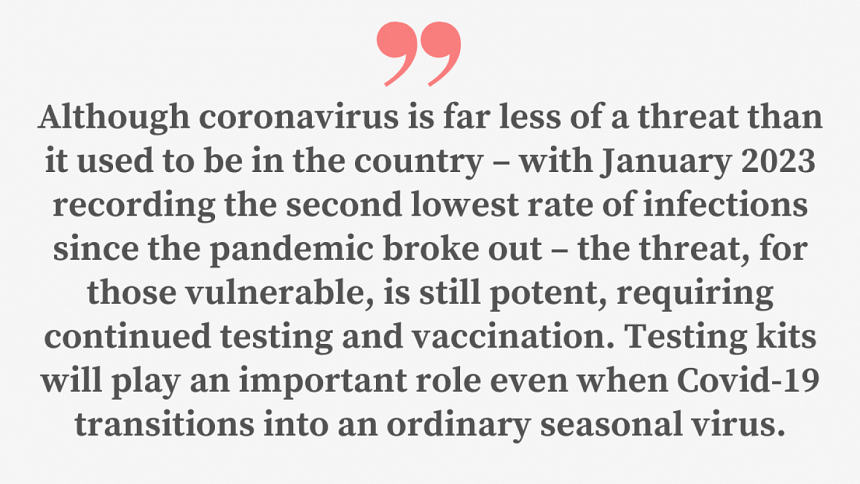 Although coronavirus is far less of a threat than it used to be in the country – with January 2023 recording the second lowest rate of infections since the pandemic broke out – the threat, for those vulnerable, is still potent, requiring continued vaccination and testing. Testing kits will play an important role even if/when Covid-19 transitions into an ordinary seasonal virus. While we welcome the air of positivity surrounding the new RT-PCR kit, we must say that the role of policymakers in this regard has so far been rather frustrating. Far from encouraging local development or production of testing kits and vaccine, we have seen how bureaucratic red tape and politicisation of private efforts thwarted progress.
The global scientific community is working hard to make test kits and vaccines more easily available across the world. There are already talks of preparation for future pandemics, and building domestic capacity is going to be an important part of that preparation. Bangladesh, despite the suffering and uncertainty it had suffered because of heavy reliance on high-income countries for vaccines, is yet to signal readiness to turn lessons into initiatives. Its project to build a vaccine plant and research centre of its own is yet to take off in any meaningful way.
This must change. The current low positivity rate is a matter of relief, of course, but it must not distract us from the challenges that lie ahead. The government should support initiatives that can make us self-sufficient in testing kits and vaccines in the future, and strengthen our biotechnology industry through investment in training and research. It must also further strengthen our public health infrastructure.