Stop giving free rein to the corrupt
Drastic steps needed to save SMEs from being gobbled up by corruption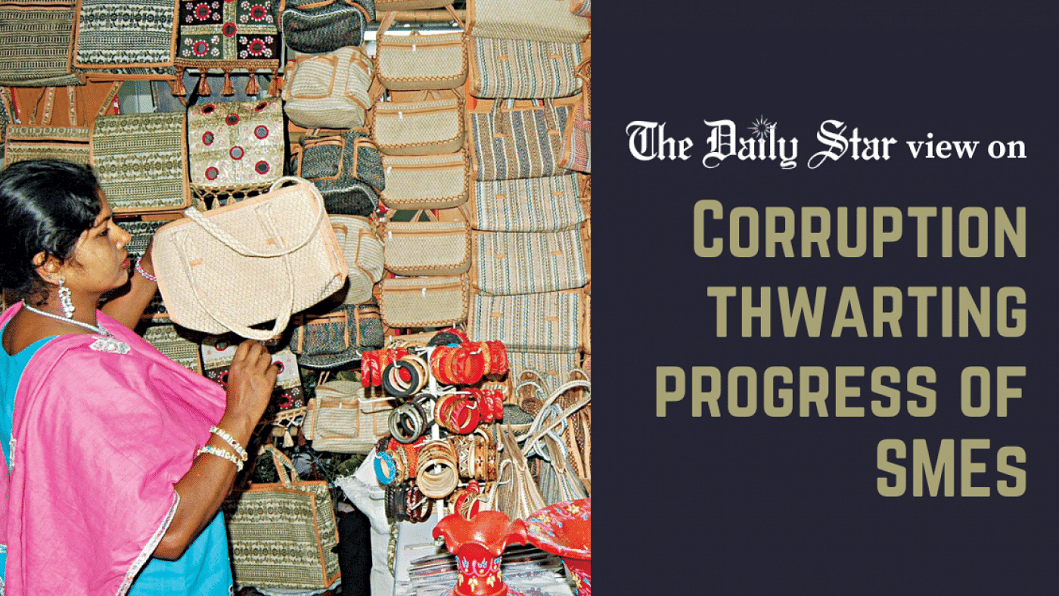 That corruption is endemic in our society is a truth we have known for decades. It has seeped into every sphere of the country, impeding its development and causing unending misery for the people. Business, in particular, has borne the brunt of this onslaught. Corruption is now very much part of the administrative system, and "commissions" paid to officials at various tiers one of the costs of doing business. But for small businesses already struggling to keep afloat during these financially stressful times, it has emerged as the biggest obstacle to their survival. A survey by the Centre for Governance Studies, in partnership with the US-based Centre for International Private Enterprise, has found that 74 percent of Small and Medium Enterprises (SMEs) have been victims of various forms of corruption such as bribery, extortion and political influence.
The survey's sample size – 800 SMEs – is compelling enough to come to the conclusion that most enterprises are faced with this artificial financial burden. As per the research, SMEs are being forced to pay bribes for important official clearances, such as trade licences, to get loans from banks, to pass inspections, etc. This gives them enough motivation to operate without adhering to regulations or paying taxes. It also makes official regulation meaningless, and deprives the government of tax revenue. Bribing for license renewal purposes was cited by most of the SMEs surveyed. A third of the respondents also said that the registration and licensing offices were the most corrupt of government departments, while 18 percent said law enforcement agencies were the most corrupt.
Under such circumstances, how can we expect our SMEs, which are the driving force of our economy, to survive, let alone thrive? If SMEs fail to cope with the cost of corruption and start collapsing, it will be a disastrous consequence for the country. The SMEs need support and incentives, not barriers frequently put in their way. It should be noted that most of the stimulus packages announced for SMEs during the pandemic have still not been disbursed because of the corruption related to accessing loans. Thus, whatever well-intentioned endeavours the government has made to support them have been totally thwarted by corruption. This is unacceptable. Unfortunately, the government has done little to reduce this terrible malaise.
The US ambassador's cautionary statement during the launch of the survey – that American business leaders have said they will invest in countries with the lowest level of corruption, fewest bureaucratic obstacles, greatest respect for law, and best logistics infrastructure – should be taken seriously. Business leaders from other countries would also echo these sentiments. An administrative infrastructure that enables "ease of doing business" will not only help or attract foreign investors but local entrepreneurs as well.
We urge the government to consider the recommendations given by experts at the survey's launch ceremony. These include digitising the system of obtaining and renewing licences, which can reduce the scope for bribery, cutting the red tape, and making the anti-corruption mechanism more accessible so that citizens can file complaints and get redress easily. The government must undertake these reforms without delay.