Preserve our heritage sites for posterity
300-year-old temples in Bangladesh at risk of being lost to history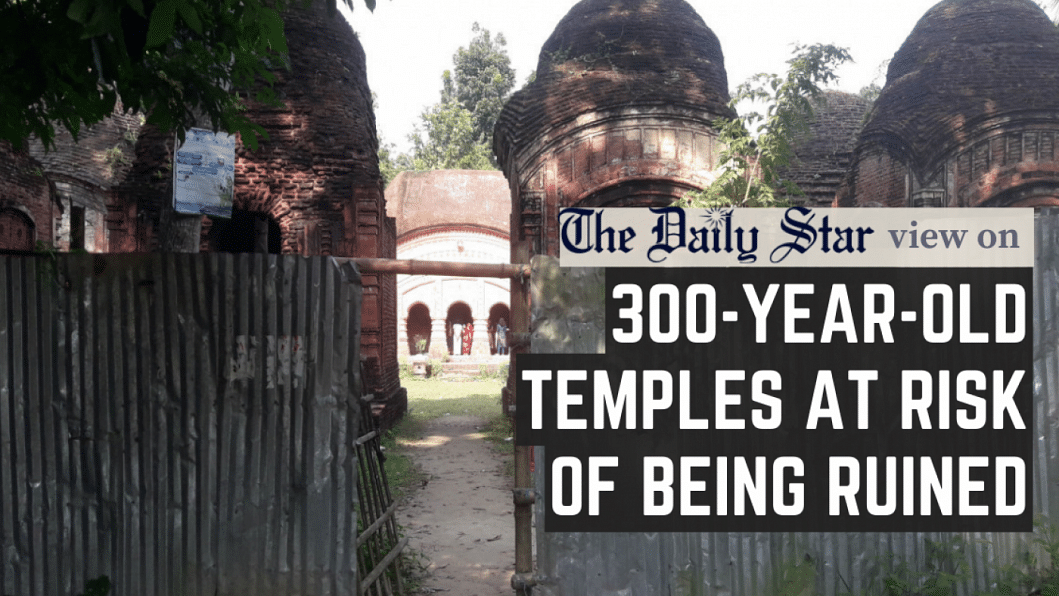 It's painful to see one historic site after another falling into ruins or getting destroyed thanks to the apathy of the authorities. The latest victims of this mindless trend are some 300-year-old temples located on the bank of the Bhairab River, about eight kilometres away from Jashore's Abhaynagar upazila headquarters. The place "bears the sign of a marvellous ancient architectural design" featuring 11 Shiva temples surrounding a large, square-shaped courtyard. Their spectacular designs remind one of the rich art and cultural heritage from a bygone era.
In 2001, the government recognised the place as an archaeological site. Yet, the temples are now on the verge of ruin due to a lack of maintenance and renovation by the authorities concerned. Sadly, as per a report by this newspaper, some major parts of the structure have already been damaged. Local historical documents trace the construction of these temples to around 300 years ago when a landlord, Nilakantha Roy, built them on around 60 acres of land. Only three acres of the property presently remain, while the rest have been illegally occupied in the absence of any form of supervision.
Some local worshippers and their families are the only ones to look after these temples now. Every Monday, around 150-200 of them gather there for worshipping. Had the government taken proper initiatives to maintain the site, it could have been turned into an attractive tourist spot, local historians say. This is something that we have witnessed happening time and again: far from preserving our heritage sites for tourists and future generations, these are being forced to fall into decay, or outright demolished by local influentials or the authorities themselves.
We fail to understand this negligence and disinterest about the history of this land. Despite all the rhetoric we hear from the authorities glorifying our past, very little of that is ever turned into action, which is really a travesty. A nation that is unaware or unmindful of its past is deprived of a vital source of learning, and stands little chance of forging a future that it can be proud of. That is why it is so crucial to stop the destruction and decay of our heritage sites, so that our future generations can look upon them and learn from the history they represent.
According to the director of the Department of Archaeology, the organisation currently does not have enough funding to start renovating the site. We fail to understand why that is the case. When so much of taxpayers' money is being wasted left, right and centre, it is unacceptable that the government cannot afford to allocate enough money for the preservation of these heritage sites. Therefore, we call on the government to allocate the necessary funding and manpower to immediately ensure that such historic sites are not lost to history.