Negligence leaves 300-year-old temples in ruins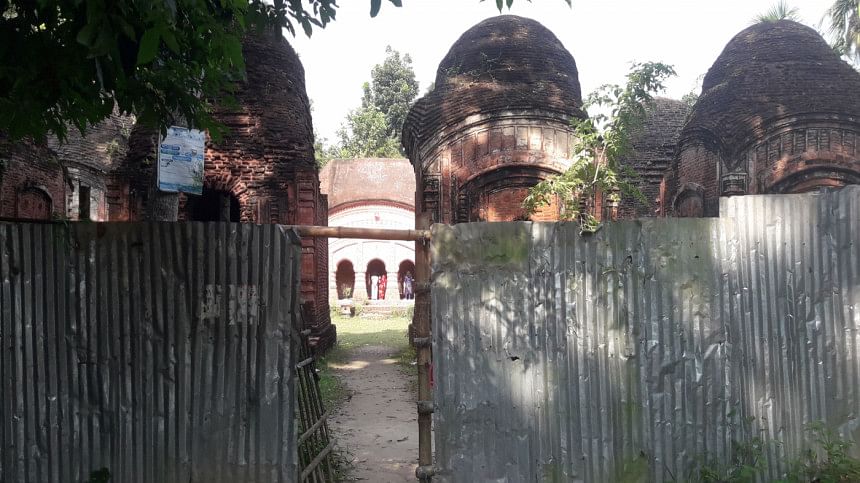 The place bears the sign of a marvellous ancient architectural design that featured 11 Shiva temples surrounding a large square-shaped courtyard.
The single entrance to the courtyard is on the eastern side, and the central temple is just opposite to the entrance. The rest 10 small temples are lined up around it.
Seeing the spectacular designs of the temples, one can surely wonder about the art and cultural heritage of a bygone era.
Even the government announced the place as an "archaeological site" in 2001.
The temples are located on the bank of Bhairab river, around eight kilometres away from Jashore's Abhaynagar upazila headquarters.
These temples, however, are now on the verge of ruin due to a lack of maintenance and renovation by the authorities concerned.
During a recent visit, this correspondent saw that all the temples were in a dilapidated condition. The major parts of the structures have already been damaged.  
According to local historical documents, these temples were constructed around 300 years ago by the then landlord Nilakantha Roy, covering around 60 acres of lands.
Now, only three acres of the property exist, and the rest of the land has been illegally occupied.
The central temple is around 24.4 feet high and 22.3 feet wide.The other temples are 20 feet high and 14 feet wide. Each of the temples has an arched sub-entrance and curved cornice. The roofs are round-shaped.
At present, some Hindu families look after the temples and perform religious programmes.
Anendra Barman, a 75-year-old regular worshipper, said they arrange Shib puja (worship of God Shiva) every Monday. Some 150 to 200 devotes gather there on the occasion.
He said the largest festival there is the "Chaitra Sangkranti", celebrated to mark the last day of the Bangla year. Hundreds of devotees join the programme.
Another worshipper Anjoly Rani Dey, 55, said the heritage site is not being maintained at all. Devotees have to suffer a lot due to shortage of drinking water, toilet facilities and accommodation.
"The most alarming thing is that the temples are decaying day by day as the authorities concerned are not taking any measures to renovate them. If such a situation continues, all the temples will go extinct," said Anjoly.
"Besides, security is another major issue. In the past, ancient and rare artefacts were kept at the temples. Most of them, except those at the central temple, have been stolen," she added.
According to local historians, the aesthetic beauty of the 300-year-old archaeological site is gradually fading away due to lack of renovation and maintenance. They said this site could be an attractive tourist spot if the government takes proper initiatives in this regard.
Contacted, Afroza Khan Mita, director of the Department of Archaeology, said they currently don't have sufficient funds to start renovating the site.
"But we are mulling appointing a caretaker and constructing an entrance to the site," she added.