No university admin should be protecting teachers accused of crimes
DU must take sexual harassment seriously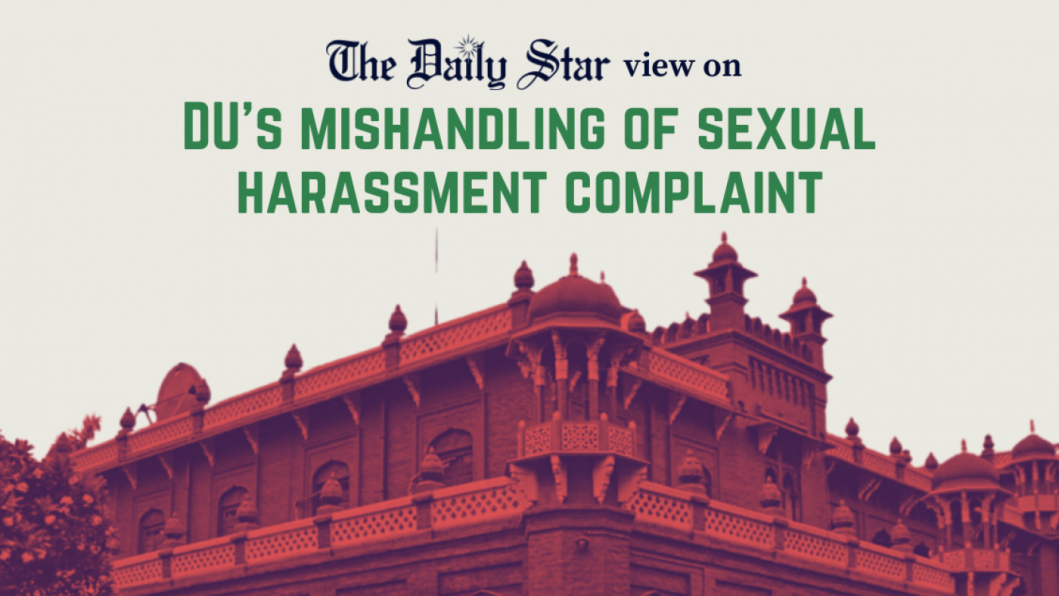 This year, over and over again, we have come across reports of students – especially female students – facing discrimination, harassment, and abuse on the country's university campuses. Many of these led to widespread protests, such as at Shahjalal University of Science and Technology (SUST) in January, which spiralled into a wider movement after a female student accused her dorm principal of misbehaving with her, and at Chittagong University in July, when the authorities failed to take action against five influential students who had attempted to sexually abuse a female student. In almost all of these cases, the situation was grossly mishandled by the respective university administration, who were accused of failing to protect student rights.
We are greatly concerned to now find yet another complaint of a similar vein, this time levelled at the Dhaka University administration. According to a report in this daily, the university's anti-sexual harassment cell has failed to finish its probe, eight months after a student brought an allegation of sexual harassment against an associate professor of the peace and conflict studies department, despite the fact that an initial fact-finding committee found proof of the allegation made against him.
Complaints of sexual harassment should be taken seriously by any university administration, but even more so when it is against a senior member of its own staff. It is appalling that the DU authorities have not only failed to do so, but are also being accused of actively prolonging the investigation on purpose, to protect the accused individual. Despite the fact that the 2009 sexual harassment protection policy, adopted for educational institutions upon a High Court directive, clearly states that such probes must be completed within 60 working days, there does not seem to be any urgency on the part of Dhaka University abide by this.
Even worse, the professor heading the anti-sexual harassment cell, instead of doing everything in her power to ensure that justice prevails, has been reportedly harassing the student with probing questions and demanding evidence. On one occasion, the accused teacher was even allowed to sit near the student and question her along with other members of the cell.
It truly beggars belief that teachers who are meant to set an example for their students are seemingly misusing their positions of power to harass an already traumatised student, instead of providing her with the support she deserves.
What is the point of having an anti-sexual harassment cell if it fails to carry out its duties, and instead uses its influence to protect the accused? If this probe is allowed to die out, it will discourage students from speaking out about harassment and abuse in educational institutions across the country, with dangerous implications for students' and women's rights and safety. If the DU administration is not willing to follow through, perhaps it is high time for law enforcement and the criminal justice system to step in.