No breathing space for the poor
Government must step up efforts to bring down food prices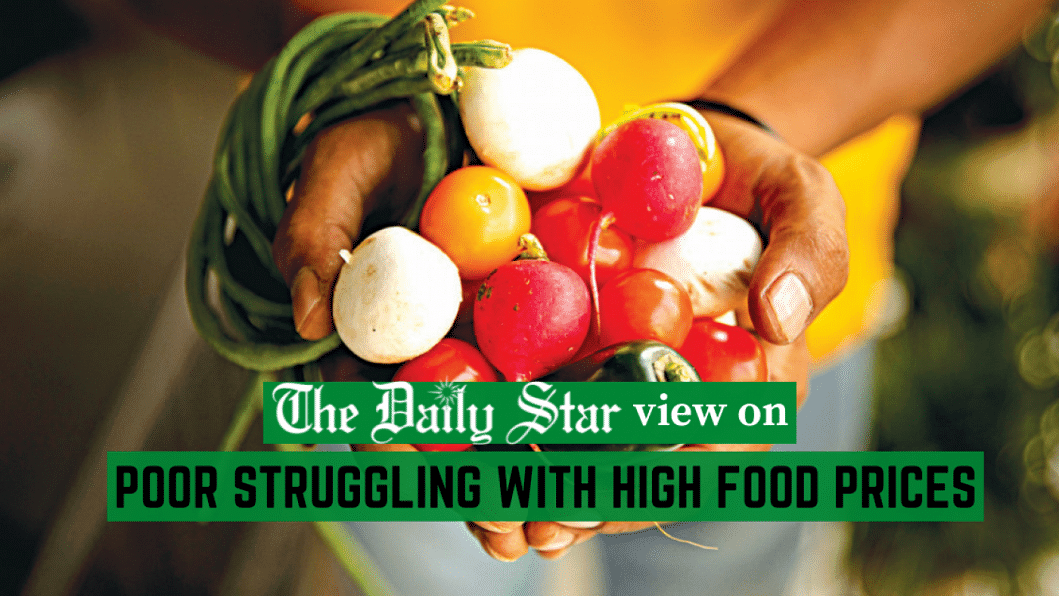 Whoever said that poverty is "violence with tacit consent" couldn't be truer at the moment. And this violence – in the form of relentless assaults on the wallets of the poor – seems to be getting out of control in Bangladesh. According to a survey of the World Food Programme, 68 percent of the people are struggling to buy food. The sky-high prices of food – which 88 percent of the surveyed identified as a major challenge – are getting harder to deal with: 64 percent said they took loan, and 29 percent of families said they used their savings, to buy food in August.
Evidently, things have reached a point where the extremely high living cost has created a dystopian reality for the ordinary people.
With food and non-food inflation hovering near double digits, the poor could really use some breathing space. High inflation, according to experts, is affecting people's purchasing capacity, and thereby compromising their health and future. As revealed by Bangladesh Bureau of Statistics, food inflation reached 9.08 percent in September, after hitting 9.94 percent in August – the highest since FY 2012-13. Meanwhile, non-food inflation reached 9.13 percent in September. How will the poor survive in such a situation?
They are being forced to spend less and less on food, as they can't cut spending on rent, utilities, healthcare and transportation, the costs of which have also jumped. While talking to this newspaper, some people described how they are struggling to pay for even the most basic food items. Rice, for example, is being sold at nearly record high prices. Prices of wheat, the second most consumed cereal in Bangladesh, reached "new record levels in September, over 70 percent above their year-earlier levels", according to the Food and Agriculture Organisation. The prices of most vegetables also remain generally high, while eggs, once considered a low-cost source of protein for the poor, are now out of reach for many.
The government is apparently leaving no stone unturned to control the situation. For example, to increase the supply of rice and contain its prices, it has reduced import tariff and gave permission to 320 private firms to import 13.4 lakh tonnes of rice. The food directorate also signed contracts with India, Vietnam, Myanmar and Thailand to import 530,000 tonnes of rice under government-to-government arrangement. But continued inflation, unfriendly weather affecting domestic rice production, and the Russia-Ukraine war are proving to be too potent a combination to be contained with such measures. These are taking away from food gains made by Bangladesh.
Evidently, things have reached a point where the extremely high living cost has created a dystopian reality for the ordinary people. While increasing food supply through ramped-up production and import is a priority, it is equally important to bring food prices within reach through greater market interventions. Also, as experts have suggested, it is important that the government creates a national relief fund, instead of separate food programmes and project-based initiatives, to provide long-term food assistance to low-income groups. True, some impediments like the Russia-Ukraine war and erratic weather will remain indefinitely. But their consequences can be minimised through implementing proper policies.