A most unlawyerlike conduct by SCBA lawyers
Supreme Court lawyers engaging in violence a worrying sign for the country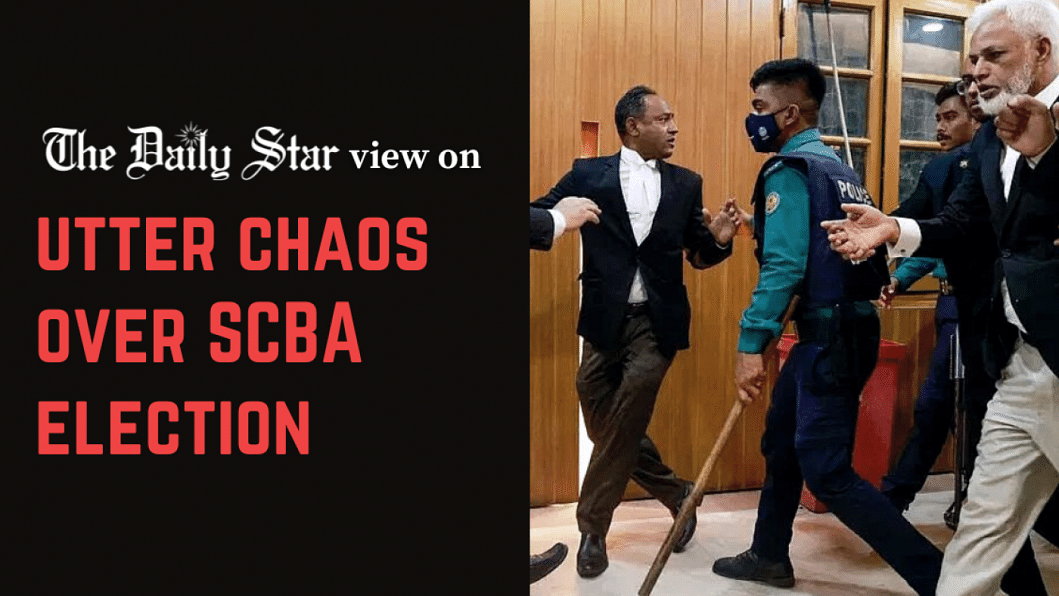 We are alarmed to see the chaos and violence that took place on the Supreme Court premises during the two-day election of the Supreme Court Bar Association (SCBA). On Wednesday, the first day of voting, rival lawyers from BNP and Awami League panels engaged in arguments and scuffles which later escalated. At one point, police intervened, and attacked pro-BNP lawyers and even journalists covering the election, injuring at least 25 people. Due to the situation, voting started two hours late and without the participation of pro-BNP lawyers. Such incidents are unprecedented in the history of SCBA elections.
Reportedly, tension was rising between the two groups of lawyers after a senior lawyer, Mansurul Haque Chowdhury, whom both sides had accepted as convener of the election sub-committee, resigned citing "personal" reasons, just a day before the election. As a new convener took charge, pro-BNP lawyers took issue with it, and demanded that the election be held under someone accepted by both sides. But that did not happen. Voting ended on Thursday amid continued scuffles and chanting, with a little less than 50 percent of votes cast. Eventually, the AL-backed panel won all 14 posts.
Such conduct by lawyers – that, too, on the premises of our apex court – is most unlawyerlike and objectionable. Those obscurantist elements that engaged in clashes may be only a segment of the legal fraternity but they surely besmirched the good name of lawyers, who have a rich history of fighting for pro-people and democratic causes in the country. If democratic practices are missing in institutions related to the apex court, what can we expect from other institutions? What signal does it give to the people about the state of our justice system?
Moreover, the way police entered the court premises and attacked pro-BNP lawyers and journalists is alarming. Noted Supreme Court lawyer ZI Khan Panna tells us that he has never seen police enter the court and attack people, not even during the military regime. Such behaviour is also extremely concerning ahead of the upcoming national election. 
Reportedly, the DMP commissioner has regretted police attacks on journalists. That is not enough. The DMP must hold an investigation into the incident and punish those responsible as per the law. Police authorities should also explain whether police can enter SC premises without any prior permission and beat people.
Unfortunately, this is not the first time that SCBA elections were marred by chaos. Last year, we saw how it took an unusually long time to even declare the results of the election. If this chaotic trend holds, we have every reason to worry about the future of the legal profession. We urge the relevant authorities to treat this matter with the seriousness that it deserves. As for the SCBA election, we think proper actions should be taken so that both the electoral process and the results are acceptable to everyone.