Violence mars SCBA polls
Journos, pro-BNP lawyers hurt in police action, clash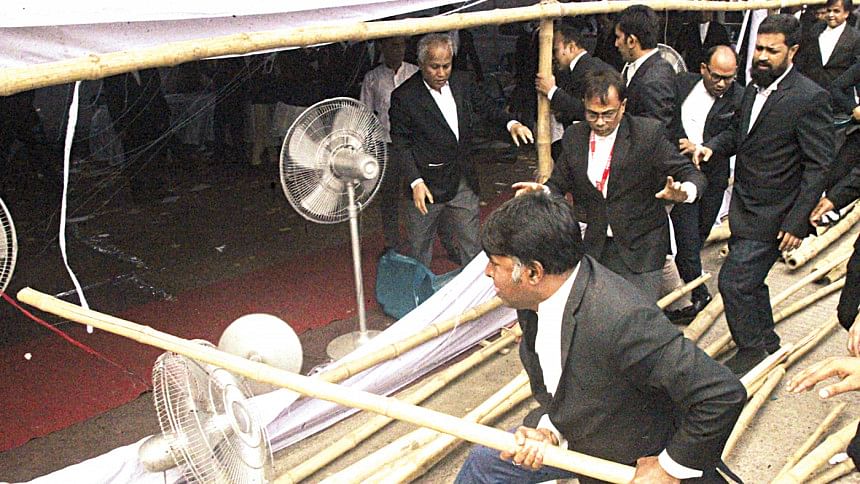 Police assault on journalists and clashes between pro-Awami League and pro-BNP lawyers marred the first day of the two-day annual Supreme Court Bar Association election yesterday.
Voting was scheduled to start at 10:00am, but utter chaos broke out as soon as pro-BNP lawyers demonstrated for the formation of an election-conducting committee by someone "acceptable".
Polling started two and half hours later and went on until 5:30pm with an half-hour interruption in the afternoon due to violence.
In the morning, at least 10 journalists and several pro-BNP lawyers were assaulted by the police.
Throughout the day, the two camps of lawyers chased each other on the Supreme Court Premises, vandalised properties, and engaged in scuffles. Police intervened several times.
Witnesses said police entered Shaheed Shafiur Rahman Auditorium around 11:30am to make the protesting pro-BNP lawyers leave. Within moments, pro-BNP and pro-Awami League lawyers started shoving and hitting each other. Police eventually got involved.
Around 11:45am, the police attacked journalists who were taking photos and videos of the law enforcers' action on the lawyers, witnesses said.
The Law Reporters' Forum in a statement later said, "The attack was carried out by policemen upon the instructions of Ramna DC Shahidullah and ADC Harun or Rashid. The journalists who were present at the scene saw and heard it."
The statement signed by LRF President Ashutosh Sarkar and General Secretary Ahammed Sarwar Hossain Bhuiyan said this was the first time police assaulted journalists on the Supreme Court premises and demanded immediate withdrawal of the two police officers and actions against other cops involved.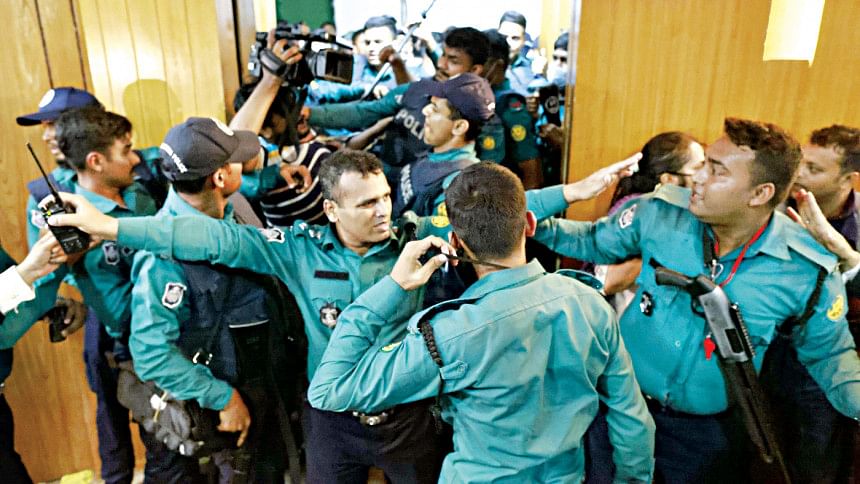 Journalists were beaten up even though their identities were made clear, it said.
Police threw away the microphones of journalists and assaulted a female reporter. Several TV camerapersons were locked inside an auditorium and police were heard hurling abuse at them, it added.
The injured journalists include Zabed Akhter of ATN News, Fazlul Haque Mridha of Jagonews, SM Nur Mohammad of Ajker Patrika, Jannatul Ferdousi Tanvee of Independent TV, Shubhra Kanti Das of Prothom Alo, and Ibrahim of Boishakhi TV.
The policemen kept kicking Zabed Akhter even after he fell to the floor, the statement said, adding that he was rushed to Dhaka Medical College Hospital.
Chief Justice Hasan Foez Siddique expressed shock at the police attack on journalists when Law Reporters' Forum leaders met him at his SC office around 1:30pm.
The chief justice and Law Minister Anisul Huq later promised the Law Reporters' Forum leaders that proper steps will be taken.
Dhaka Reporters' Unity, Bangladesh Federal Union of Journalists, Broadcast Journalist Center and Gontontro Moncho also condemned the police attack.
Around 3:30pm, a group of pro-BNP lawyers chanting "Joy Bangla" attacked and vandalised the marquee outside Shaheed Shafiur Rahman Auditorium in which the polling booths were set up.
Several pro-AL lawyers who were hurt said they got confused by the slogan, usually chanted by the pro-AL men, and did not see the attack coming.
The pro-BNP lawyers entered the auditorium, vandalised a desk, and tried to enter a polling booth. But they were stopped by pro-AL lawyers and police.
The pro-BNP lawyers then left the auditorium, chanting slogans for cancelling the election and fixing a fresh date for a free and fair election.
Around 3:00pm, pro-BNP president candidate AM Mahbub Uddin Khokon and secretary candidate Md Ruhul Quddus Kazal told a press briefing at the SC Annex building gate that several pro-BNP lawyers were injured during attacks by police and pro-AL lawyers.
They said the sub-committee conducting the election was not formed as per the SCBA constitution.
Pro-AL SCBA secretary candidate and the current Secretary Abdun Nur Dulal told The Daily Star that legal action will be taken against those who tried to stop the SCBA election and attacked the lawyers.
Additional law enforcers including riot police were deployed on the court premises.
Md Moniruzzaman, convener of election-conducting subcommittee last night filed a criminal case with Shahbagh Police Station accusing AM Mahbub Uddin Khokon, Md Ruhul Quddus Kazal, 10 other lawyers, 100 other unnamed people of stealing ballot papers and assaulting lawyers.
A seven-member subcommittee led by senior lawyer Munsurul Hoque Chowdhury was formed earlier to conduct the election. But Munsurul resigned from the post on March 13 citing personal reasons.
The ruling Awami League backed SCBA executive body then formed a sub-committee led by Md Moniruzzaman while the pro-BNP lawyers formed another committee headed by ASM Moktar Kabir.
Polling will resume at 10:00am today, said SCBA Administration Officer Rabiul Hasan.
A total of 8,589 lawyers were set to cast their votes in the two-day election.
Only 2,217 votes were cast yesterday.