OTT platforms need freedom of expression to flourish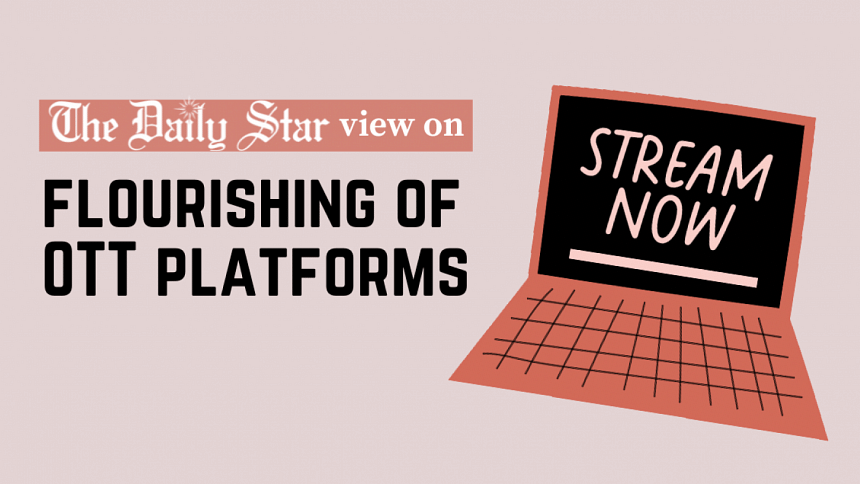 The evening of September 3, 2022 will remain memorable as the Blender's Choice–The Daily Star OTT & Digital Content Awards 2021 paved the way for artists creating content on OTT platforms by rewarding them with the recognition they deserve. The rise of popularity for content from local OTT platforms has rejuvenated Bangladesh's mainstream entertainment industry – especially since the beginning of the pandemic in 2020 when public entertainment options such as cinema halls and concerts were no longer an option. Now, these platforms have triggered a cultural regeneration in terms of what we in Bangladesh view as go-to digital entertainment. Most importantly, OTT platforms have allowed for local artists to make a living out of their creativity, no matter what their background. Content on such platforms also works out well for viewers as they can subscribe to each platform at more and more affordable rates, being able to avoid the nuisance caused by commercial breaks aired during traditional television content. Such success of OTT content and their large-scale recognition has given us renewed hope for the future of the country's entertainment scene.
For our OTT platforms to flourish, we need creative and critical minds to be able to explore and tell nuanced stories about people and the society at large. However, we are alarmed that, in addition to the repressive laws that are already suppressing freedom of expression in the digital sphere, the government wants to introduce even more restrictions for OTT Platforms. The (draft) BTRC Regulation for Digital, Social Media and OTT Platforms, if passed, could arbitrarily criminalise the content aired on OTT platforms based on vague criteria. The broad terms presented in the draft – prohibiting content that, for instance, "is offensive, false or threatening and insulting or humiliating to a person" or that threatens the "unity, integrity, defence, security, or sovereignty of Bangladesh, [and its] friendly relations with foreign states" – indicate just how limiting it could be for artists and their creative abilities on digital platforms. We wonder whose good is being prioritised when such regulations are proposed, given the sweeping restrictions it would impose on creators and artists for OTT platforms.
Now that the entertainment industry of Bangladesh is flourishing again after many years of hiatus, with people choosing locally-made content both in theatres and online, it is crucial the authorities do everything possible to help our artists fulfil their creative potential. OTT platforms have made making films and shows a more accessible process, allowing all genres to exist and succeed in one place. Besides recognition, creators must be given assistance, and not be muzzled, in achieving their creative vision.