Hospital infections must be kept in check
Healthcare budgets should be used efficiently to ensure proper care for patients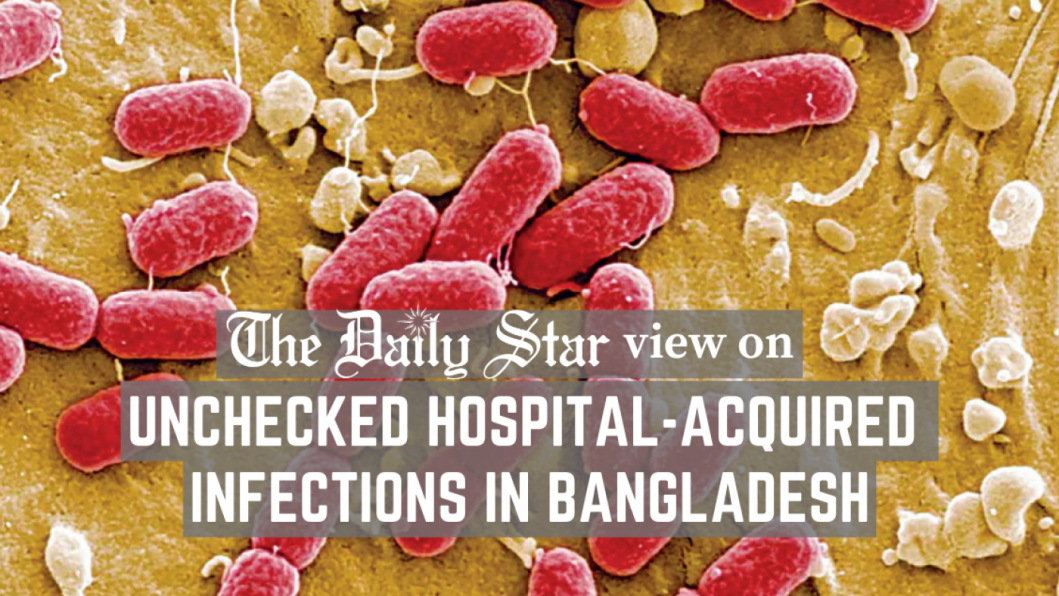 According to a recent report by this daily, a joint study, conducted across 11 tertiary-level hospitals in Bangladesh, has found that none of the hospitals collect any data on hospital-acquired infections and infection control on their premises. This is quite alarming. Tertiary-level medical facilities are usually associated with medical colleges and universities, contain specialised departments, and provide medical help and referrals to thousands of patients every year. The nine public and two private hospitals covered in the study, in fact, represent a quarter of the country's tertiary hospitals, and a third of the public facilities of this scale.
The importance of preventing healthcare-associated infections cannot be stressed enough. During the pandemic, there were too many instances of doctors and healthcare workers worldwide testing positive for – and even dying from – Covid-19, as well as cases where patients admitted to hospitals for other health issues ended up succumbing to Covid. Hospital-acquired infections also remain a major cause of death among patients in ICUs.
According to the WHO guideline on Infection Prevention and Control, there should be a dedicated and trained team in each acute care facility to guard against the spread of infections. At the same time, there should be specialised professionals skilled in epidemiology to carry out surveillance of such infections, as well as necessary IT support to document this data – something that is more or less absent from our healthcare facilities.
The recent study, done jointly by icddr,b and the Directorate General of Health Services, identified a number of factors contributing to hospital-acquired infections in Bangladesh, such as overcrowding, lack of beds, inadequate manpower, insufficient toilets, and non-existent wastewater treatment systems. These shouldn't be unknown to the authorities either. The question is, why is nothing being done about this problem despite the huge risk it poses? Almost half of the hospitals surveyed were found to be not maintaining the government-proposed staff-patient ratio, and were not even able to guarantee that there wouldn't be multiple patients sharing the same bed.
Patients having to share beds, or sleep on floors and in corridors, should be completely unacceptable in this day and age. Yet, according to experts, around 30-40 percent of the annual development budget for healthcare remains unutilised. Moreover, in 2020, a study found that around 93 percent of medical waste in Bangladesh was unmanaged. Almost half the tertiary hospitals covered in the recent study also didn't have medical waste pick-up or disposal facilities.
Clearly, there is a dire need to expand and improve the capacity of our health sector. Efficient use of budgetary allocations is an integral part of the solution to this. Only a few months ago, a report revealed audit objections claiming that financial irregularities worth Tk 193 crore were committed in the early stage of the pandemic. We cannot help but wonder, if these funds had been used in conducting surveillance for hospital-based infections or giving healthcare workers training in infection control, instead of being lost to corruption and mismanagement, how many more lives could have been saved?