From early marriage to risky pregnancy: We must break the cycle
Failure to prevent child marriage is leading to risky adolescent pregnancies in Bangladesh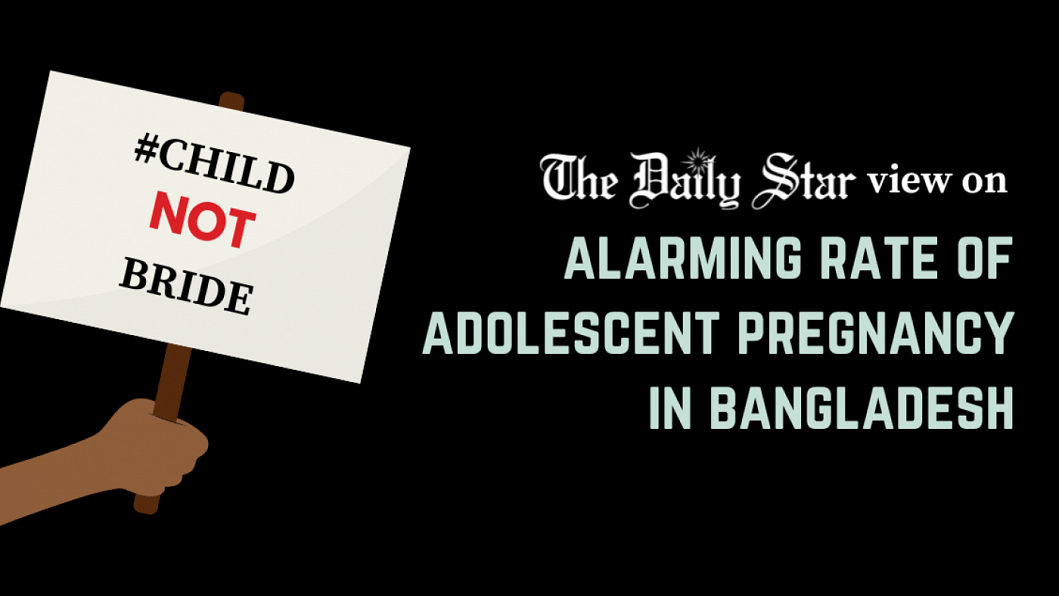 It is quite frustrating that, despite all our economic progress and flashy infrastructure development, Bangladesh is still doing poorly in a number of social indicators including health and education for girls. A recent study has revealed how Bangladesh had an adolescent pregnancy rate of 27.7 percent in 2017-18. This was the highest rate of adolescent pregnancy in the entire South Asian region, as per the study. To put that into perspective, the rate was 6.8 percent in India (DHS 2019-2021), 8.1 percent in Pakistan (DHS 2017-2018), and 12.1 percent in Afghanistan (DHS 2015).
While the abnormally high rate of adolescent pregnancy in Bangladesh may come as a surprise to many, the reasons attributed to it are well-known: child marriage, incorrect use of contraceptives, lack of access to sexual and reproductive health related information, and predominant gender norms, among others. Of them, child marriage is, of course, the biggest culprit – it shows how one bad thing, if left unchecked, leads to another bad thing.
We must acknowledge that this data is based on a demographic and health survey conducted before the pandemic. The situation, in all likelihood, may be worse now, given how recklessly child marriage increased over the last two-three years. According to data gathered by this daily from different districts, at least 11,000 school children were married off by their families between March 17, 2020 and September 12, 2021. A more recent study by the National Girl Child Advocacy Forum revealed that, between January and August 2022, as many as 2,301 girls fell victim to early marriage in 28 districts of the country.
The rising trend of early marriage is bound to contribute to a rise in adolescent – and hence, complicated and unsafe – pregnancies. It would be a rare case if a child bride was found to have any form of agency over what happens to her reproductive health. Most often, it is the young girl's in-laws who pressure her into getting pregnant, while also forbidding any methods of birth control. And not just the families, but the authorities (local and national) are also as much to blame for the severe health issues that an adolescent girl may face while being pregnant or giving birth, such as eclampsia, postpartum haemorrhage, systemic infections, preterm deliveries, low birth weight and neonatal deaths.
We commend the efforts of local NGOs to bring down child marriage rates, but it is high time the government took stricter measures to prevent this scourge from happening in the first place. Often, it is seen that a child marriage is halted by local authorities but is performed in secret later by the families. We must find a way to stop this. Local governments must play a stronger role in stopping child marriage and raising awareness so that girls are spared the curse of child marriage and attendant health risks. We must all work together to prevent adolescent pregnancies.