A reality more alarming than ever
Country tops in adolescent pregnancy rate in South Asia, finds study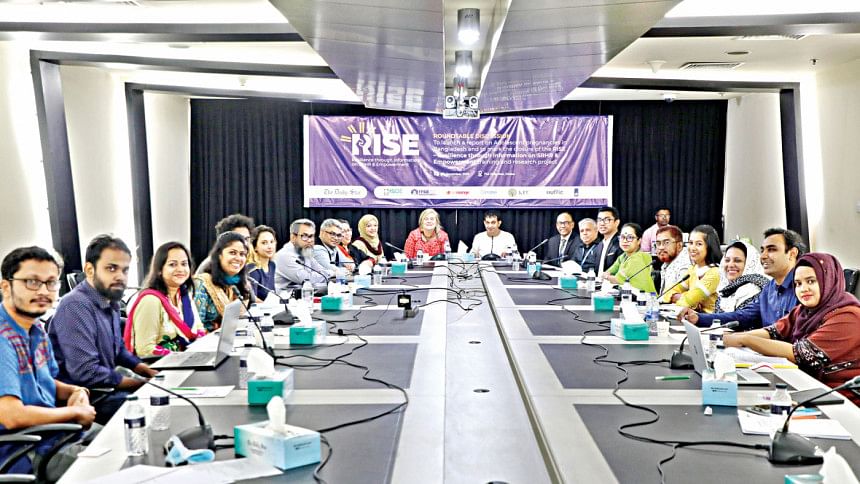 Bangladesh still sees the highest rate of adolescent pregnancy in South Asia. The trends show that the latest adolescent pregnancy rate in the country is 27.7 percent in 2017-18, which was 33 percent in 1993-94.
Although Bangladesh has made strides in decreasing the total fertility rate (TFR), in terms of adolescent pregnancy, the rate is still higher compared to its neighbouring countries, which is 6.8 percent in India (DHS 2019-2021), 8.1 percent in Pakistan (DHS 2017-2018), and 12.1 percent in Afghanistan (DHS 2015), mentioned a recent qualitative study.
The study also found that adolescent pregnancies in the context of Bangladesh are driven mainly by child marriage, and strongly influenced by entrenched social norms around sexuality and gender roles.
Besides, incorrect use of contraceptives (given to them by family members), which is linked to a lack of access to SRH information and services before and immediately following marriage also works as a major factor in this regard.
The findings of the study, titled "My mother-in-law forbade me to take pills": Factors driving adolescent pregnancies among young women clients from health clinics in Bangladesh", were shared at a roundtable yesterday by Prof Mohammad Bellal Hossain of population sciences at Dhaka University.
It was conducted as part of the Resilience through Information on Sexual and Reproductive Health and Rights & Empowerment (RISE) programme, coordinated by RedOrange Media and Communication, jointly implemented by ISDE Bangladesh, Family Planning Associaton of Bangladesh, Simavi, KIT Royal Tropical Institute, and funded by Nuffic, Ministry of Foreign Affairs (Netherlands).
The round-table was jointly organised by RedOrange, with The Daily Star as a media partner, at the capital's The Daily Star Centre.
Among other causes, Prof Bellal mentioned the lack of agency of married young women compared to in-laws and husbands, fear and stigma of infertility (linked to hormonal contraception), and desire to solidify marriages with the presence of children also contribute to adolescent pregnancies in Bangladesh.
Physical health effects, mental health problems, parenting pressures, and economic strain were discussed as common consequences of adolescent pregnancies among married girls.
It also increases the risk of maternal complications, including eclampsia, postpartum haemorrhaging, systemic infections, and preterm delivery, and is correlated with low birth weight and early neonatal deaths, said Prof Bellal.
Adolescent pregnancy also increases school dropout and reduces employment opportunities in the labour market, he added.
Since family members, teachers, health workers, and religious leaders have the necessary positioning to influence change, they should therefore contribute to advancing sex education to prevent such pregnancies, mentioned Prof Bellal.
The study was conducted through 51 interviews with recently pregnant female clients of health clinics and their family members in five locations -- Barishal, Cumilla, Chattogram, Cox's Bazar, and Dhaka.
Mushfiqua Zaman Satiar, senior officer, Embassy of the Netherlands in Bangladesh; Arnob Chakroborty, managing director, Red Orange; Anke Van der Kwaak, team leader, KIT Royal Tropical Institute; Dr Noor Mohammad, executive director, Population Services And Training Centre; Dr Ikhtiar Uddin Khandaker, director, Care Bangladesh; Rowshon Akhter Urmee, project coordinator, Brac; Umayer Abu Umar, project coordinator, Red Orange; spoke at the roundtable, among others.