Don't normalise custodial torture
Police officers allegedly involved in Gazipur trader's death must face justice after proper investigation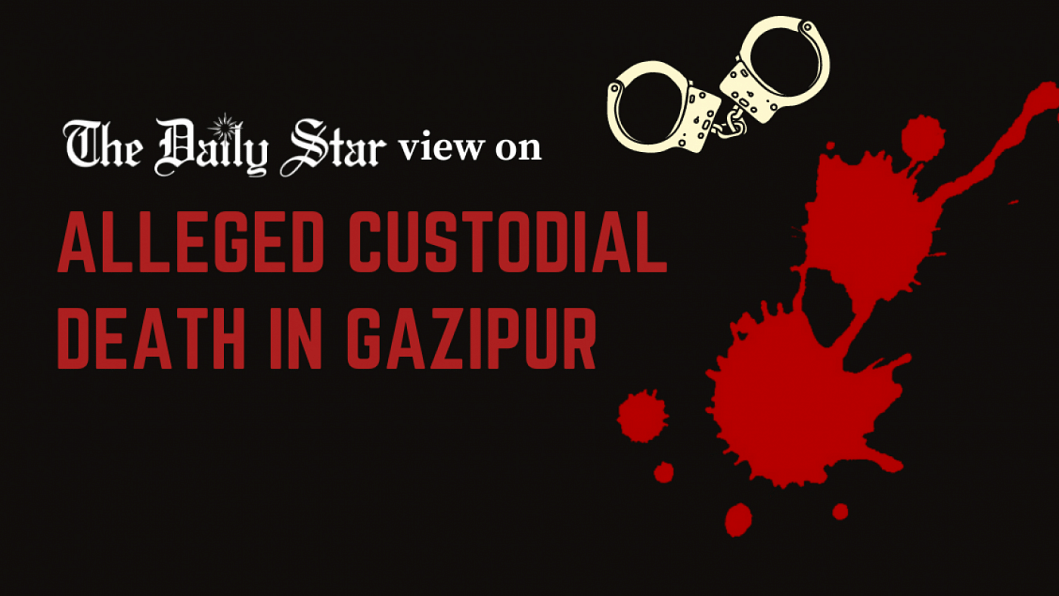 It is most unfortunate that death and torture in police custody allegedly continue to occur in the country, despite concerns raised frequently in this regard as well as the existence of a law designed specifically to prevent such incidents. The latest incident – coming off the back of another incident of alleged custodial torture last week - involves Rabiul Islam, a trader in Gazipur. Reportedly, he was picked up by police from his tailoring accessories shop in Pearabagan of Bhogra area in Gazipur town on January 14 on charges of gambling. On January 17, police from Basan Police Station informed his wife that Rabiul died in a road crash while on his way home. We cannot help but ask: what happened during the three days Rabiul was in police custody? Accounts of his wife, brother, relatives and neighbours contradict the police version of events, making it quite likely that he died in police custody.
However, police still appear to be trying to clear their name in the incident. We are told that a probe body has been formed by the Gazipur Metropolitan Police to investigate the incident. We hope it will be able to hold a fair and impartial investigation. However, we would like to raise some questions that must be looked into while carrying out the investigation.
Reportedly, after two assistant sub-inspectors – Mahbubur Rahaman and Nurul Islam – of Basan Police Station arrested Rabiul, they demanded bribes from his wife for his release. As she went to the station with some cash, the police officers in question took it but then demanded more. Reportedly, they even took her signature on a blank paper before letting her know that her husband was released. Then, later at night, they called to inform her about her husband's death in a road crash.
The question is: Why did the police arrest Rabiul in the first place? Was it to take bribes from him? Why did they take his wife's signature on a blank paper? Why did they not hand him over directly to his family? Also, why is there no CCTV footage of them handing Rabiul over to his family or even releasing him? Why is there no evidence of any road crash happening in that area during the night of January 17, when police claim he died in the crash? These questions are vital and must be answered by the investigating team.
We want our police force to be accountable to the public for the work they do. And for this, such incidents taking place in police custody must be investigated with fairness. The state must take these incidents more seriously and ensure accountability of those in the police force. We demand a proper investigation into Rabiul's death, followed by proper legal action to hold anyone responsible accountable.