Is Dhaka becoming a city of mugging?
Short- and long-term measures needed to prevent mugging on streets
Various newspapers have reported a disturbing rise in mugging on the streets of Dhaka with most of the perpetrators being drug addicts and carrying sharp weapons. Already, many victims were seriously wounded, while others succumbed to their injuries. The grisly stories of people being stabbed, or their throats slit, by muggers make travelling after dark quite daunting. So, why are these crimes on the rise? And what are the authorities doing about it?
According to a report by this daily, lonely, poorly-lit streets and an increase in load-shedding hours have made it easier for muggers to prey on victims. Sometimes, they just snatch valuables and run away. But lately, there has been a rise in incidents of muggers stabbing their victims. The Dhaka Metropolitan Police (DMP) have identified some areas where the miscreants are more active. Reportedly, there are about 500 muggers active on the streets in Tejgaon, Ramna, Gulshan, Mirpur, Uttara, Motijheel, Wari and Lalbagh thanas. If police already know this, we expect them to take stern action against the culprits and make sure they are punished under law.
Which brings us to the critical question of whether these muggers, when caught, are, in fact, brought to justice, or they escape through payoffs or loopholes in the legal system. If they are not meted the punishment they deserve, it is hardly surprising that they will feel emboldened enough to carry on with their crimes with more such individuals joining the "profession".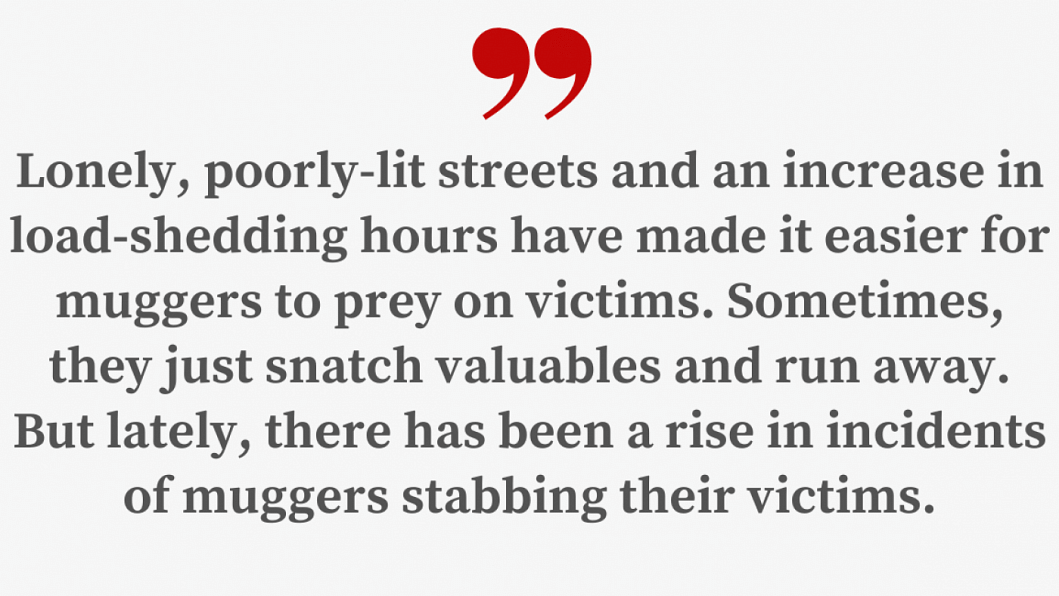 The short-term measures needed to prevent this are quite simple. Police must be more vigilant and undertake regular patrols in the identified areas where muggings are on the rise, especially during load shedding. Apart from catching the muggers, they have to find the leaders of mugging gangs and bring them to book. Streets have to be properly lit with regular maintenance of existing street lights.
But in order to ensure that the streets are safe, the government also has to take long-term measures by addressing factors that lead to men taking drugs and resorting to crimes when they run out of money to buy them. Increasing financial hardship, joblessness, frustration among the youth – all these factors lead to substance abuse which often leads to crime. The rise in muggings suggests that there is an increase in the number of such drug-abusers. Many street children and young and older men can be seen taking drugs in certain areas of Dhaka. The government has to set up rehabilitation centres for these individuals so that they can get clean and live drug-free lives. Creating jobs as well as a stable environment for them will ensure they do not enter the world of crime.
The streets of Dhaka can only be safe if the government and its law enforcement agencies take concerted steps, instead of organising safety drives to catch muggers once in a blue moon.