Can police just kill people on the streets?
Accountability and immediate reforms are vital to stop this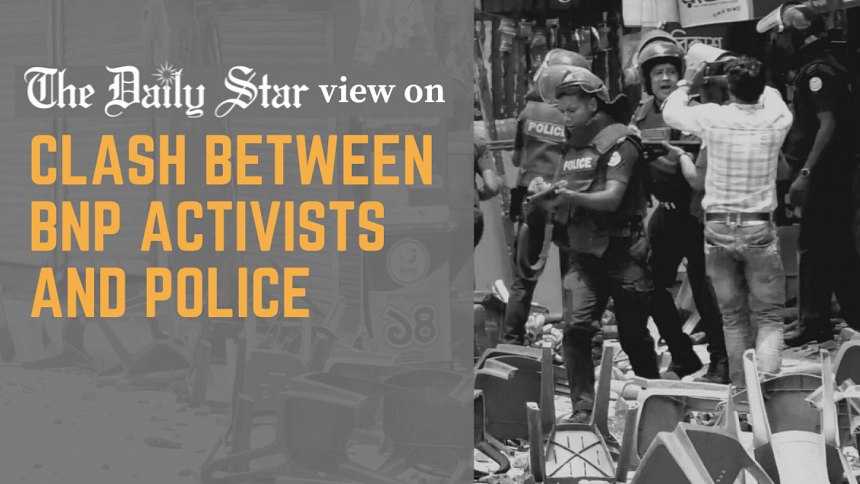 On the same day that the home minister told journalists that law enforcement agencies would not restrict BNP if they hold peaceful programmes, one BNP activist was killed allegedly by police fire while scores were injured after a procession was blocked by police in Bhola. According to local BNP activists, who were protesting the rise in fuel prices and load shedding in the country, they had taken verbal permission to organise a rally and a procession. However, the police contest that the party did not take permission for the procession specifically, and that BNP supporters hurled brick chips and glass bottles at them when they intercepted it.
Let us assume that the police version of events is the correct one. Let us put aside the fact that in an ideal society, you would not need to request permission to exercise your right to protest. Let us also accept that it was the BNP protesters who became violent first. Even in these circumstances, is it fair for the police to use live bullets to bring a situation "under control"? Can the police become judge, jury and executioner and end the life of a man for hurling brick chips? Are there no methods of maintaining law and order other than using such excessive force? Equally importantly, what message does it send to the opposition political camp, especially when BNP is refusing to participate in the upcoming national election fearing undue interferences from the ruling party?
BNP activist Abdur Rahim is not the first person in the past week to have been killed after police interventions. On July 27, seven-month-old Sumaiya was shot in her mother's lap during election violence in Thakurgaon. On that evening too, the police were attacked by supporters of a defeated contestant, and apparently they opened fire in self-defence. The fact that an infant ended up being killed demonstrates just how reckless this firing must have been. Despite there being a provision in the police code for firing into the ground to frighten rioters, or at knee height to cause injury, we continue to see deaths as a result of lethal force from the police.
Every public institution run with taxpayers' money must be accountable to the people. This is all the more crucial for law enforcement agencies who are the only force legally empowered to detain, question, threaten, and sometimes even take the life of a citizen. A force with such power must adhere to the highest ethical standards, and follow procedure to the letter. Yet, what we continue to witness in Bangladesh can only be described as an abuse of power and a miscarriage of justice. Without accountability and immediate reforms, we fear more citizens will continue to die or suffer at the hands of law enforcement agencies.