1 killed as police, BNP activists clash in Bhola
Scores injured after cops swooped on procession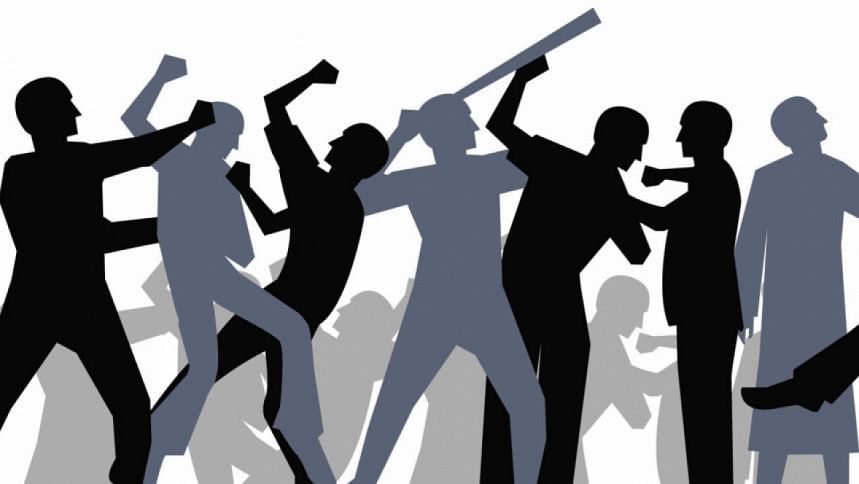 One person was killed and scores, including policemen, were wounded as BNP activists clashed with law enforcers in Bhola town yesterday.
Witnesses said at least 60 people, including bystanders, were injured in the running battles that continued for hours.
The dead, Abdur Rahim, is a resident of South Dighaldi of Bhola Sadar Upazila. The BNP said he was a member secretary of local Swechchhasebak Dal, the party's volunteer wing.
The clash broke out when police intercepted the procession that the party men were bringing out from their office in Bhola municipality around 11:30am. The procession was part of its countrywide programme protesting the power crisis and price spiral of essentials.
Nine people were detained over the incident till last night, according to sources at Bhola Sadar Police Station.
Earlier at a press briefing, Bhola Superintendent of Police Saiful Islam said the party had not taken permission for the procession, adding that BNP supporters hurled brick chips and even glass bottles as law enforcers intercepted the procession.
District BNP President Golam Nabi Alamgir, however,  told The Daily Star later that they had verbally notified the authorities of the rally and the procession.
"Otherwise, why police were there?" he asked.
At the press briefing, the SP claimed their special intelligence unit observed that the protesters fired from shotguns at the police, prompting them to retaliate.
"I don't know how the man died, but doctors said he died from a head injury ... maybe being struck by brickbats," he said. Ten police personnel suffered injuries, including one who was hit by shotgun pellets fired by demonstrators, he said.
Police said they fired 165 rounds from shotguns and 30 teargas shells to bring the situation under control.
Alamgir refuted the SP's claims of BNP activists firing from shotguns. He claimed that police fired from shotguns, leaving Rahim dead.
"Our plan was to leave the rally venue in a procession. When police charged baton and fired from shotguns and lobbed teargas shells, we did not bring out any procession," he said, adding that police attacked without any provocation.
Nirupam Sarkar, resident physician of Bhola General Hospital, said the deceased had injuries in the head, ear and also shotgun pellet wounds under his eyes and several other parts of the body.
"It appeared to us that blows to his head from brick chips might have caused his death," Nirupam told this paper, adding that Rahim was brought dead.
Thirty-four others, including nine police personnel, were admitted to the hospital.
Of them, 19 were sent to the Sher-e-Bangla Medical College Hospital in Barishal, and five were referred to Dhaka for better treatment, said Saiful Islam, director of the hospital.
This correspondent found that an eighth-grader, Raihan, was wounded after getting caught up in the violence while going to a private tutor. The shopkeeper of a nearby store, Rafiq Mistri, was also wounded. Both were being treated at Sher-e-Bangla Medical College Hospital.
Witnesses said BNP supporters threw brick chips at the law enforcers when police fired from shotguns and lobbed teargas shells, leading to a fierce clash.
Claiming that at least 100 of their leaders and activists were injured, Alamgir demanded punishment to the police personnel responsible for the attack.
Meanwhile, BNP announced a two-day programme protesting "police attack and firing" on the party's rally in Bhola.
The party will hold gayebana janaza today in all district headquarters and stage demonstrations across the country on August 2.
BNP Secretary General Mirza Fakhrul Islam Alamgir made the announcement at a press briefing at the party's Nayapaltan headquarters.
"Police suddenly attacked and opened fire on our rally in Bhola. Abdur Rahim, member secretary of Swechchhasebak Dal's South Dighaldi union unit, was killed and many others were injured. We condemn such attack and have announced programmes," he said.