A brazen display of religious intolerance
Government must ensure legal action is taken against Narail attackers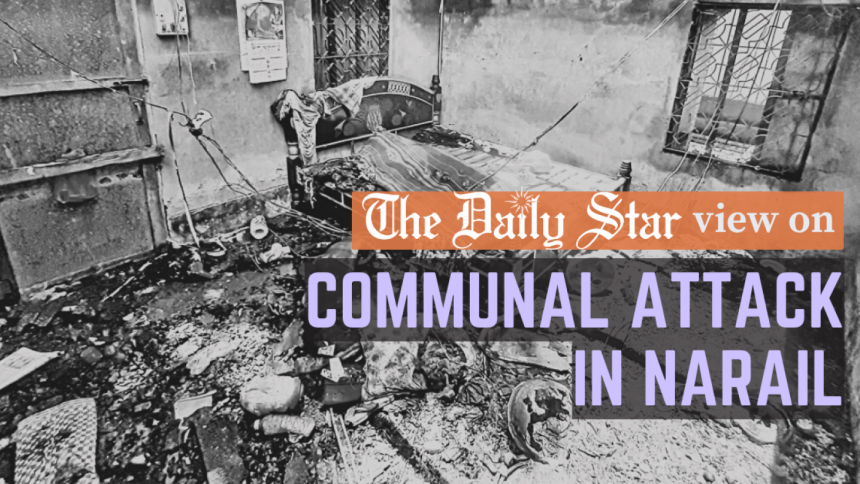 Here we are again, at the bottom of the heap, watching helplessly as members of a religious minority again come under attack. News headlines will tell you: "Hindu homes, shops, temples vandalised over Facebook post in Narail." The familiarity of the scene – where, about a month ago, a Hindu teacher was forced to wear a garland of shoes – is hardly surprising, as is the familiarity of the excuse – "hurting religious sentiments" – used to brutalise victims. Narail may be a flashpoint for communal violence now. But in a culture of intolerance of diversity, anyone, anywhere, can be a victim of such attacks.
The problem seems to begin, as it did last Friday, with "asking" for punishment for derogatory comments made about Islam. Such righteous indignation, justified or not, is almost always exploited by the orchestrators of communal violence. At the Sahapara village in Lohagara, Narail, crowds gathered after Jummah prayers to protest in front of the house of the student who made the alleged Facebook post. As he was missing at the time, the anger was redirected, with added fuel, to neighbouring Hindu houses and establishments. Who will answer for this madness?
Deepali Rani Saha, who saw her valuables looted and house set ablaze, echoed what all Sahapara victims must be feeling: "I don't know how long this threat of violence will haunt us. Who will give us justice? Who will give us security? If I were in the house while they set it on fire, I would have died. God saved me. But is this any way to survive? " What makes this experience more traumatic is that police allegedly watched "from a distance" as violence unfolded. Police have since failed to arrest any of the attackers, but they were quick to detain the student in question. No wonder victims are still feeling unsafe.
The reasons for communal attacks in Bangladesh are not unknown: a vicious culture of intolerance, often encouraged by those in power, politicisation of religion, and the failure to take legal action against those involved in attacks. The last factor was repeatedly highlighted by experts, with some 253 cases of communal violence filed over the last 19 years reportedly remaining unresolved. After every incident, authorities promise justice, as they did in Narail too. But rarely, if ever, are criminals held accountable, emboldening the communal forces.
This must stop. We urge the authorities to quickly resolve all court cases of violence and bring the attackers to justice. Paying lip service to communal harmony will not improve it unless these barriers are removed. The authorities must take strict measures against any hint of communalism, create a safe environment for all minority communities, and help create a more tolerant society. Otherwise, our dream for a fair, just society will never come true.