MINIMUM WAGE REVIEW IN RMG SECTOR
What negotiators should keep in mind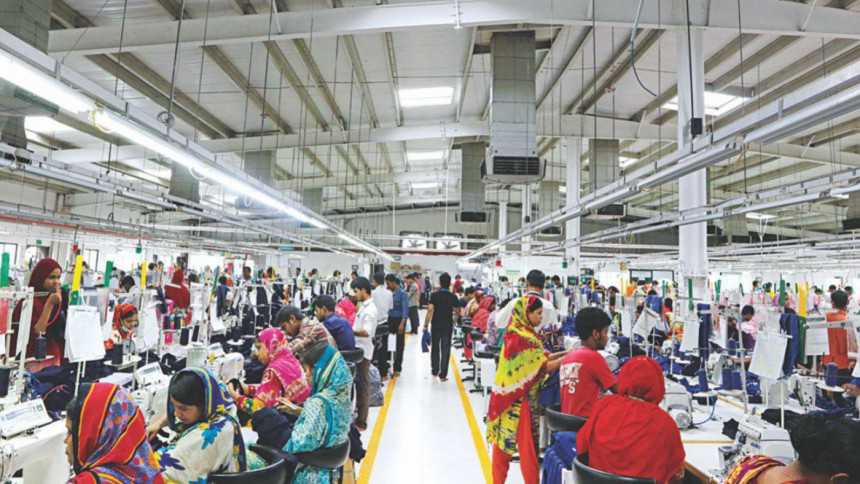 The government of Bangladesh has recently formed a new wage board for the readymade garment (RMG) industry where 4.4 million workers are currently employed.
There are around 45 industrial sectors in our country, each with its own set minimum wage. This means that there is no national minimum wage.
In the garment sector, there are seven grades of workers' wages. The lowest grade is grade seven which is for unskilled workers—Tk 5,300. However, workers also receive overtime allowances, two festival bonuses and attendance bonus. All these included, the monthly take-home wage at the entry level is between Tk 8,000-9,000.
The last wage review in the RMG sector was done in 2013 when it was increased from Tk 3,000 to Tk 5,300. Previously, it was Tk 1,662.50 till the end of 2010. According to Bangladesh's labour laws, the minimum wage of workers needs to be revised every five years. So, the next revision is due this year. The revision would be done by a tripartite wage board comprised of the government, representatives of garment factory owners and workers. In reviewing the minimum wage, the board will take into consideration the cost of living of workers, their standard of living, cost of production of factories, productivity, price of products, business capability, economic and social condition of the country and of the localities concerned, as well as other relevant factors.
In the last round of negotiations in 2013, the minimum wage was increased by around 80 percent which was a substantial increase at once. That was a fair decision too which not only benefited the workers, but also ensured growth of the entire RMG sector as many Western customers demanded a significant increase in wages considering the plight of workers, especially after the tragic Rana Plaza incident. The RMG sector adhered to its responsibility at the time in order to develop better relations with buyers.
This time the minimum wage is going to be revised at a time when the country is about to graduate out of the least developed country (LDC) category. As a LDC, Bangladesh now enjoys duty-free access to the European Union (EU) where about 60 percent of the total "Made in Bangladesh" apparel is sent. After the graduation, Bangladesh would no longer be able to avail the duty-free access to the EU. So, those reviewing the wage board need to ensure fair wage for workers keeping this in mind. They must put their business hat on in the upcoming wage negotiations to develop a financial strategy for sustaining growth, even after the duty-free access is cancelled. There is also a need for an economic infrastructure as regards to the minimum wage negotiations, that can sustain a lasting wage system—a long-term and strategic framework where international buyers can forecast the implications of working with Bangladesh, as all businesses are built on long-term relations. We need to demonstrate prudence and ensure that business goes hand in hand with ethics.
Moreover, we need to take a macro-economic view of the post-wage increment situation. Every time a new minimum wage is declared, we see house rent in the industrial areas and price of essentials rise. As a result, workers can hardly benefit from such increment because of inflation. So, the government needs to strongly deal with such issues and prevent unwarranted price spirals once the minimum wage is reviewed.
Moreover, in order to compete in the long-run, we have to also bear in mind the challenges faced by our apparel manufacturers. It is a buyers' market and we are still the price-taker. Therefore, the financial implications of any decision should not be taken lightly, as an adverse impact on profitability may slowdown investment in the sector.
There is no denying that low cost production could not be the only way forward for us as a middle-income nation. Without a balanced development in value adding capability, the industry will not be able to support the future economy of Bangladesh. When the world is quickly moving forward and looking to use technologies like robots programmed with artificial intelligence to improve productivity, it is high time for us to think about restructuring wages in the RMG sector. Changing the mindset of workers so that they accept wages based on productivity might be a daunting task, but without it, our RMG factories may not remain competitive in the long-run. Owners must also change their mentality and realise that a productive worker will earn more for them, as every cent spent on workers is paid back in return as additional output.
---
Mostafiz Uddin is the managing director of Denim Expert Limited, and founder and CEO of Bangladesh Apparel Exchange (BAE).
Email: mostafiz@denimexpert.com. 
---
Follow

The Daily Star Opinion

on Facebook for the latest opinions, commentaries and analyses by experts and professionals.
To contribute your article or letter to The Daily Star Opinion, see our

guidelines for submission

.
---