Remembering Sultana Kamal Khuki
A pioneer woman athlete and a great soul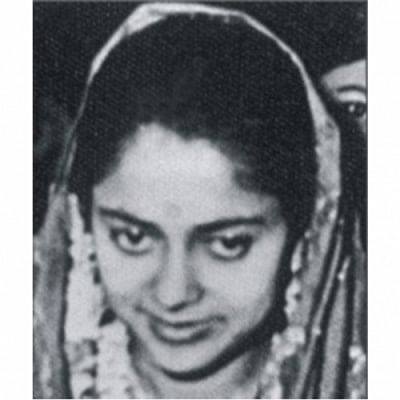 Not that we remember her only on August 15th, but she comes alive during events she embraced, at places that hold her memory, on the morning dew shimmering on the green, in the clouds that stand still, dark and heavy.
In 1972-73, some of us HSC graduates published daringly, so to say, the first sports magazine of newly independent Bangladesh. Typesetting and letterpress printing in a dimly lit sweaty workplace was our home of passion.
Sultana Ahmed Khuki was already a champion athlete several years before our independence, a Bangali celebrity with triumphs in the Pakistan Olympics in Long Jump and 100m Sprint. She was popular across the country despite the now inconceivable media paucity then.
Perhaps her interview was published in our very first issue. As a follow-up, a few of us plucked up enough courage and popped the question at Dhaka Stadium, now Bangabandhu National Stadium. To our delight, she consented with a smile. She became the Assistant Editor of our monthly "Krirangan".
Khuki apa, later Sultana Kamal, was an extraordinary personality. Many knew her as a top-grade athlete, but she was also a woman of exceptional qualities. She was extremely popular on and off the field. Although she was one of the pioneer woman athletes in the days of extreme conservatism, there was not a speck of blemish on her character.
In 1975, her marriage to (Sheikh) Kamal bhai, another doyen of our sporting world, was big news. In addition to that commonality, they were both from the Sociology Department. Quite a while before there was any talk of this wedding, she had mentioned to me matter-of-factly while we were chatting about security, "If any girl student of our department would like to be escorted home by a boy after any evening programme, that would be Kamal bhai."
Her would-be groom was the eldest son of the Father of the Nation, Bangabandhu Sheikh Mujibur Rahman, but she was not at all unnerved.
Kamal bhai had many loyal friends. That friendship has blossomed into today's Abahani Krira Chakra. Sultana Kamal was, the same as me, a Mohammedan player and supporter since 1967-68. Although from the camp of lifelong rivals, I have to reluctantly admire Kamal bhai's constructive faculty. Almost half a century after his demise, the club has retained its status as the country's foremost sporting organisation. That is testimony to the depth of allegiance his friends have for the club's founder.
In those days there was fierce rivalry between Mohammedan and Abahani; on the field, in offices, on the street, among friends and within the family. Kamal bhai was not being any different, nor was he going to let an opportunity to rag me pass by. Around sometime during his last few weeks, he teased me, albeit jovially at the Dhaka stadium, "Now what will you do? I have married your sister!"
I was by then a student of Architecture at BUET. Sultana Kamal's Bakshi Bazaar house was near my university, to the east. It was convenient to pay her a visit every now and then. She was always very welcoming, rushing to the front door to open the latch, running through the house to open the door to the living room; no less than a 25-metre dash.
With the bashfulness of a future bride, coupled with joy, she showed me scores of her engagement photographs, never stopping to explain each, narrating how the proposal was offered from Bangabandhu's family, and what were some of the plans for the big day.
She was then full of life; she always was. On that day, she was agog as any young woman would be with wedding bells ringing. Contrary to then contemporary obnoxious and later unlearned propaganda by conspiracy theorists, she was not forced into the marriage. The last time I saw her, she was in her bridal attire.
One of her elder brothers, a Dhaka University athlete in his own right, brought the wedding card to my Titumir Hall room by walking up all the way to the third floor, end of the corridor. I imagined Apa must have insisted.
On the wedding night, July 14, 1975, I saw Sultana Kamal from afar in a bridal procession moving across the corridor of the Officers Club (old building). I gave the moment no thought. That I would be seeing Kamal bhai and his bride later was not even on my mind; it was obvious. Unbeknownst to us, an evil fate awaited.
From under a shamiana near the southern wall, I could see only her headdress amidst the throng of friends and family. A few yards away, Bangabandhu was in conversation with most probably Dr Abdul Matin Chowdhury, the Vice Chancellor of Dhaka University. There was no crowding around him though, no overtly visible security. A few weeks later, the nation paid the price.
Sultana Kamal and Sheikh Kamal both lived their life simply and joyfully with friends and family. They were hugely admired, extremely sociable and totally conversational. They took active part in every sociocultural programme that defined the Bangali nation. They were both gunned down most savagely on one ill-fated morning.
Early on August 15, 1975, I was woken up by seniors from an adjacent room, "Listen to the radio, quick!" Shell-shocked and in disbelief we heard. Bangabandhu was assassinated by a group of derailed midranking Bangali Army officers, his own countrymen; an act not dared by the Pakistan Army. It remains the most abhorred chapter in our history.
Hoping in naivety, I assumed that Sultana Kamal must have been spared the brutality. As the sun climbed higher, that distressing news too trickled to our huddle at the hall gate. In spite of rumours abound, we had no indication of the carnage at Road No 32. There was no parallel in history of an entire family and more being murdered with such ruthlessness. Her wedlock was one month old.
Khuki Apa, you are the first woman Blue of Dhaka University. The Women's Sports Complex at Dhaka has been entitled "Sultana Kamal" in your memory. Not forgotten 40 years after you stopped sprinting on earth, in 2011 the Bangladesh Women's Sports Association introduced the Sultana Kamal Independence Day Award for contribution to women's sports.
You did not know that we would have to cross a bridge named after you to go over the Shitalakshya to travel from Demra to Tarabo. How would you? You did not get the time.
May the Almighty grant Jannat to you and the departed in your family, and bless the living with faith and fortitude.
Nizamuddin Ahmed is an architect, a Commonwealth Scholar and a Fellow, a Baden-Powell Fellow Scout Leader, and a Major Donor Rotarian.