Pink ball, espionage and beating India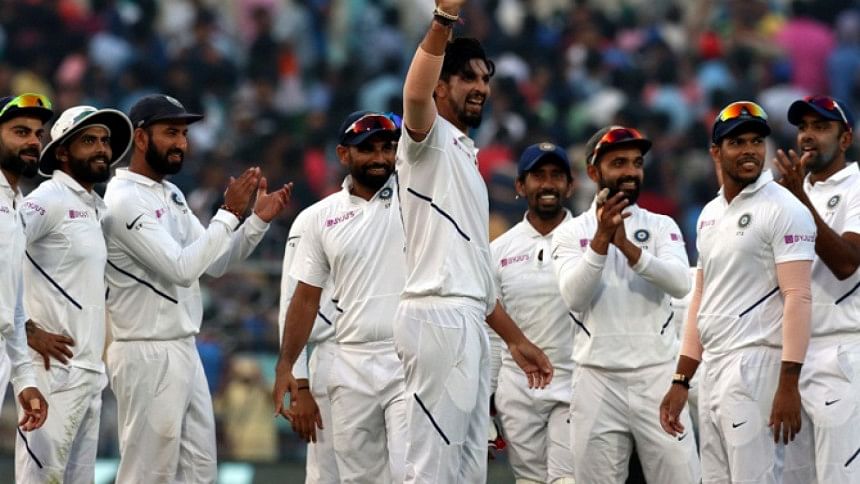 My earliest encou-nter with the razzmatazz colour, discounting my childhood chushni (more about that later) was due to my kindergarten schooling at Comilla's Our Lady of Fatima Convent. As a boarder among a score of girls and strictly under-10 boys of the same number, in separate dormitories of course, each week we were to copy "letter to our (respective) parents" from text written on a blackboard. The supervising Sisters allowed us to individualise our family correspondence.
My dear Abba and Amma. I am well. I hope you are in the pink of health. Yesterday we went for a walk...
It would be much later that the movie "Pink Panther" would occur to me as hilarious. That I found out now would be the late-1960s in Dhaka. Barring immediate sequels, "The Return of the Pink Panther", again late 70s, was a movie that made the cut with us.
If at all, one needs to hire a detective of the calibre of Inspector Jacques Clouseau (of Pink Panther fame) to reinvent the ailments that haunt all that is related to our cricket. Being clear Test underdogs, why on Eden, our mentally and morally bankrupt BCB would comply with a bizarre Bharatiya proposal to play with (of all colours) a "pink" ball!
A new board president will do every Dadagiri to launch his tenure with a bang. He dared not to underestimate Mahmudullah and Co. with the red ball in daylight. We also fell for the Indore bait because seriously our Board understood that the First Test would be played indoors, as would be the second half under lights with not many people watching, something of a casino milieu. No wonder we were hardly in the pink of the game at Kolkata.
According to our man Clouseau, the Indians practised long hours with the pink ball, but in secret because it looked silly; one reason why half the match was arranged to be played in the dark. They could not be losing against Bangladesh in front of a boisterous and passionate daytime home crowd. However, the presence of our prime minister drew the huge crowd of plus-forty thousand, a record for a contemporary Test match. The West Bengal chief minister in attendance looked on with watery eyes, but there was still no confirmation about sharing the Teesta flow.
BCB bosses had not a clue. They were busy hiring a coach for this and a coach for that instead of a much-needed detective. A Dhaka-Kolkata luggage party gifted one sample, but none of our boys so much as touched the ball because it was too feminine. They read somewhere that pink is the official colour for little girls, symbolising sugar and spice and everything nice.
Ignoring such a tawdry fairy-tale narrative, the Board should have had the foresight to purchase several dozen pink balls to give our boys the feel and a sound preparation on a "bouncy wicket". The latter should have been reported had BCB employed professional cricket spies instead of relying on shopaholics of the other kind. As a result of gambling with destiny, our boys played with a pink chushni in their mouth. No threat to hygiene, as there were several.
Given the difference in playing standard between the two teams, the colour of happiness was perhaps destined to make a cricket-loving people lose interest in the war of cricket. Make that two nations because the Eden crowd of plus 60k had fizzled by the second day, was a trickle on the third, and (little surprise) there was no fourth day in the promised five-day face-off between cricket's Goliath and a Board opting to gleefully remain nonentity.
Apologies to Anarkali and Salim, Shah Jahan and Mumtaz Mahal, Golapi and Milon... As most love affairs are, this colour of unconditional love was seemingly portrayed one-sided at the home of the Cricket Association of Bengal. Despite extending an invitation, because pink represents friendship, Narendra Modi did little justice to the office of the Indian prime minister by failing to receive his counterpart, Sheikh Hasina at Netaji Subhas Chandra Bose or anywhere in the City of Joy. Now NRC may be Amit Shah's WMD (Woh Mardala Dostana), but Modijee, Sheikh Hasina is our prime minister. By another definition of course, pink is the colour of love of "oneself". I rest my case.
Other denominations of the colour pink, affection and harmony, transpired aplenty at Kolkata in and outside the stadium because we are Bangalee on both sides of the eastern Radcliffe Line. After the game is done and dusted, all that matters is an exchange of Padma's Eelish, and sweet Langcha. Inner peace, however, as defined by the colour rejuvenated by a ball battered and bettered by India, belonged to Virat Kohli and his men.
Pink is the sweet side of the colour "red". And that is what many will see in the first day-night India-Bangladesh Test and two-days' rest. To begin a brand-new innings, Bangladesh cricket administration, team management, technical advisers, and curator and (slow) grounds men, need a complete overhaul. Some tested, but tried (and tired) officials need to be shown the door if they cannot see one. How many more years of experience they need, one wonders. There are top officials dis-serving the game for three to four decades. One assumes they have no other interest here other than the lost game of gentlemen.
A new elected board (manned by persons of sporting pedigree), a fresh team management (based on unsullied track record), a thinking captain (especially after winning a toss), cricketers abounding in confidence (even after the opening pair is out for two, or going for twenty in the previous over), a head coach who does not justify grossly erroneous decisions, and after hundreds of hours of batting, bowling and fielding practice with the pink sensation, we are now in a position to beat India hollow. Yup! I am talking about Year 2050. Or earlier, if good sense and sincerity prevails.
Dr Nizamuddin Ahmed is a practising Architect, a Commonwealth Scholar and a Fellow, a Baden-Powell Fellow Scout Leader, and a Major Donor Rotarian.