Lay and parley, eat and meet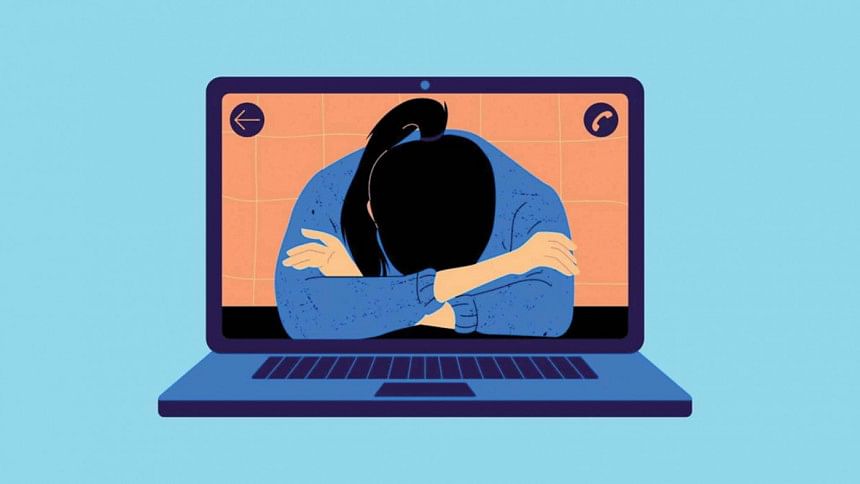 Once the pandemic is over, that's optimism, one thing I hope I will not miss, and you too perhaps, are meetings round the clock, that shall be freedom.
Even with regard to the frivolous peck on the cheek or wherever, there is a "never ever on a Sunday" bar, "because that's my day of rest". Who cares about a 1960 song? These meetings can be held on Sundays to Wednesdays, Thursdays to Saturdays.
Time? You are telling me? A luncheon meeting in Chattogram is breakfast in London, morning snacks in Dubai, high tea Sydney, dinner at Wellington, and Sehri in New York. Reversals are common too, as students of US universities will concur. Sent on Covid homestay tuition, a luncheon lecture at Dallas was eerie hours in Dhaka, especially for those undertaking a course on paranormal studies.
Online, refreshments are arranged on have-your-own basis. You could be caught having seafood sashimi in Tokyo, or grinning over a sumptuous meal of nyama choma (grilled meat) in Dares Salaam, or relishing Kathmandu's mouth-watering dal bhat. Keep that video off, or better still, eat before a meeting.
The host has the pole position. He does not need to book a venue, no banner to design, no worries about a menu, no headache to meet a budget, and invitation is conveniently emailed or texted.
Yet, the supposed "master of ceremonies" is sometimes unfair and impolite, taking the privilege of launching the meeting several minutes later than he scheduled because, being inherently callous, he was late. But, the blame falls on poor internet connectivity.
People do not need to travel, so attendance is usually good. That's a plus-point for online get-togethers. Nor do finicky partakers need to worry about what to wear because of "stop video", which also allows one to join from one's bed, or the loo. The drawback is that for any serious deliberation, professional attitude in preparedness and effective interaction is totally lacking.
Deodorants, body spray and perfumes, gold wristwatches and heavy chains, earrings and trinkets are all a waste. Shave? Nahhh… Mind the toilet flush and other noise emissions though, if perchance you have unmuted the audio.
In one such meeting, my upper only being visible to other attendees, my smart move was to put on a good shirt. However, proceedings surprisingly required I stand up, which I did, along with my laptop, lock, stock and barrel, held at arms level, all because my bottom was not befittingly clad.
I had done one better than the Canadian parliamentarian who was caught stark naked during a House of Commons video conference last April. Liberal MP William Amos from Quebec later tweeted an apology to his colleagues in the House for "an honest mistake".
Lazybones can live in a pigsty and join a sombre discussion. Switching on virtual background mode is further liberty to keep your surroundings dishevelled. Additionally, there is "blur background" in case you forgot to remove a delicate piece of clothing from view. Thankfully, a device that can convey odour online has not hit the market.
Late Latifs are common even in the digital world, and loud as well. A participant will join a meeting that was well under way, and will liberally interrupt proceedings with a vociferous and questioning "Aassalamulaikum", a tone where the greetings is combined with how-do-you-do, as if the world was waiting for that moment. Recurring late arrivals can ruin any meeting.
Speaking by turn and muting one's microphone when not speaking are common etiquettes of online conferencing. Alarmingly, unmuting could reveal the auditory profile of your house, which could include pigeons' bak-bakooming to couples quarrelling over who left the cage open, TV, cooking, and playfulness. Background noise is a nuisance, caused by carelessness and unnecessary activities, collectively known as lack of focus of the attendee. But, not many care to the point of being rude to the others.
Then there is your camera, handheld on a mobile device or a more stable web camera on your desk or laptop. If one is careless, both have the potentiality of catching matters behind the scene; some could be hilarious, others a touch embarrassing, and another that clarifies the identity of the boss of the house. "Are you again gossiping on the Net? Go and take your shower, lunch is ready… ooops!"
Multi-taskers seem very busy during meetings. Receiving a phone call, writing notes on some other matter, finger-picking choon for the paan in his mouth, drool, disgusting! Nose cleaning, scratching, fixing hair, and laughing at something else is not uncommon. Spitting out a tiny object does look a lot bigger on someone else's screen.
Over the past many months, nominated presenters have irritated others by failing to bring their topic to the point. Some did not prepare materials in advance and created a state of confusion. File sharing is an art not being mastered caused delays and loss of tempo.
Some of us involve the entire household in an online meeting by not wearing a headphone. Then we yell to make a point. We jumble up what we want to say, especially if we are munching on something. Formality has never been this informal.
Perhaps the most common nuisance, "Can you hear me?" Simultaneous response from several, "Your microphone is muted." "Put it on." "Unmute…," which are also inaudible to the speaker because he did not switch the audio on over the internet. More nuisance. "Can you hear me?"
We never allow the host to take control of the affairs; the syndrome of village matobbar in us returns time and again. In spite of instructions, we speak without raising the virtual hand. When we do, we speak out of context for the sake of speaking. We repeat what has been said already. We repeat what we have said.
Participants look everywhere but the camera. They are hesitant to establish eye contact. There is no sense of engaging anyone in the conversation. They are as individualistic in a web meeting as they are in isolation under the global epidemic.
A few have the nerve to join while driving, very dangerous, or when travelling because their Net connection is as good as the telegram days. Their video is bouncing up and down as a swimmer doing the butterfly, their voice is breaking up like a rap song, and their concentration is as good as the next horn, frequent as it is.
Our online video etiquette will perhaps improve over time, as has the public's general response to journalistic queries on television channels. Let us pray the deadly virus does not last that long.
Nizamuddin Ahmed is a practising Architect at BashaBari Ltd., a Commonwealth Scholar and a Fellow, a Baden-Powell Fellow Scout Leader, and a Major Donor Rotarian.