Will there be a 'Malay tsunami' for Mahathir?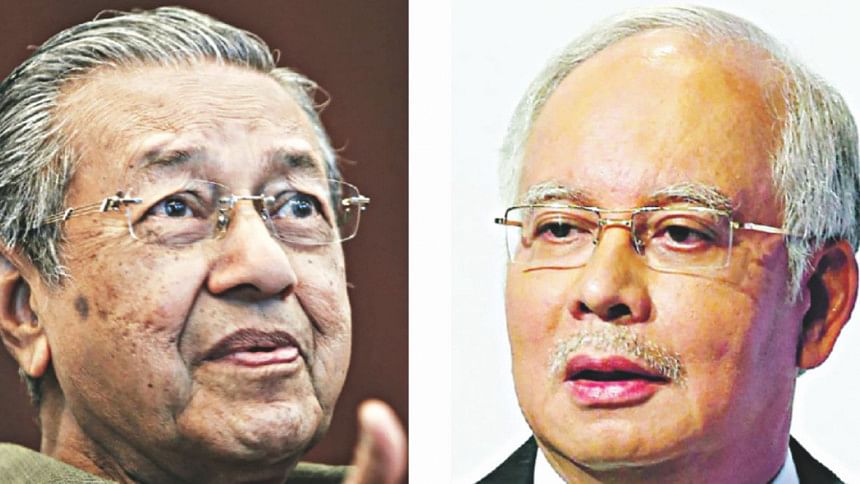 Nearly 15 million Malaysians will go to polls today to elect 222 members of the 14th federal parliament and representatives for 12 state legislatures. Parliament majority is 112 seats. The 13th parliament was dissolved on April 6 and the nominations of candidates were finalised on April 28, when the 11-day formal campaigning started that would determine the fate of scandal-plagued Prime Minister Najib Razak (64), who is leading the interim government.
Just as the election for the 13th parliament was interesting with several twists, this election, too, is in the focus of many psephologists. Najib's right-wing coalition Barisan Nasional lost its two-third majority in that election because of the "Chinese tsunami". The Chinese voters got together and voted for the opposition Pakatan Rakyat. BN won 133 seats from 47.38 percent votes and formed a government under Najib for the second term. Interestingly, the opposition party Pakatan Rakyat (PR), led by the popular opposition leader Anwar Ibrahim (now jailed), won 89 seats although the party garnered 50.87 percent votes. There were protests and many say that BN won because of gerrymandering.
This election has become a test case for Najib as the indomitable Tun Mahathir Mohamad (who served as PM from 1981 to 2003), at the age of 92, has challenged Najib Razak—who was once Mahathir's protégé. Despite his delicate health, Mahathir got back to politics in 2015 demanding Najib's resignation after the 1MDB financial scam came to the surface. Najib, however, denied any wrongdoing.
In 2016, Mahathir quit BN-UMNO (United Malays National Organisation), the largest political organisation in Malaysia. Indeed, Malaysian politics revolves around UMNO, which Najib leads.   UMNO is the largest component of BN—a coalition of 13 parties.
Mahathir is leading the opposition coalition of four parties—PKR, DAP, Bersatu and Amanah—under the name Pakatan Harapan (Alliance of Hope). Mahathir, widely acclaimed as Malaysia's "Father of Modernisation"—termed as the "black swan" in this election—is the opposition candidate for PM.
As the election date neared, campaigning became intense with three issues dominating the political discourse—corruption scandals of BN, state of the economy, and race and religion. 
Mahathir's PH is trying to capitalise on Najib's 1MDB scandal with the slogan that it is time for change. Corruption is an issue over which opposition leaders easily connect with people, which in turn helps unify the lower-income groups. It is alleged that nearly USD 1 billion was transferred to Najib's private bank account from the state-owned 1MDB. Though Najib survived the scandal, the issue has repeatedly dogged his tenure. Opposition leaders say that Najib has turned the country into a kleptocracy. Mahathir also warned that if Najib gets a landslide majority, he may be tempted to change the constitution to become a dictator.
Najib's election plank is the economy, which is doing well. The opposition is saying that the BN government's corruption has bankrupted the country. Dismissing the opposition's criticism, Najib says that rating agencies continue to rank Malaysia high. His position was boosted when a recent IMF report stated that Malaysia's USD-296-billion economy was resilient and was "well on its way to achieving high-income status". But those in the lower income bracket grumble that the robust macro-economic indicators have hardly improved their daily lives. The six percent goods and service tax (GST), introduced in 2015, has also been a source of discontent for the lower- and middle-income classes.
The Malaysian society is divided because of the three main ethnic groups—Malay, Chinese and Indian. Ethnic Muslim Malays, known as "Bumiputra" (sons of the soil), make up 60 percent of the country's 32 million population. Bumiputras enjoy "affirmative action policy" that aims at bridging the gap with the wealthier Chinese community. The Chinese community, which constitutes 23 percent of the population, is educated and better organised politically. While Najib has been tapping the Chinese vote bank, Mahathir has been trying to unify the Bumiputras against BN. There are accusations that both leaders are using divisive rhetoric trying to exploit racial tensions to get votes.
There are serious concerns that the election may not be free and fair. Phantom voters, electoral roll tampering, power blackouts during vote counting, widespread cheating, gerrymandering, etc. have been worrying the opposition parties and civil society groups.
Since the Election Commission operates under the Prime Minister's office, the media reported harassment of PH in several instances. PH was refused registration preventing it from campaigning under a common logo. It is now campaigning under PKR's banner. The EC also issued guidelines that block Mahathir's image from being shown on posters throughout the country. Several opposition candidates were disqualified from running on flimsy grounds.
Najib's decision to hold the election on May 9—a working day—is also part of his plan to keep about half a million Malaysians working in Singapore away from the hustings. Urban voters of Malaysia would also find it difficult to go home to vote. Najib seems to have set the ground for a lower urban voter's turnout.
To thwart criticism from the opposition, Najib also passed anti-fake news law on April 2 despite widespread protests. The law carries stiff punishments and fines and civil society groups fear that it will be used by Najib to muffle dissent and criticism against him. Mahathir has already come under investigation as he blamed the government for sabotaging the plane that was to fly him from Kuala Lumpur to Langkawi, where he was to file his candidacy.  
There is no consensus among psephologists as to which party will come up on top on May 9. According to one opinion poll conducted in April, Pakatan Harapan will get 43.7 percent votes against 40.3 percent of Barisan Nasional. However, these opinion polls may be misleading as the sample size is often dubious.
It would be difficult to oust Najib in the absence of a level playing field. Nevertheless, Pakatan Harapan is banking on the "Mahathir factor" to trigger a Malay tsunami to wash away the Barisan Nasional.
---
Mahmood Hasan is a former ambassador and secretary of Bangladesh government.
---
Follow

The Daily Star Opinion

on Facebook for the latest opinions, commentaries and analyses by experts and professionals.
To contribute your article or letter to The Daily Star Opinion, see our

guidelines for submission

.
---