Judicial activism and militant attacks can mar Pakistan elections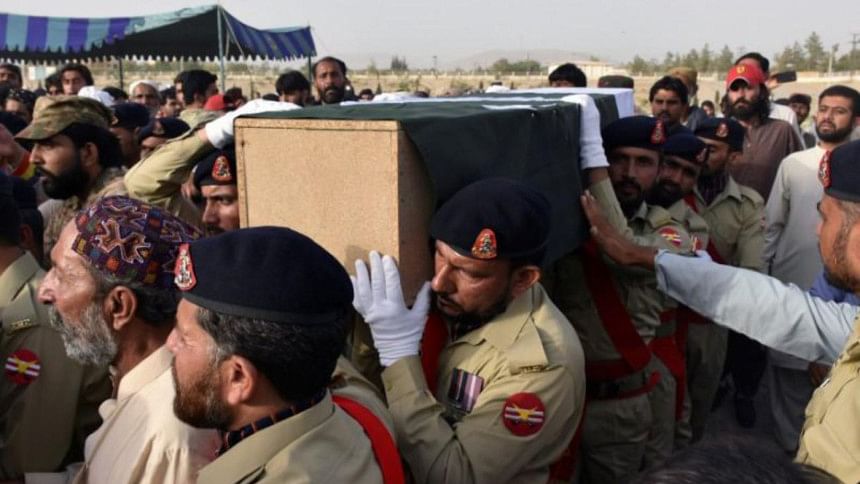 Pakistan goes to polls under a caretaker government amid judicial activism and militant attacks. Former Chief Justice Nasirul Mulk, heading a six-member cabinet, took over as caretaker prime minister on June 1, 2018 to oversee the general election scheduled for July 25, 2018.
As campaigning for votes began, the focus is actually on the three major political parties—Pakistan Muslim League (Nawaz) (PML-N); Pakistan Peoples Party (PPP) and Pakistan Tehreek-e-Insaf (PTI). Keeping in mind that no Pakistani prime minister has been able to serve full term in office so far, the question doing the rounds is, who will be the next prime minister of the country after this mainly trilateral electioneering?
As is symptomatic in quasi-democratic states, Pakistani elections are marred by conspiracies of the deep state and militant attacks, casting long shadows over their credibility. It is well-known that there are three main sets of players in Pakistan's politics—the military, the political parties and the non-state actors (militants)—in that order. The new addition has been the judiciary which has taken up the cudgels against politicians, who are alleged to be corrupt. Many have described this activism as "creeping judicial martial law." 
In July 2017, Pakistan Supreme Court ousted Prime Minister Nawaz Sharif over undisclosed assets held by his scions in London. The probe against Nawaz had begun in 2016 when the infamous Panama Papers surfaced. On July 6, 2018, the anti-corruption court sentenced Nawaz to 10 years in prison. The court also sentenced Nawaz's daughter Maryam to 7 years in prison. And on July 8, Maryam's husband Muhammad Safdar Awan was arrested to serve one year in jail.
Not surprisingly, Nawaz and Maryam were arrested on July 13 on their return to Lahore from London. Nawaz's return can be seen as an attempt to become a political hero and raise the dwindling prospects of PML-N. But his brother, Mian Shehbaz Sharif, who currently leads the party, is facing a dual challenge. With many PML-N candidates disqualified or arrested, there is a growing perception that the military-judiciary nexus is trying to scuttle the party in the election. And with Maryam hovering for the party's top post, Shehbaz is not sure about the Nawaz faction's total support in the election. Actually, PML-N is in disarray.
Earlier in another development, on June 14, 2018, former President Pervez Musharraf was disqualified by the Supreme Court from contesting the elections as he did not appear in person to attend the court hearing on his petition to contest the election. The Peshawar High Court in 2013 had imposed a lifetime ban on Musharraf from contesting elections. Musharraf, who leads the All Pakistan Muslim League (APML), lives in self-exile in Dubai. He pleaded for an extension of time to appear in court, which the Supreme Court denied.
Another former president, Asif Ali Zardari, the co-chairperson of PPP, is still not out of the corruption woods. On July 5, 2018, his close aide Hussain Lawai, chairman of Pakistan Stock Exchange and a prominent banker, was arrested by the Federal Investigation Agency (FIA) on charges of laundering billions of rupees. Lawai's arrest is a setback for Zardari's son Bilawal Bhutto Zardari (29), who is chairperson of PPP and is contesting the election from a constituency of Karachi. PPP's overall prospects may be dampened.
The court judgments on corruption against the big parties just before the election cannot be seen as coincidence. Nawaz detractors, including Imran Khan, have been celebrating the court decision, while others have described it as the death knell of democracy. Nawaz Sharif has accused the military of being "a state above the state."  
Interestingly, Imran Khan's PTI has not faced the judiciary's scanner. Khan is touted to be the next prime minister. One wonders whether the military is backing Khan. There is so far very little indication of any coalition between the major parties. Recently, Imran Khan rejected any tie-up with Zardari's PPP. On the other hand, family rivals—Zardaris and Sharifs—have practically no chance of forging an electoral alliance.
Meanwhile, the Election Commission of Pakistan (ECP) has come under heavy criticism for enlisting the services of the armed forces to assist the election process and giving magisterial powers to army officers. This is unprecedented and may affect the outcome of the election, according to analysts. Another concern has been the intimidation of the media. The International Press Institute (IPI) has expressed serious concern about reports of physical intimidation, abduction and torture of dissenting journalists and blocking of news channels.
The other dangerous aspect of the Pakistani society is the violent attacks committed by the non-state actors. On July 12, a suicide blast in Peshawar claimed 20 lives, which included Awami National Party (ANP) candidate Haroon Bilour. Again, on July 13, a suicide blast at a political rally near Quetta claimed 128 lives and injured scores. With numerous terrorist outfits operating in Pakistan, some controlled and abetted by the ISI, the democratic process has come under real threat. Political parties lament the absence of security in the country and know well how quickly an election can degenerate into a situation where violence is perpetuated to tip the scales to the advantage of the favourites.
A total of 105.96 million voters are expected to go to polls to directly elect 272 members of the National Assembly, which has 342 seats. The remaining 70 seats will go to women and religious minorities. There are 3,459 candidates from 107 political parties contesting to form the next government, with at least 172 seats required to form majority in the parliament. 
With so much interferences from the military, judiciary and militants, will any party win the majority needed to form government or will it be a hung parliament? Will there be a peaceful transfer of power in this nuclear-armed nation?
---
Mahmood Hasan is a former ambassador and secretary of Bangladesh government.
---
Follow

The Daily Star Opinion

on Facebook for the latest opinions, commentaries and analyses by experts and professionals.
To contribute your article or letter to The Daily Star Opinion, see our

guidelines for submission

.
---