Blockade Of Qatar: Saudi bid to dominate the Middle East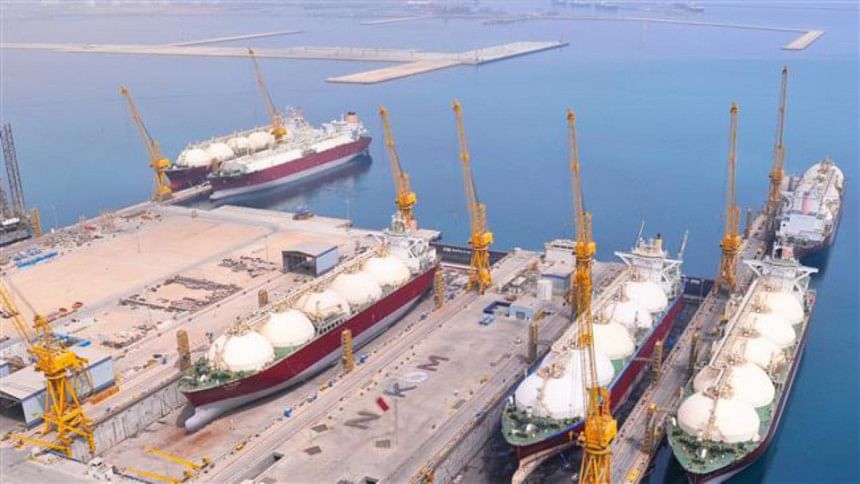 Saudi Arabia, in its bid to become leader of the Arab world, has once again raised tension in the Middle East, albeit at Donald Trump's instigation.
On June 5, 2017, the House of Thani of Qatar woke up to a sudden diplomatic onslaught from its close Arab neighbours in the Gulf. Led by Saudi Arabia, UAE, Bahrain, Egypt, and Maldives cut off diplomatic ties with the gas-rich emirate accusing it of funding terrorist organisations, its relations with (Shia) Iran, and the "controversial" role of its state media group Al Jazeera Media Network.
Then on June 7 suicide bombers attacked the Parliament building and the shrine of Ayatollah Khomeini in Tehran killing 12 people. Iran indirectly accused Saudi Arabia of supporting the Islamic State and being behind the assaults. Were the attacks linked to the Saudi-UAE diplomatic offensive on Qatar putting Iran on notice?
Two GCC members – Kuwait and Oman – did not cut off relations with Qatar. But as the diplomatic spat developed into a full scale blockade the ruler of Qatar Emir Sheikh Tamim bin Hamad Al Thani found his back to the wall. Food supply situation became precarious as air, sea and land transport with Qatari peninsula were suspended and Qatari citizens in neighbouring countries ordered to return home.
Interestingly, the Saudi-led blockade came following some reportedly fake news, allegedly planted by hackers in the state-owned Qatar News Agency. The planted reports appeared sympathetic to Iran, criticised Riyadh and Donald Trump. Qatar furiously dismissed the reports saying that its state media was under attack by hackers. US and European media pointed fingers to Russian hackers as the culprits.
However, Qatar's Al Jazeera Network has been a bone of contention for the Gulf states primarily because of its open support for democracy. Qatar is said to have close ties with the Muslim Brotherhood, Hamas and have used Al Jazeera to foment unrest in Tunisia, Libya, and Egypt during Arab Spring uprisings. One wonders whether Al Jazeera, which ostensibly propagates Qatar's foreign policy, will survive the current crisis.
The crux of the dispute lies in Qatar following an independent foreign policy, maintaining relations with Iran, refusing to suppress political Islamism and of course funding Sunni terrorist groups. All rich Sunni Arab states, including Saudi Arabia, fund Sunni groups, while Shia groups are funded by Iran. Qatar's foreign minister Sheikh Mohammed bin Abdulrahman Al Thani has vehemently rejected the allegations and so far, refused to capitulate to Saudi demands saying his government was open to mediation to resolve the disputes. 
Riyadh wants Doha to correct its policies and engage in a transparent manner in counter-terrorism efforts. In other words terminate its friendly relations with Iran and accept Saudi Arabia's hegemony in the region.  
The context of the present crisis is well-known. First, the House of Saud was terribly upset when the US-led P5+1 signed the Joint Comprehensive Plan of Action (JCPOA) with Iran in July 2015. Removal of sanctions allowing Iran's reentry into the global economy was deeply resented by Saudi Arabia. Saudi King Salman's relations with President Obama were unfriendly because of JCPOA. Second, in December 2015 Riyadh formed the Islamic Military Alliance to Fight Terrorism (IMA or IMAFT) which now has 41 countries. Third, what is significant is this diplomatic fracas has come only days after President Donald Trump's bizarre trip to Saudi Arabia (May 20-22). Trump addressed 50 Muslim heads of government and state asking Muslim nations to take the lead to fight Islamic terrorism and cut its funding. By speaking to such a gathering, opportunist Trump, keeping chary eyes on Iran, has deviously dubbed Saudi Arabia as the leader of the Muslim world. Trump's views on the Middle East are largely shared by Saudi Arabia and Israel. Trump also signed military deals worth USD 110 billion to supply Saudi Arabia with sophisticated arms. Fourth, while US Secretary of State Rex Tillerson called upon the GCC to ease the blockade and engage in negotiations to resolve the crisis, Donald Trump in his tweets supported Saudi actions against Qatar. Trump is definitely aware that the largest US Air Force Base in the Middle East is located at Al Udied and a large military camp at As-Saliyeh in Qatar. Washington's role in this dispute seems dubious. America is unlikely to mediate in the dispute and Pentagon can always relocate these bases if Qatar becomes unwelcoming. And finally, all these developments have emboldened Riyadh to assert its supremacy in the Middle East.
Meanwhile Turkey, Iran and Russia have called upon Saudi Arabia and the UAE to resolve the crisis through negotiations. Turkish President Erdogan condemned Saudi-UAE efforts to isolate Qatar and cripple it economically. Ankara has a military alliance with Doha and was ready to dispatch 3,000 Turkish troops to Qatar, just in case Saudi Arabia decides to intervene. Erdogan's move indicates that Riyadh may be considering regime change in Doha. Clearly, Turkey and Iran are strongly challenging Saudi-UAE accusations against Qatar. 
Qatar is one of the richest countries in the world with per capita income exceeding USD 68,000 (2015). It has the third largest proven natural gas reserves in the world after Russia and Iran. The total population is 2.6 million of which only 313,000 are Qatari citizens, the rest being expatriate workers. Bangladesh has nearly 400,000 workers mostly involved in construction sites of Qatar.
This dispute has made Qatar an unwitting battleground for Saudi-Iran tussle for supremacy. Donald Trump would probably like to see a casus belli against Iran that will be a boon for his defence industries. 
Qatar has so far tried to play above its weight. Perhaps this time it has to step back because of US pressure and fall in line with Saudi Arabia. Besides, prolonged economic blockade will ruin Qatar's economy that may jeopardise hosting the 2022 FIFA World Cup tournament.
The writer is former Ambassador and Secretary.