Human and elephant lives both matter
The world is home to all species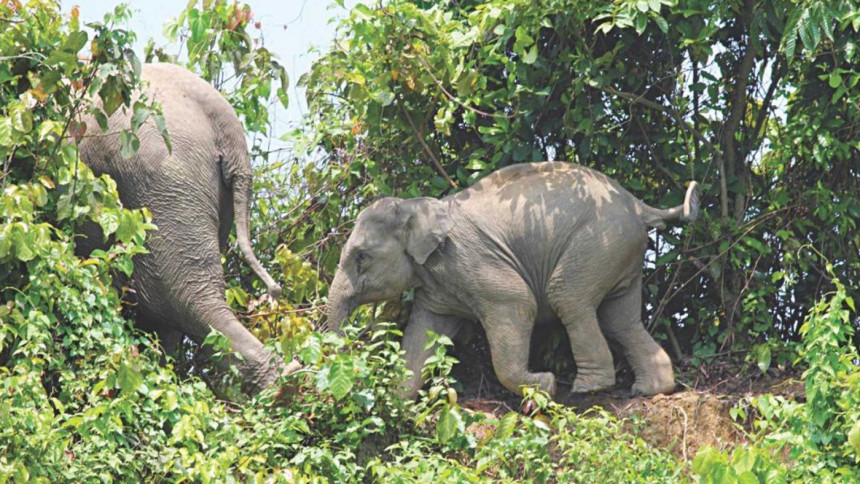 Two news reports caught my attention on Friday: one was about a wild elephant being electrocuted, and the other was about the dwindling international funds for the Rohingya refugees. It made me wonder how their travel paths and fates are intertwined, and how they have become critical ecological, political, and international issues for our hill tracts. It made me think of a personal encounter I had with a wild elephant in the hill tracts of Chattogram.
Once, when trekking along the Naikhongchhari range, my team and I were chased by a wild elephant. Our guide pushed us into a narrow bushy trail and made us run for 20 minutes towards the opening of another hill. I was travelling with our university's nature club. It was one of the scariest moments of my life, to say the least. The other was having to climb a tree to avoid two rhinos chasing one another in Nepal's Chitwan forest, but that's another story. To add to our fear, the guide was saying how this particular elephant had killed five people that year. It was a lone elephant that got separated from its herd after a local woodcutter hit one of its ears with an axe. The injured elephant could not travel with its pack and was left behind to fend for itself. This happened nearly 25 years ago. But the feeling of being an uninvited guest in the territory of others stayed with me.
For those whose livelihood depends on the forest, the presence of elephants is a nuisance. And for the elephants, the human invasion must be equally irritating. The close contact between humans and elephants has yielded tales of conflict; the death toll is heavy on both sides. The big question remains: can humans and elephants live together?
According to a 2020 report, 90 elephants were killed in Bangladesh in the last 17 years. In 2019 alone, 11 elephants were killed as per an estimate by the International Union for Conservation of Nature (IUCN). The figures of dead elephants between 2015 and 2019 stand at 34, according to the conservator of the Wildlife Management and Nature Conservation Division. Incidentally, this is the same period when we have had a huge inflow of humans from Myanmar. The establishment of Rohingya camps and other government agencies in Teknaf and Ukhiya upazilas disrupted the main roaming grounds of elephants, making the "human-wildlife conflict" inevitable. Between 2003 and 2016, a total of 227 people were killed by elephants. The death numbers of both humans and elephants are worrying. In 2015, the elephant population in Bangladesh was between 280 and 290, which is under threat of further decline.
In my personal anecdote, I hinted at why that particular elephant was ticked. It developed a serious distrust of humans as they were the ones responsible for severing its ears. Even though locals traditionally address the elephants like one of their kin—"Mamu" (uncle)—there seems to be no real respect for the largest mammal in the world. The address is more of a code word as, according to legends, naming the animals may physically conjure them—just as is the case with tigers and snakes in a forest, who are called "big lord" and "creepers", respectively. The local people have enough reasons to be unhappy about their big neighbours too.
Elephants move across vast areas of the forests in search of food. During their regular movement from one range to another, they face man-made obstacles such as highways and railway lines, expanding villages, and even national borders. The food requirements for these animals are in proportion to their size; they require up to 300 kilograms of vegetables and 200 litres of water every day. The cultivated crops in the land along their travel route are easy sources of food for them. We often hear news of wild animals raiding farmlands and destroying agricultural fields. In 2019, the government paid Tk 53 lakh as compensation to people whose crops were damaged by the elephants.
The over-consumption of food and water by the elephants can negatively impact other livestock. I have already mentioned how accidental encounters can cause casualties. Living in fear of a marauding herd can also cause trauma to local people as their normal lives are disrupted because of these animals. They are known for waylaying people (not for extortions like in the city, though). Hence there are often mixed feelings over the killing of elephants, especially among those who have to share space with them. Elephants are also killed by poachers for their ivory tusks. Often, we hear news of elephants being shot down or electrocuted, despite the government initiatives to protect and conserve them.
We need to remember that we share the planet with other species who have equal rights to exist. This planet is home to both humans and other animals. Then again, how do we designate a large area of protected land for this animal, especially in a country with a dense population and fewer natural resources? And even when we have a protected range, these animals are drawn to human habitation, since it is an easy source of food. While it takes seven to eight hours of grazing in the wilderness for the elephants to be fed, they can get filled in two hours when feasting on agricultural land. In many cases, electric fences are used to contain the elephants. However, they are hardly any match for the tusks which do not conduct electricity, and elephants are smart enough to recognise that. Sometimes, the fences are brought down by the humans who need the grassland for their cattle. So, there is the other concept of organic fencing in which chilli fences and bee hives are used to keep the elephants away.
The migration patterns of the elephants are changing because of deforestation, particularly after the resettlement of the Rohingyas. The UNHCR and the IUCN have taken some steps to foster "safe co-existence" between wild animals and sprawling refugee settlements. These include awareness programmes to teach the refugees to respond properly when encountering an elephant or stopping them from entering the camps. Some watchtowers have already been erected, and large decoy elephants are installed to ward off the animals.
But the challenge now is to keep the pressure intact on the international community to allow the refugees to return to their homeland. With the new spotlight on Afghanistan, it is feared that the Rohingyas are about to be the forgotten people all over again. The appeal for repatriation needs to be made through multiple channels and ways. The protection of wildlife is one of them. We need nature activists to talk about wildlife conservation and reforestation. We need energy specialists to talk about the need for alternative fuel supply for the local inhabitants to stop them from going to the forest for firewood. We need humanitarian stories to highlight the issue. Indeed, both humans' and elephants' lives matter.
Shamsad Mortuza is acting vice-chancellor of the University of Liberal Arts Bangladesh (ULAB), and a professor of English at Dhaka University (on leave).