The supreme courage of Gauri Lankesh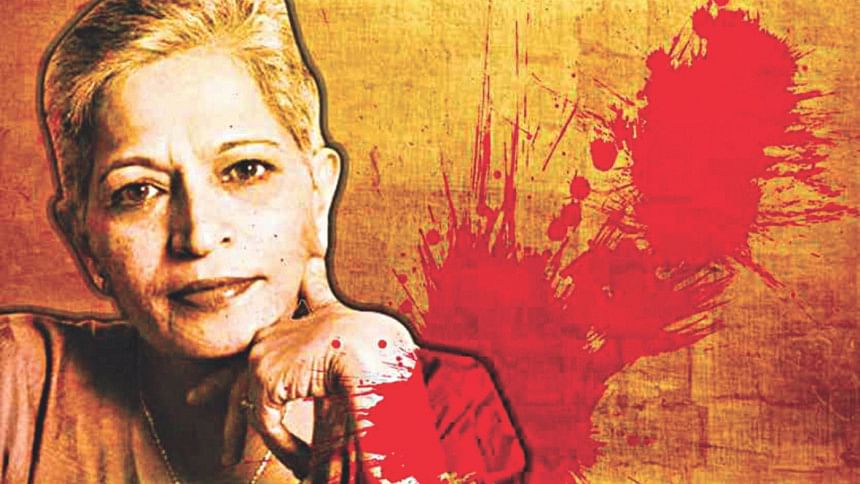 A gathering for a memorial a few  days ago turned out to be disappointing. I  thought that the meeting held to bring attention to the murder of Kannada journalist Gauri Lankesh at Delhi's Jantar Mantar, would draw many journalists, particularly the senior ones, to the venue. But it turned out to be a gathering of no more than 30–35 people—very few among them being journalists.
It has become a habit with senior journalists to stay indoors and not mix with the ordinary scribes. I can understand that editors are too busy, planning and editing the paper. But what about those who are a peg lower? They behave as if they are equally busy and have no time for such meetings, even if they are related to the fraternity.
But all these journalists, after retirement, come back down to earth because their utility is very limited. They are among many vying for space to write columns in the paper. Not many make it because readers are only interested in those who have fought on principles. Those who gave their all, refusing to be cowed down, are very few.
Gauri Lankesh was one of them. She has been a loud dissenting voice against the excesses committed in society. The ideals Gauri stood for as a journalist and social activist—she edited a Kannada weekly Gauri Lankesh Patrike—are unlikely to be forgotten even if she is no more in our midst. Gauri had been getting threatening messages every now and then but she was never afraid. She was always ready to sacrifice, even when it meant putting her life under threat.
An outspoken critic of the Hindutva politics, Gauri was gunned down by unidentified assailants at the entrance of her residence in Bengaluru. Of course, there were initial protests all over, including the Press Club of India condemning the killing, saying, "A fearless and independent journalist who gave voice to many causes and always stood up for justice has been shot dead in the most brutal manner in order to silence her voice."
But this is not the first time that such attacks have taken place. In a democracy, the rule of law should prevail but, unfortunately, mob lynching and harassment are taking place everywhere. Incidents like Alwar, Dadri and Udhampur should serve as an eye-opener. In addition, there have been attacks on cultural, academic and historical institutions and universities, especially Nalanda University and the Nehru Memorial Museum and Library.
Gauri's murder is being compared to the August 2015 assassination of Kannada journalist MM Kalburgi, who was similarly gunned down at his home. She had, during one of her speeches, mentioned Kalburgi, pointing out how a Bajrang Dal leader had remarked his killing, saying, "Mock Hinduism and die a dog's death." She, too, met the same fate.
She was also critical of the politics in her own state. She had, a few years ago, warned that Karnataka's trajectory from a progressive, secular state to a communal state under BJP rule has been a very interesting and crippling one. Karnataka, she said, was witnessing an increase of attacks in the name of Hindutva and faced the prospect of falling under a "communal, casteist, and corrupt BJP government." Gauri also vehemently opposed the RSS, the BJP, and the Hindutva forces and her killing is the silencing of that voice against hate politics.
Kalburgi's murder remains unsolved after two years. These attacks are growing at a shocking rate, and as we remember the September 1995 murder of human rights defender Jaswant Singh Khalra, we are reminded that "my way or the bullet" has become the mantra in India. As a journalist, Lankesh knew her outspoken nature earned her enemies. As a citizen of India, she opposed the BJP's fascist and communal politics. In her interviews to a few journals, she said: "I oppose its misinterpretation of 'Hindu Dharma' ideals. I oppose the caste system of the 'Hindu Dharma,' which is unfair, unjust and gender-biased."
Attacking directly the BJP-led massacres of Muslims and other minorities, she declared, "I oppose Advani's Ram Mandir Yatra and Narendra Modi's genocide of 2002." In a 2016 interview, she also expressed how her journalism exposed her to "the rabid hate the Hindutva brigade and Modi bhakts have for its critics and naysayers."
Gauri knew her life was in danger. Yet, she brushed aside all threats and continued to defy the establishment and plugged the same line as an activist. In the last article she wrote for her weekly, Gauri Lankesh Patrike, she challenged the archaic forces in her own inimitable way. But the Hindutva forces never forgave her.
As a parting shot, she wrote: "I know very well that you are all devastated. I am also unhappy that I left suddenly without a word. But tell me, what else could I do? Tell me what was my fault in this final separation? This Tuesday also began just like the hundreds of other Tuesdays of my life. But I did not even have a hint that it would end with me being permanently taken away from all of you. Till that moment when the assassin's bullet split my chest and made me roll down to the earth, my mind kept thinking about the next day's issue of the paper. I am starting this last conversation with all of you with the belief that you will understand this critical situation…"
True, Gauri had a premonition, witnessing her own death and describing it exactly the way it happened. She doesn't falter even in the face of death. This is a lesson for journalists. At times, they have to face even the gravest situations. They cannot keep their eyes shut to the realities. This is what the profession expects from them.
Gauri was among the rare breed of journalists. She said in the article that she was willing to pay the price for what she stood up in rebellion against for her India and had no regrets. "I have a sense of fulfillment," is what she said. Such words are rare.
---
Kuldip Nayar is an eminent Indian columnist.
---
Follow

The Daily Star Opinion

on Facebook for the latest opinions, commentaries and analyses by experts and professionals.
To contribute your article or letter to The Daily Star Opinion, see our

guidelines for submission

.
---