Will Hillary Clinton create history come November?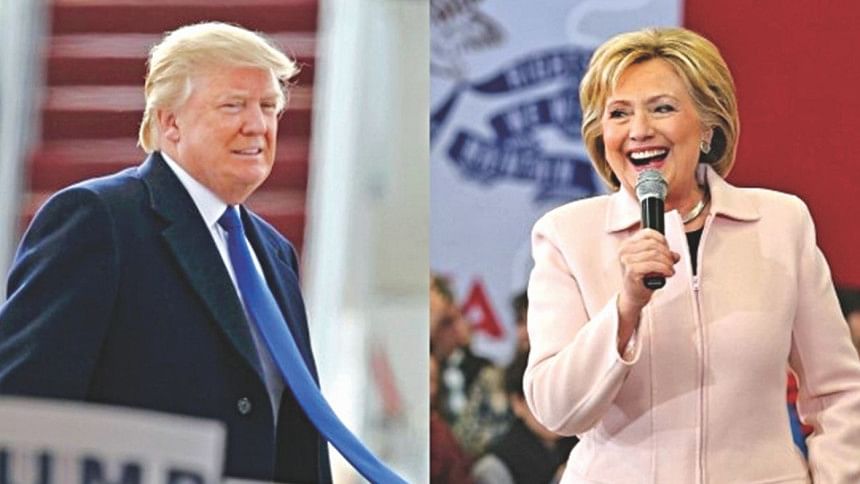 In a little over two months from now, history may be created if Hillary Clinton is elected the first woman president of the United States of America. Some assert, the question now is not 'if' she will win but by 'how much'.

Traditionally, US presidential elections have drawn attention globally. The 2016 version is no exception. This time though, the attention is focused not just on policies but more on the uniqueness of the two very contrasting candidates: on the one hand, there is for the first time a woman candidate, who is suave and one who has strong political experience and pedigree on her side and, on the other, there is the brash straight talking pretender who has neither. If ever there was any major election whose outcome would be easy to project so far ahead of actual voting day, this is the one. One does not have to look too deeply for the reasons for such a projection. In virtually every area, the Democrat nominee looks better and stronger than her Republican rival. For starters, Hillary Clinton's Democratic Party has closed ranks solidly behind its chosen candidate while the Republicans would want to drop theirs faster than a hot potato. While Clinton's composure grows with each passing day, Trump looks like someone who has mastered the habit of stumbling at every step into a fine art. 

While the mainstream US media is showing clear signs of leaning towards Clinton, Trump has succeeded in making the media his major enemy. Besides, on the important issue of trustworthiness, the gap in voter perception between the two is not much significant. Historically, endorsements and funds have always played an important role in any election campaign in the United States. The same is the case for the current race for the White House. On both counts, Hillary Clinton is running a country mile ahead of Donald Trump. This has enabled her to conduct a smoother campaign so far and it can only get better going into November. Trump, on the other hand, is having problems even in keeping his own campaign team intact, let alone run an organised campaign. In terms of his style and language, he continues to embarrass even his close supporters, either having to put up a weak defence or routinely retracting public comments in the face of scathing criticism. This has prevented him from effectively focusing on issues where Hillary Clinton could hurt. In the domain of substance, Donald Trump has personified inconsistency and contradiction. His campaign pledges to create jobs in America by shutting off outsourcing manufacturing of goods to other countries sound hollow when one realises that the Donald Trump branded shirts are made in Bangladesh, suits in Mexico and ties in China. 

His body language while laying out his economic policies in Detroit suggested a tinge of discomfort, him having to read from a script that he himself did not believe in and which were in sharp variance with what he had said earlier. Now as his ratings continue to slide, he has decided to change course, again, and resort to using his own script and delivering in his now familiar style. While that may have helped him in the nomination process against weak opponents in a fractured Republican camp, in the larger canvass this would hurt him even more. Yet, in the run up to the two candidates being formally nominated by their respective parties, Clinton had to face a far more gruelling contest from her lone but fiercely combative adversary while Trump surprised everyone by virtually walking over the combined efforts of more than a dozen of his.

Observers have always wondered how Donald Trump, a ranking non-politician, could have come so far; what was his message that drew hundreds of thousands of supporters to his side. The answer may lie in a general disentrancement with the more conventional style of politics, especially among the young, unemployed and uninitiated American voter. He perhaps represents a phenomenon that calls for a change.  In the process though, Trump turned key voters away from him. This includes the important women and Hispanics blocs whose votes can prove to be decisive. While his open and at times rabid anti-Mexican and anti-Muslim rhetoric may have touched a sympathetic chord among some, it has most certainly cost him more among the much larger rest. Very few African-Americans would vote for him.

It may still be early in the election process but the pace at which Trump's ratings are heading south with no sign of letting up, nothing less than a miracle of divine proportions can change his fortune. Some are beginning to wonder if Donald Trump will end up matching Barry Goldwater's ignominious defeat to Lyndon Johnson in 1964 when the Republican candidate lost in forty four states, or the more humiliating loss of forty nine States that Democrat George McGovern's suffered to Richard Nixon in 1972. 

Many had thought Donald Trump would be able to give Hillary Clinton a run for her money. That looks nothing more than an illusion now. In any case, Hillary Clinton is no stranger to bruising electoral battles through most of her political life. Her memoirs testify to that. She had been directly involved with her husband Bill Clinton's election, first as Attorney General and then as Governor of Arkansas, leading to his election and re-election as president. Her own election as a US Senator from the politically volatile State of New York was not just an achievement; it gave her a firsthand exposure to the wheeling and dealings that takes place in the country's highest legislative body. Having served as Secretary of State under President Barak Obama, she had a ringside view to, and a role in, policy making and taking tough decisions in the Executive Branch. Not surprising, therefore, that President Obama, in his valedictory speech at the Democrat Party Convention, called Hillary the most qualified person to move in to the Oval Office. Donald Trump's experience, by comparison, remains limited to making business deals and a television reality show at home, and in the external arena, it is confined to making profitable financial and commercial investments abroad.

The realm of real politics though, is much, much bigger than the sum of all the television studios put together. It is where hard choices are made. It is in that realm that Hillary Rodham Clinton will create history when she walks in to the Oval Office in January next year as the first woman President of the United States.

On a slightly side note of academic interest, strange as it may sound, Bangladesh, which got its independence almost two centuries after America, elected its first women Head of Government a quarter of a century before the Americans will elect theirs.



The writer is a former Foreign Secretary of Bangladesh and Ambassador to the United States.