THE SOUND & THE FURY
WHO GETS TO DEFINE YOU?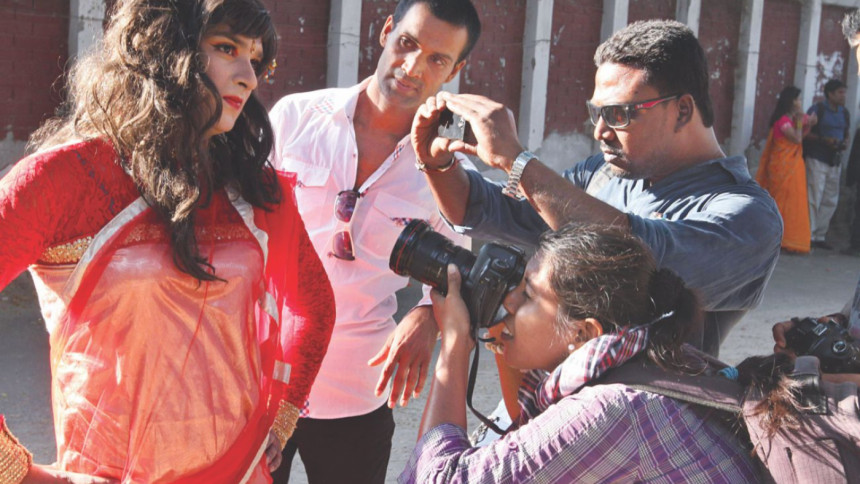 Imagine a life of never fitting in, of constant ridicules and derisions, of being shunned by your own family, of being denied jobs and a chance at a "comfortable" life, of being harassed and assaulted, often sexually, because of who you are. Imagine having to struggle on a daily basis with society, the state and your own self to hold on to a multifaceted identity that the rest of the world quite simply refuses to understand. Imagine the internal conflict of a soul deemed, by the external world, as aberrant and unnatural, when every fibre of your being tells you that this is who you were meant to be. Imagine then, years and years later, when this stigmatised identity has become a predominant marker of your being, the government telling you that you are NOT who you think you are, that you have no legitimate claims over defining your own identity. 
On July 2, the government conducted "medical tests" on 14 members of the hijra community who had been selected for low-level government positions as part of a scheme to rehabilitate the marginalised population. Subsequently, they classified 12 of them as "full-grown males" and disqualified them from accessing the scheme. Not surprisingly, the hijra community, who have had to fight for a long time for this quota, was indignant, terming the tests as "insulting" and explaining that having male genitalia did not preclude a hijra from being or identifying as one. 
We had all been pleasantly surprised when the government took the long-overdue move to address the plight of this community; we had lauded the humanity and foresight of our policymakers in attempting to incorporate the "Others" into the mainstream. We had thought that, perhaps, the state could lead the way for a more tolerant, diverse society. After all, it was the same government that had recognised hijras as a third gender, and enabled them to obtain voter ID cards. But now, with the latest move, we are left wondering whether the government even understands what being 'third gender' or 'hijra' entails, and why it deems it has a more legitimate claim over defining the identity of this group than the group members themselves. 
Years ago, a self-identified hijra, now a transgender rights activist, had told me, "We are simply hijras, but there is nothing simple about being a hijra. People try to define us based on their own understanding of what it means to be a man or a woman, but it's very limited. It doesn't grasp the intricacies of our lives." Her comment stemmed from years of frustration at being "imagined" in different ways by the media, state, NGOs and academics, who have sought, often with the best intentions, to "understand" this "deviant" specimen of the human race. 
NGOs, working on HIV/AIDS related programmes, have identified and consequently defined hijras as a vulnerable population in needs of urgent medical support, further criminalising them in society's eyes as sexually deviant creatures who pose a threat to the country's low rate of HIV transmission. The media in Bangladesh has focused on their "unusual" lifestyle, portraying them, for the most part, as unnatural beings who still deserve our sympathy. The government too has regarded them as somehow physically deformed, of deserving state supportout of pity for their "abnormality". Academics, on the other hand, have romanticised them as the archetypes of an 'alternative' gender/sex system. All of these discourses, even when they emanate from different institutions with often disparate claims over the hijra body, have a few crucial points in common. First, they mark the hijra as an Other by by emphasising the ways in which they are categorically and essentially different. Second, they view hijras solely within the framework of sex/gender difference, which ignore the role of other factors, like class, religion or geography, in shaping the hijra identity. Third, and perhaps most importantly, they do not give adequate voice to the people who are being represented.
In the common imagination, hijras are often conflated with eunuchs ("a man who has been castrated") or hermaphrodites ("a person born with male and female reproductive organs"). In reality, however, hijras can be eunuchs or hermaphrodites, or neither, or both; they can be born intersexed, born "male" who undergo castrating operations that rid them of their genital organs, or born "male" who do not undergo an operation and have their reproductive organs intact. They may dress up in women's clothes and engage in feminine practices without thinking of themselves – or desiring to be – "female;" they may have male lovers and sexual partners, without ascribing the identity of "gay" to themselves and/or their sexual partner(s). To be a hijra, or to identify as such, therefore, involves negotiating a complex and often contradictory terrains of selfhood.
Bodily proof of one's sex/uality – in the form of absence of genitals, whether "natural" or "made" – cannot be the sole markers of the hijra identity. However, for the government, it seems, reducing an identity to a body part is the only way to make it legible for itself, and to the society at large. Mainstream society, after all, believes that anybody born with the male genitalia must necessarily have a masculine gender expression and be attracted to women; anyone who challenges binary and fixed conceptions of gender and sex/uality are ostracised and deemed as 'unnatural'. But there are and always will be people who do not fall into neat black and white boxes, who transcend narrow and taken-for-granted binaries, who reject or embrace the male or female within them, irrespective of their anatomies.  And contrary to the hue-and-cry about our "culture" not having any "space" for such people, gender non-conforming people have not only existed in this region for a long time, but have actually been revered (whether in Hindu mythology or Mughal courts). 
It was, in fact, during colonial encounters that bodies in many ways were inscribed and redefined with fixed notions of gender and sexuality. It is also important to remember that "hijra" as a recognisable category did not really exist prior to British colonial rule. Although there were eunuchs, hermaphrodites, transvestites, intersexed or sexually ambiguous individuals in pre-British India, it was not until they were named, identified, documented, and classified as a group with distinct and essential attributes – the hijras – that it became an identity in the way we understand it today. The British attempted to classify hijras as one of many low caste groups in the Indian subcontinent, and demarcated them as a criminal caste, making an explicit connection between criminality and sexual non-conformity. It further delineated cross-dressing and badhai as punishable offences, aiming to invisibilise and silence the hijras/eunuchs from the public sphere. Laws were inscribed onto their bodies, so that they could be regulated, surveilled and controlled, and many of these laws, including the ones on cross-dressing, still remain in force in Bangladesh today. 
The government should realise that the whole point of recognising third genders is to allow people to identify beyond the male-female binary. Hijras at any given point in time inhabit multiple variable expressions of gender and sex, and the government's failure to acknowledge that will only add to their continued oppression. Identities are neither fixed nor absolute. Bureaucrats and politicians, who have no understanding of the historical and socio-economic reality of the hijra identity, cannot be allowed to single-handedly decide who is or isn't a legitimate hijra. 
The writer is an activist and journalist.