Kazi Ghiyasuddin's solo exhibition at Bengal Gallery
Tranquility in roaring waves of colours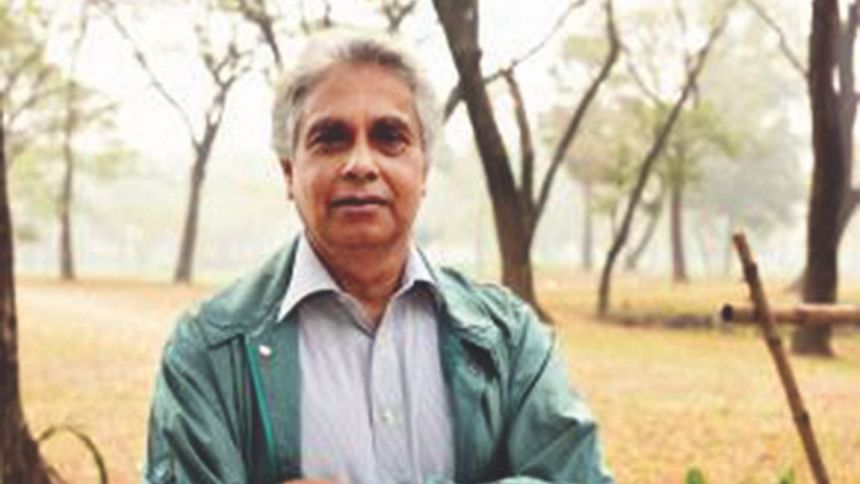 I'VE been following the gradual evolution of Kazi Ghiyasuddin's artistic excellence for almost two decades. His world of abstract painting has a definite setting and also a distinct mood that sets him aside from others we come across in our familiar surroundings. He is a masterful player of colours who also enjoys experimenting with forms and shapes centring on the vivid reflections that colours depict with the adjustment of sharpness and tone. So, his world of abstract is abstract in totality where the audience is given the freedom of interpretation. Titles of his paintings too give the same impression, as they are repetitive in nature and vague in narrative clarity. However, such a semi-hidden nature of his paintings also frees them from the burden of clichés that we often encounter while reading about the works of certain painter or others. His works are distinct in the sense that they do not fall into an exact frame and this makes the work of a reviewer much more complex and difficult. 
To the eyes of an audience not familiar with the mood that colours might portray, his works may seem repetitive and monotonous. But this repetitive and monotonous nature also necessitates a close and distinct look at each of the works that he produces after labouring for not only days, but in some cases, months. And an eye gradually getting used to grasping that beauty after careful scrutiny can realise the hidden beauty that Kazi Ghiyasuddin intends to share with others through his paintings. Here lies the exclusivity and uniqueness of the whole range of works that the artist is now showing a Bangladeshi audience at the Bengal Gallery of Fine Arts. 
This year marks the fortieth year of his stay in Japan, the country where he not only received the highest level of university education in modern painting, but also is the place that helped him find his own space in the complex and difficult world of art. It is in Japan that his works are mostly displayed and well until the early 1990s, he hardly had an exhibition in his homeland. Japan has helped him realise the rationale of being restrained in the use of colour and also taught him the importance of looking around in natural surroundings to find a subject that would reflect his inner thoughts more convincingly in painting. As a result, looking at the paintings of Kazi Ghiyas one easily gets a feeling that we might term as 'depth in simplicity', a quintessential element of Japanese paintings. But that too is part of the whole picture. The topics he presents in his own abstract forms are very much the topics that we are closely familiar with. A monsoon sky with thick clouds waiting for the ignition to unleash a downpour or a  rain soaked distant field with slanting rays of sun peeping through the cloudy sky, are some of his favourite topics that appear again and again in different shapes and forms in his canvases. And we know these are scenes that we, not the Japanese, are more familiar with.
The long stay in Japan has influenced Kazi Ghiyas in various ways. But deep in his heart, he remains devoted to the surroundings of his childhood and adolescence in the same way as many of our master painters of the recent past had been. In his early days in Japan, Kazi Ghiyas was deeply involved in experimenting with colour variations and the result was deep splashes of gray, brown and blue turning his canvas into a dreamy world of soul searching. And with lines from Tagore and Jibanananda Das written in a subtle style, the paintings also turned a bit mystic. If that was what we might term as the early phase of his artistic creativity gradually unfolding, the present exhibition might easily be said to be the display of eventual maturity. He had been getting ready for this exhibition for quite some time now and in private conversations often mentioned it to be his final show of narrative supremacy in colour and canvas that he could attain after travelling a long way in the floating world of creativity with a mind firmly set on searching for beauty in his known surroundings. The work of art needs a creative mind and also firm resolve to produce something distinct and unique. The current exhibition added resolve to that and the end result is wave after wave of soothing images capable of captivating the audience in the beauty of his abstract world.
Like most of the artists reaching the pinnacle at a later stage of their lives, Kazi Ghiyas too had gone through stages of never ending soul searching. As mentioned above his initial works, during the early phase of his life in Japan, were full of uncertainties that the artist himself also silently confessed to as he inserted lines of poems or thoughts in his paintings. As a result, 'Who am I?' or 'Where am I heading to?' are some of the questions that he did not hesitate to inscribe right in the middle of the canvas along with his masterful handling of colours.
I'm not sure exactly when he started to move away from that earlier form of uncertainty. But his experimental phase continued later as well, as he tried not only new methods of mixing colours, but also new ways of inserting unusual materials in his paintings. There was also a time when he became equally enthusiastic about selecting papers for drawing and painting. He even acquired order-made Japanese style washi paper from artisans in Bangladesh and used those for some of his water colour paintings. And in oil painting, surgical gouge pasted over the canvas and brushed in colours added extra texture to some of his paintings. Those were probably the phases in his artistic career when Kazi Ghiyas was still trying to find his own definitive form in painting that would eventually become his signature. It seems the long soul searching has eventually landed him to a desired destination, as the current show proves beyond any doubt not only of a convincing signature, but also the maturity that someone gains only after long years of repeated trials.
The writer is a Tokyo based Bangladeshi journalist. He also teaches at Japanese universities.