Why gender sensitivity is still the call for the day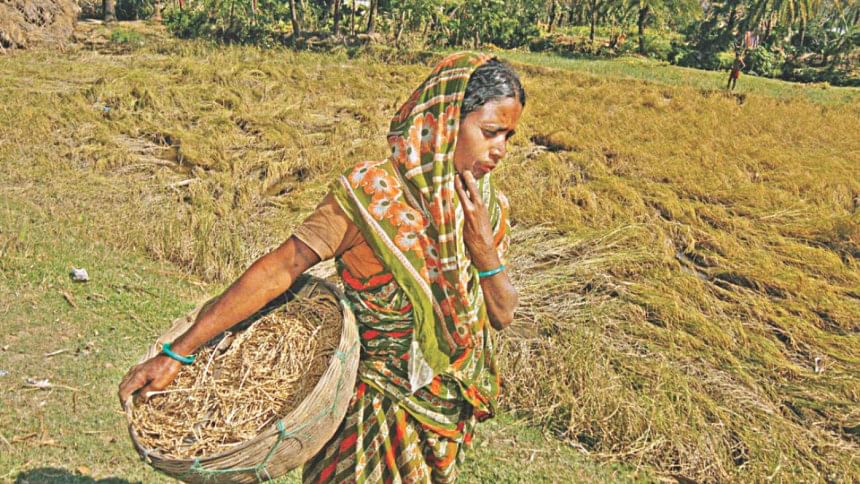 Over the last few years, Bangladesh has made significant progress in improving gender parity and participation of women in the economic and political spheres. Studies, such as the International Social Progress Imperative, attest to Bangladesh's superior positioning in South Asia, as it scored better than its neighbouring giant, India, in the year 2014 (India was placed 102nd while Bangladesh was 99th). 
While greater participation of women in the workforce is increasing, it is an ironic reality that women are often treated with derision and harassed when they try to earn a livelihood for their families. Thus, the hurtful hypocrisy of our patriarchal society still persists when women step out of their houses to work for themselves or their families. 
The recent industrial disasters in the RMG sector, where a large majority of workers are women, highlight some serious concerns. The percentage of women victims affected alone raise concerns, and yet current labour laws and disaster management units do not reflect the dire need to sensitise workers about the safety and occupational health concerns of women separately. "During the Rana Plaza debacle, one of the biggest problems we faced was finding female volunteers to cater to the gender-specific needs of the women victims," explains Kausik Das from UN Women. When women face social barriers to engage in professions directly linked to helping other women, it's a sign that things need to change.
There is a noticeable correlation between women not getting protection, and being engaged in spaces outside the domain of what is considered the "right place" for them. Women who opt to work in garment factories, instead of working as a domestic help or getting married, are often viewed as women of "loose character." In fact, this is the case for all working women, be it RMG workers, or women who brave harassment, exploitation and threats as journalists, photographers or field researchers. 
Women are disproportionately affected by unemployment, underemployment and vulnerable employment, and a large part of this vulnerability stems from inheriting a social culture that prizes women's sacrifice of agency. For instance, even if a woman is the sole earner of a household unit, the husband or father makes her decisions, thereby determining the extent of barriers she faces at home to retain her job. Women farmers are rarely seen using agricultural technology that reduces physical drudgery, as used by their male counterparts, let alone be land owners. When their husbands find jobs in cities, these women usually cannot hold onto the same amount of land under cultivation because of pressure from their extended families, in-laws and local hoodlums. They are exploited through different means; their lands are either grabbed or they are handed smaller plots -- meaning lower productivity and smaller yields. 
Migration in search of livelihood options is a common occurrence in Bangladesh. The country has retained eighth position since 2013 (according to a World Bank report) for remittance earnings. Whether migration is internal or external, or for short or long periods, it is overwhelmingly the male members of the family who migrate while women and children are usually left behind, to face various difficulties under a legal system that offers little to no focused protection. In many cases, no wages are sent back to the woman to support the family. 
The problem is that as more men move out to cities or abroad, the more migration serves to reinforce traditional gender roles. This means that the women are expected and pressurised (by family members, in-laws, other members of society) to preserve cultural and religious norms that appear to be under attack, as they now graduate from purely household duties, learning to adapt as an earner as well. In recent years, as migration has increased in many areas due to climate change, these socio-cultural factors have lead to women being much more vulnerable than men. 
Rural women often tend not to work or go outside their home if they can avoid it, due to strict regulations from religious leaders. Their ability to adapt to and cope with changes in sea levels, floods, droughts, salinisation, etc is "gendered" by the community they live in, rather than their own skill sets. When her husband is away, her in-laws and relatives become the decision-makers. Often it is members of their community who are perpetrators of harassment and assault. Women, whose husbands migrate, often live in high uncertainty, and are often looked down upon. Thus, it is of utmost importance that social support mechanisms and adequate policy environment to protect women's rights - especially those affected by migration - is initiated on a national level through campaigns and by bringing them under a protective legal framework.
While some NGOs and multi-lateral organisation have made commendable advancements in enhancing women's livelihood on a small scale, their projects do not have the scope for meaningful, widespread change in ensuring the physical safety and financial security of women workers, or helping them to graduate from poverty in a sustainable way. The continued perception of women as the unequal social counterpart point to the conservatism that plagues the emancipation of underprivileged women.
What we need is greater gender-sensitisation of policy reforms. Gender-sensitisation simply means 'inspiring modification of behaviour by raising awareness of concerns regarding gender'. To begin with, the scope and reach of the Ministry of Women and Children Affairs must be expanded. This will not only lead to improvement in targeted capacity building and enhance women-leadership practices, but also provide a solid lobby for robust gender-sensitisation of policy reforms across all ministries.
The writer is an author and artist.