WHEN THE TAIL WAGS THE DOG - MODI'S RSS CHALLENGE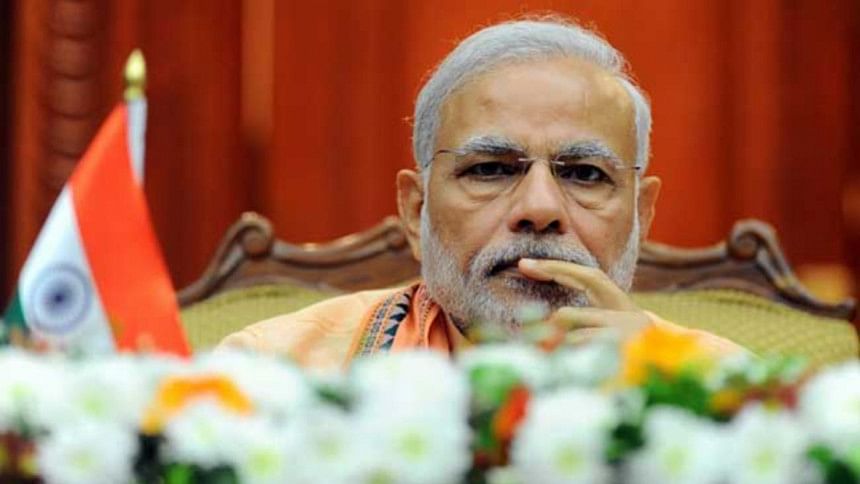 The news of a mob in Dadri, a UP village in India of beating to death an individual suspected of cow slaughter would have been normally viewed just as another communal incident. In the subcontinent, often religious majority in any area pounce upon the minority for perceived infractions of their religious beliefs.  Communal frays happened from small to big infractions such as ringing of temple bells during Muslim prayer calls from defiling of temples, mosques, or even interfaith marriages.  Most of the times the communal clashes are handled by the law enforcement and the parties at fault are brought to book. Other times the incidents have grown to riots with more far reaching consequences.
The latest lynching of a man accused of cow slaughter in UP, however, went viral because of several reasons. One, it caught global media attention as it happened in the backdrop of politics surrounding demand by the strident supporters of the ruling party in India, BJP, for a total ban on cow slaughter and trading of beef across the country. (Presently 24 out of 29 states in India have a ban on cow slaughter.) Second, in a speech to Hindu spiritual leaders most recently, the Indian Home Minister had said that the government will use all its "might" to ban cow slaughter in the country. Third, and this is the most crucial reason that the BJP diehards dwell upon, a ban on cow slaughter is an election promise of Prime Minister Modi. In fact, as Chief Minister of Gujarat, Modi had put a ban on beef trade in his state. 
The incident in UP, therefore, took a political colour when it drew little disapproval from BJP leaders, least of all the Rashtriya Sevak Sangha (RSS), which had been strident in its demand for total ban on cow slaughter. The vigilante action of a mob for an alleged cow slaughter (even though it might not have been true) was to them a pious people's reaction to a sacrilegious act. In fact, in a written reaction to Indian Express, Tanuj Vijay, an ardent supporter of RSS, expressed surprise at media concern over the lynching, calling it an accident and wondering why killing by a 'jihadi' of a Hindu national is not much discussed or denounced by the media. 
BJP as a party and its leaders, including Prime Minister Modi have been caught in the wrong foot by the incident, not so much for its communal connotation as for the surfacing of the inner struggle within the party. However much Modi and his cabinet may like to show a secular face, the vociferous RSS will never relent in its quest to establish its religious philosophy in India. 
Taming RSS is not easy for BJP. A majority of the ministers in the Modi cabinet had their political awareness molded by the RSS and its ideology. Modi spent his formative years as a full-time volunteer in the group. BJP president Amit Shah and several other members of Modi's cabinet also joined the RSS in their youth. Home Minister Rajnath Singh, who was once an RSS official and went on to lead the BJP, is now pushing for a nationwide ban on cow slaughter. RSS provided the foot soldiers for Modi campaign in 2013. For Modi and his BJP leaders, ignoring RSS would only endanger their political platform.
The Dadri incident may be at one level a pure law and order predicament for the Indian government, but at a higher level, it has unfurled for the BJP government the basic issues of secularism and non-discrimination of Indians across religious affiliations, the values which the Indian constitution stands for. 
Inability of BJP leaders, including the Prime Minister himself, to denounce the incident in strong terms has already infuriated the secular elements of the country. More than 21 litterateurs, musicians, and other artists have recently refused to accept national awards on grounds of the government's failure to denounce the act. In fact, the incident has suddenly turned into a trailblazer for unity of the country's secular forces.
India has the third largest Muslim population of the world. No political party in India has been able to have a majority following in the Indian parliament without Muslim support. Modi and his party are fully aware of this. Modi knows very well that what he could do in the small state of Gujarat cannot be achieved in the whole of India. Among his many problems of winning over the whole country, the fracas over cow slaughter should be the least priority. Even economically, ban on beef trade or cow slaughter makes little sense since India was the largest exporter of beef in the world in 2014 (albeit much of it was buffalo meat). For a business-promoting prime minister, beef trade is good business. He knows that. But what he probably does not know is how to rein in his crusading RSS wing and its wish to turn a secular India into a religious India.  Going forward, that will be Modi's biggest challenge.
The writer is a political analyst and commentator.