US politics at a crossroads
The real political challenge: Congress at a standstill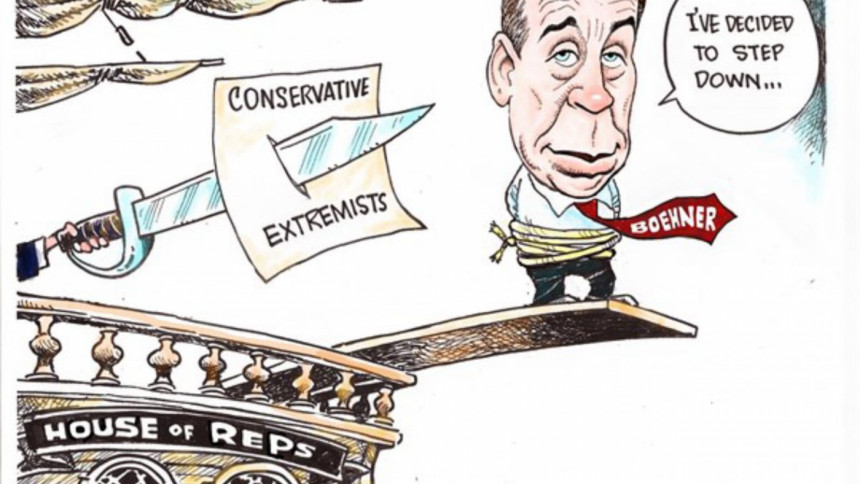 The US Congress, made up of the Senate and the House, is where the real power lies. It controls the government's purse-strings and makes the laws.
Congress has never been a haven of congeniality. Different parties, constituencies and interests have always slugged it out, using means both fair and foul. But in the end, lawmakers found a way to work out their differences and pass laws to govern the nation.
The past few years have been a different story. The government was shut down in October 2013 for two weeks over Conservative anger at Obamacare. Raising the debt ceiling, a routine measure to pay government bills, has become a political football, with House conservatives threatening to refuse to allow it if their demands are not met. In 2011, their threat led credit-rating agency Standard & Poor's to downgrade the credit rating of the United States government for the first time in the country's history.
For the outgoing speaker of the US House of Representatives, it was a nightmare.
John Boehner, an Ohio Republican, has impeccable Conservative credentials. He was a lieutenant of Newt Gingrich, the firebrand Republican who led his party to a House majority for the first time in four decades, in 1995.
Boehner became House Speaker following the Republican takeover of the House in 2010.
This was a perfect perch, you would think, for Boehner to crown his tenure with grand legislative success. Instead, his spell as Speaker was one of almost unmitigated misery.  
But here's the curious thing. 
Boehner's enemies were not Democrats in the House. In fact, in a bizarre twist of fate, he was obliged to seek Democratic support repeatedly to pass important legislation because he couldn't muster enough Republican votes.
Boehner's enemies were hard-line Conservatives who see any attempt to compromise as heresy, whose ideological litmus tests are impossible to reconcile with governance at a national level where both Democratic and Republican interests must be accommodated.
This year, in October, he quit in disgust.
Something has happened to the Republican Party that has brought Congress to a standstill.
Political scientists Thomas Mann and Norman Ornstein say that the Republican Party has made an extreme turn to the Right.
"We have been studying Washington politics and Congress for more than 40 years, and never have we seen them this dysfunctional," Mann and Ornstein wrote in The Washington Post in 2012. "In our past writings, we have criticized both parties when we believed it was warranted. Today, however, we have no choice but to acknowledge that the core of the problem lies with the Republican Party.
"The GOP has become an insurgent outlier in American politics. It is ideologically extreme; scornful of compromise; unmoved by conventional understanding of facts, evidence and science; and dismissive of the legitimacy of its political opposition."
The analysts point out to several factors as leading to Republican radicalisation over the decades, but single out firebrand Republican leader Newt Gingrich for playing a key role.
Ever since he was elected to Congress in 1979, Gingrich built his campaign for Republican ascendancy on a strident message of Washington corruption and a take-no-prisoners attitude of Conservative ideological purity. The strategy paid handsome dividends over the years, leading to his spectacular rise as Speaker of the House in 1995.
But in retrospect, it may have worked a little too well.
The anti-establishment fury in the grassroots that Gingrich and his fellow-travellers unleashed has turned inward. Yesterday's anti-establishment heroes can become today's villains.
Take the case of Eric Cantor, the second-ranked Republican in the House until his departure in 2014.
In 2009, when grassroots (and overwhelmingly non-college white) anger against Obama exploded into the Tea Party movement, Cantor was one of its heroes, and Republicans rode on its wave to win the House in 2010. 
In 2011, in keeping with his Tea Party persona, Cantor scuttled a budget deal worked out by Boehner and Obama.
"Cantor, more than any other politician, helped create the series of fiscal crises that have gripped Washington since Election Day (in 2012)," Ryan Lizza wrote in a profile of Cantor in The New Yorker.
Yet by 2014, Cantor was forced out of Congress, ironically enough, for not being Conservative enough. He was handed a shock defeat in a Republican primary by a virtual unknown, David Brat, whom he outspent $5 million to$122,000, Reuters said in a report.
The Republican Party in Congress is now effectively divided into two camps. There is the party establishment and then there is the camp that is fuelled by an angry grassroots group that wants its demands met, especially after 2014, when Republicans gained control of both houses.
"Even with the GOP controlling the House and Senate, Conservative activists fume at the perceived failure of Republican leaders in Washington to achieve their list of demands, from a full repeal of the president's 2010 health-care law to blocking the nuclear deal with Iran and the elimination of federal funding for Planned Parenthood," The Wall Street Journal reports.
The irony for Republicans is that the source of their solid majority in the House is also the reason why they find it so hard to govern, making them vulnerable in the presidential race of 2016: It depends on a seething grassroots base of non-college whites whose demands are too extreme to be accommodated in divided government, yet who get angrier as their demands continue to be unfulfilled.

The writer is an Atlanta (US) based freelance journalist.