Unshackling the chains of poverty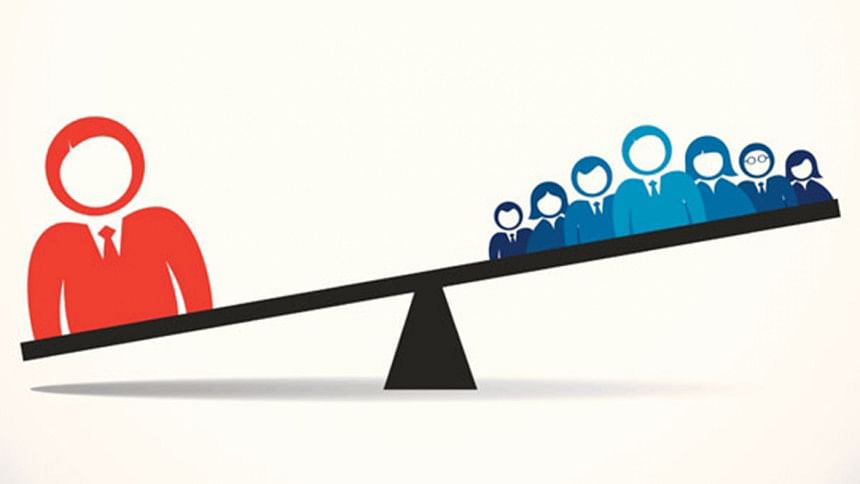 Two very positive economic developments have recently come to light. One is Bangladesh moving up a notch to rank 106th among 138 countries in the Global Competitiveness Index. Second, that the country's extreme poverty has declined to 12.9 percent in the financial year (FY) 2015-16 from 18.5 percent in 2010, according to the latest Bangladesh Development Update released by the World Bank (WB). 
The two are, it can be argued, correlated to a certain extent. For evidence, all we need to do is look at recent Chinese development history. The more competitive China became, the more jobs flocked there from overseas, some of which, eventually became well paid. Many of the initial jobs also — those of factory workers for example — were mainly taken up by those belonging to the bottom of the economic ladder. Now the increased consumption (and earnings turned into savings) brought forth by such developments is leading to much greater domestic and foreign investments there, creating high tech and better paid jobs. 
Over the years, something similar has happened in Bangladesh; with the flourishing of the ready-made garments industry where the majority of workers belong to economically poorer sections of society, some of whom, perhaps, would have had to struggle much more, had the sector not thrived the way it has. The industry has also helped many women achieve, despite its numerous imperfections, some form of economic emancipation.
But have we done the best we could have? I would say NO. In terms of increasing competitiveness, it has taken Bangladesh six long years to just move up one step. Meanwhile, one of Bangladesh's competitors, India, has made remarkable progress, moving up to 39th position in the ranking from last year's 55th. 
According to the Centre for Policy Dialogue's additional research director, "Bangladesh's performance is improving in domestic competitiveness but not in global competitiveness compared with its competing countries that has kept the country stuck in lower-end segment of business competitiveness."
Moreover, when it comes to the reduction of the extreme poverty rate, one must not, in getting too carried away with our progress, forget the near 2 crore people who are still extreme poor, which in itself is, if not an economic failure, a moral one for certain; and that some portion of the reduction was based solely on the rise of the Taka against the US dollar which can well be temporary only.
Returning to competitiveness, according to the country's businesses, the top 5 problematic factors for doing business (which naturally hamper competitiveness) are corruption, inefficient government bureaucracy, inadequate infrastructure, unskilled and uneducated workforce and limited access to financing.
And when it comes to Bangladesh, it is usually impossible to separate corruption from inefficient government bureaucracy; as sometimes, the only way to get any form of service from government institutions is by scratching the hands of bureaucrats, their lackeys, and the lackeys of their lackeys. Over time, this practice has even outlasted its criticism, as most people nowadays, disappointingly, are not even seen protesting it as much anymore, weary, perhaps, from years of their remonstrations falling on deaf ears. 
Inadequate infrastructure too has been synonymous with Bangladesh for decades. The authorities, despite their big talk, have repeatedly failed to deliver on the promised development projects. Repeated incompletion, extensions of deadlines leading to astronomically higher costs compared to initial estimates and utter incompetence in many cases have been the usual story. The extended Moghbazar-Mouchak Flyover near Sonargaon Hotel is a perfect example. 
Badly planned from the beginning, needing extensions and adjustments, the flyover is now estimated to cost taxpayers Tk 1,219 crore. But before writing the check, taxpayers should give past increases a thought. Understand that they might still be in for some unpleasant surprises. Yet, we must also state the positive. Bangladesh is expecting the completion of a second submarine cable installation by March next year. This is another form of infrastructure in today's modern age. Not of the conventional type, but necessary, nevertheless. With greater investment in technological infrastructure, the question arises; do we have the technical knowhow to operate them optimally? 
This brings us to the skilfulness of the workforce. An estimated USD 6 billion is reportedly spent on foreign skilled hands employed in various sectors of the country. According to unofficial estimates, the number of workers is around 200,000 — many without work-permits — working in mills, factories and other establishments. And the main reason for such a high number of foreign workers is the shortage of skilled or technical hands in the country as very few students choose technical education. While 60 to 70 percent of students in developed countries take up technical education, the rate is only 10 percent in Bangladesh. 
Increased investment in technological infrastructure without sufficient investment in training people to properly use them is again indicative of the short-sightedness of the authorities that we are all too familiar with. But perhaps their sight is getting better. Recently, quite a few investment initiatives in human capital and training programmes have popped up here and there. The scale of it is still quite insignificant. But one can only hope that that too will get better.
Lastly, looking at access to finances is when our jaws should hit the floor; because the scale of disaster that is the financial sector has been staggering. Numerous scandals such as the Hallmark and Bismillah Group affairs have wreaked havoc in the sector. Continuous issuance of questionable loans, followed by a lack of will for loan recovery has only compounded the problem. As of June 2016, defaults amounted to Tk 63,365 crore, which is 10.06 percent of the total outstanding loans, according to the latest data from Bangladesh Bank. The toothless restructuring of doubtful loans by the authorities, which has kept the problem rolling over, is indicative of a level of ineptitude that is baffling to say the least.
Amidst such incompetence and lack of due diligence, it is impossible to have efficient allocation of resources — something the normal functioning of banks in a free markets is supposed to adhere to. It is particularly because of the flow of funds from banks to such unproductive ends, that access to finance for productive purposes is being prevented. And whereas the other obstacles for businesses mentioned have remained in place for decades, the disastrous financial policies currently in place have the potential to obliterate the economy and, with it, all the progress we have made over the years very quickly.
Needless to say, bailouts of such corruption infested banks using taxpayer's money only encourages what in economics is called 'moral hazards'. At the same time, it is also a form of 'wealth transfer' — increasing inequality and slowing down the reduction of the extreme poverty rate. And here is where we must draw the line. For without substantial changes, not only do we face the dangerous prospects of economic bankruptcy; but we will continue pursuing a path of moral bankruptcy, indicative of the worst form of poverty. And as history teaches us, once put in place over time, unshackling the chains of such severe poverty is what is most difficult.
The writer is a member of the Editorial team.