An unelectable candidate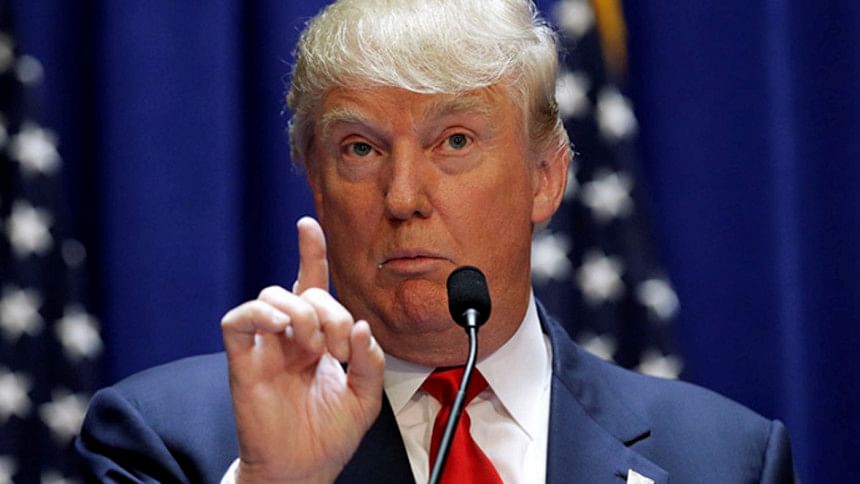 Donald trump has defied the laws of political gravity. The real estate magnate/reality TV star is doing everything a US presidential hopeful is not supposed to do. And yet he has emerged the front runner in the Republican primary contested by a series of heavyweights in the likes of Jeb Bush, Marco Rubio and Ted Cruz. 
On foreign policy, Trump says he would "knock the hell out" of ISIS, "take back" the oil and "police" the Iran nuclear agreement. As for national security, he would appoint a modern-day General MacArthur to run the army, and "nobody will be pushing us around."
He would deport all undocumented immigrants—whom he referred to as "rapists" and "murderers"—if he were elected president. He suggests fining Mexico $100,000 every time its government "really intelligently" sends a migrant over. Americans of Hispanic descent, who now make up over 17 percent of the US population and without whose support no party can win an election, were incensed.
In the Trump world, global warming is a hoax created by the Chinese. He attacked the Vietnam War record of John McCain, the Republican Party's presidential nominee in 2008 by saying sarcastically, "I like people that weren't captured." Trump himself never served in the war. He suggested that Megyn Kelly's tough questions in the recent Fox-hosted Republican debate were influenced by menstruation.
The line most of us draw between emotion and action, between thought and speech, does not seem to exist for Trump. He says what he wants to say, insults whom he wants to insult, and never, ever considers apology. Humility and reasoning are elitist weaknesses. 
The loutish billionaire, however, has certain advantages over the other candidates. It's impossible for him to contradict himself because he has no ideological beliefs. His "ideas" are mostly boasts and his speeches showmanship. His vague tax position almost exactly copies Jeb Bush's. When asked how he would bring jobs back from China, he talked about buying a hotel in Miami. 
For his audience, the only thing that matters is that he is assertive. He appeals to an admiration of supersized ego and machismo, however boorish in expression—in fact, the more vulgar and more preposterous the better. He unleashes his aggression on the world, the aggression that others would be punished for; but he remains untouchable. His ability to get away with aggressiveness, insults, lies, and threats are exactly the attributes that attract his audience to him. He has triumphed for them much like the bad guys in a movie who act out our darkest and most anarchic impulses. 
Trump's most loyal fans are white men without college degrees who feel that their position is slipping in an increasingly multicultural nation and believe only someone as "tough" as Donald Trump can regain America's rightful place in the world. To them he is a can-do capitalist success—unabashedly prosperous, fearlessly candid, hard-nosed negotiator who is, in his own words, "Really rich." 
In his universe, Americans are victims of a "plot" and conspiring foreign governments is outsmarting the soft political elite in Washington. He talks a lot about his dealmaking skills—"I went to the Wharton School of Business," he told a rally in Arizona, "I'm, like, a really smart person."
On healthcare, he agrees that a single-payer system "works in Canada… It works incredibly well in Scotland." But Obama's Affordable Care Act, which could be seen as a first step toward a single-payer system, "is a disaster."
It's impossible to argue with reasoning like this. The 69-year-old billionaire has gone beyond tautology. In advance of the first debate, he reportedly stopped studying policy papers. He doesn't have to answer policy questions, his temperament is the answer. 
But being unelectable does not mean he is not going to affect the outcome of the presidential race. He declined to pledge his support for whoever becomes the Republican nominee and then refused to rule out an independent run for the presidency. A recent ABC News/Washington Post poll shows that a third-party run by him could very well ruin the Republican Party's chances of winning back the White House much in the way that Ralph Nader cost Al Gore the presidency in 2000. That would more or less guarantee victory for Hillary Clinton, the presumptive Democratic nominee. 
US Presidential politics is the ultimate reality show and gaudy Trump knows how to play. But his act will eventually become old and his fans, inevitably, will move onto someone else. So enjoy the joy ride, Mr smart guy, while it lasts. 
Being horrible does have a political cost.
The writer is an engineer-turned-journalist.