STRAIGHT LINE
The lawmaker and the lawless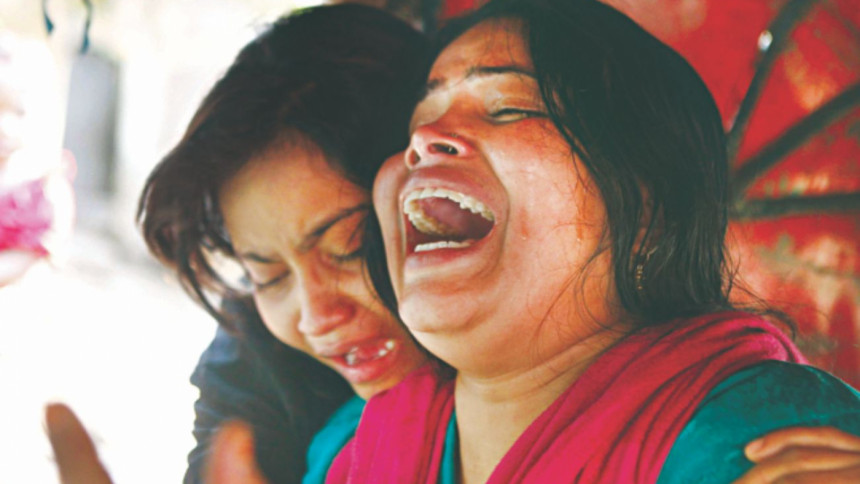 It was indeed refreshing and encouraging to find lawmaker Sheikh Fazle Noor Taposh speaking out on extrajudicial killings. He has said, "We will not tolerate killing of our leaders and activists in the name of so-called gunfight and those responsible for the killings will be brought to book". The lawmaker added, "If anyone gets injured or killed while in custody of any law enforcement agency, then that agency will have to take the responsibility".
While the young lawyer firmly states that delinquent lawmen would be subjected to legal actions, concerned citizens perhaps need to know why alleged extra judicial killings by state agencies continue to be a recurrent reality. Sustained efforts to study the malady of extra-judicial killings would reveal that otherwise sensible public leaders have often appreciated the usefulness of such killings by decrying the failure of the criminal justice system to punish inveterate criminals and bring relief to the suffering public.
The dilemma of our socio-political existence is brought home by the reality that while those wishing to see the effective writ of the rule of law are continuously pointing to the un-tenability of extra-judicial deaths as an acceptable socio-legal response, there is no dearth of supporters of such apparently abominable methods of "punishing" culprits. Random eliciting of opinions by newspapers has shown that a large majority of people entertain the view that the unsatisfactory crime and order situation can gradually be stalled by resorting to extra-judicial killings.
It is time, therefore, to do some serious introspection and find out how we have arrived at such a depressing scenario? The seriousness of the matter is warranted by the fact that if extra-judicial killings succeed in even implicitly acquiring the seal of approval, then there remains no justification to maintain and support a justice system at public expense. The question is how low shall we stoop to offend democratic sensibilities?
Will our present predicament not compel us to examine and find out if the working of various institutions in the criminal justice system have been interfered with and not allowed to carryout their duties? Such premonitions cannot be summarily dismissed in our situation where crime, criminality and criminals could not be dealt with in an objective and professional manner.
It is not too late as yet, if we decide to set our house in order and behave as a civilised society. For that to happen, the concerned authorities in the corridors of power have to exercise due diligence and act earnestly to uphold the rule of law. That is not a tall order.
The question is, do we want sustained laborious actions under the law to strengthen our democratic foundation or do we need rash desperate actions without the cover of law? The extra-judicial killings, undoubtedly, do not fit in with the first proposition. We need to be absolutely clear about that.
The ultimate punishment in the alleged 'extra-judicial' deaths, about whose credibility many are not convinced, appear as summary response from desperate executives of law enforcement. Let alone the legality of actions leading to such extreme actions, any responsible citizen would like to know if, in our often over-zealous anti-crime operations, we are just treating the symptoms without venturing to study and assess the objective conditions promoting criminality. We do not need sociologists and criminologists to tell us that present day crime is a complex social phenomenon caused by a multiplicity of factors, and determining culpability is an extremely mind-exacting task.
What we need is adequate provision of witness protection and victim support in the criminal justice administration. To make those effective, we need a large injection of governmental funds. Any further delay will only swell the ranks of summary-justice seekers and the admirers of vigilante action. The decapitating adversity of the victims of crime demand mainstream support of the system.
We need to be also aware of the requirement that the right of private defense cannot be unqualified, as that would lead to vendettas resulting in social disorder. Such right of private defense of the body extending to causing death is justifiable only upon the plea of necessity, and such necessity only arises in the prevention of forcible and atrocious crimes. The harm caused should be preventive and not punitive.
The person claiming the right of private defense extending to the cause of death must be under a bona fide apprehension or fear that death or grievous hurt would otherwise be the consequence of the assault on him if he does not defend himself.
Extra-judicial deaths, along with the surrounding circumstances, need to be scrutinised in the light of the stipulations above to examine if such deaths actually resulted from acts of self-defense by security personnel.
The fact of the matter is that when investigative skills entailing unbiased efforts emerge consequent upon a strong political direction, there should not be any need to resort to extra-legal measures. In such an atmosphere, information and intelligence would come voluntarily to the benefit of victims of crime. We must, therefore, strive to create an environment where the blight of extra-judicial killings would be blissfully absent.
The rule of law and criminal jurisprudence may appear to be unequivocally in favour of the offenders, the criminals, the law-breakers, the accused persons. That does not automatically give a license to resort to illegal measures because a civilised government must earnestly strive to demonstrate that law-enforcement effectiveness and civil liberties can co-exist in a society governed by the rule of law. 

The writer is a columnist of The Daily Star.