The last of the Tigers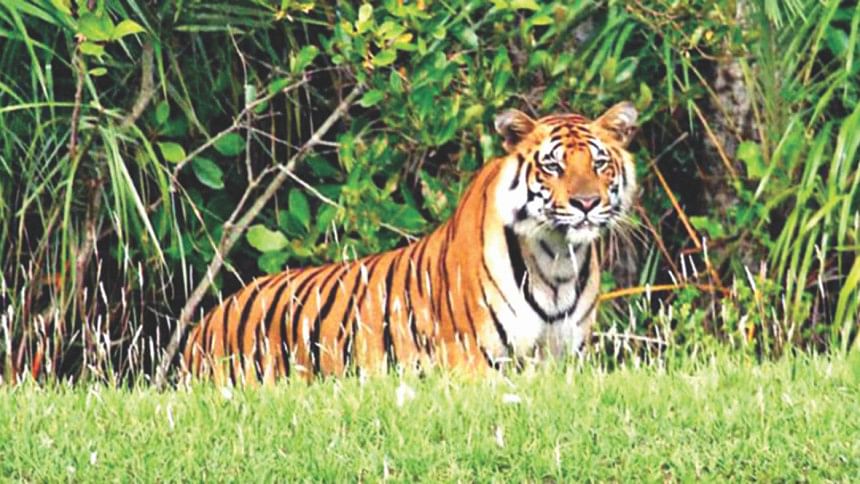 The mighty beast's hypnotic eyes may strike fear into the hearts of its prey, while its majestic thick orange- black striped fur serves as a reminder of its supremacy in the swampland, as it roams around like a king, ruling over the tropical kingdom of the Sundarbans. The spirit of a Bengal Tiger lives in the heart of every Bangladeshi. Hence, the nickname 'Tigers' for our beloved cricket team. Yet, it is a shame that our tigers, the ones in the forest, are in peril, struggling to survive in the kingdom they rule over. Our negligence in protecting our national asset has resulted in those with selfish motives to take advantage of the scenario, as their activities threaten to push these mighty creatures further towards extinction.
A land known as the home of the Royal Bengal Tiger now has a tiger population of a negligible 106, according to the latest census in 2015. The decline of the Bengal Tigers is directly linked to deforestation in the Sundarbans, a byproduct of exploding population growth and economic activity. The Bengal Tigers are known to lead solitary lives, and their ferociously territorial behaviour requires large areas of land where they can roam around. The decreasing amount of land in the Sundarbans conflicts with their natural behaviour, as competition for the limited food available increases by the day. It isn't a herculean task to figure out how the combination of habitat loss, lack of food and human conflict have resulted in the tiger population dropping in the past few decades. However, the main struggle remains in our efforts of mitigating tiger loss and achieving a sustainable increase in tiger population, for even with a tiger population size this close to extinction, our approach to the issue in hand has been rather half-hearted.
Fifty tigers had been killed in the last 14 years, and actions are yet to be taken against those responsible. Projects like the Rampal Power Plant, which threatens to cause a biodiversity catastrophe in the Sundarbans, questions our government's motives regarding safeguarding our wildlife. Only recently have we observed a couple of ambitious initiatives taken regarding tiger conservation since the protocol signed by our PM and her then Indian counterpart Manmohan Singh in 2011, with the USAID-backed Wild Team launching its high-tech Tiger Caravan to create awareness in 100 strategic locations around the country through exhibitions and social media. Although their effort in finally addressing the issue is noteworthy, the strategy taken to create awareness seems incompetent on a personal note. Time is an important factor in mitigating a problem of this magnitude, and instead of constructing new resources to create awareness, I would suggest redirecting both time and money on two very capable national assets that we already have in hand: our treasured national cricket team, whom we affectionately call 'Tigers', and the Dhaka national zoo.
A partnership with the national cricket team will not only amplify widespread awareness of tiger conservation amongst the whole national community, but will also likely pave way for other platforms, such as fundraising through both crowdsourcing and Corporate Social Responsibility (CSR) actvities. With a fan following of over 8 million on Facebook, a social media campaign on the Tigers' page will generate widespread awareness, starting from a student in Dhaka to a photocopy shop owner in Khulna. Companies looking for publicity will be encouraged to partner with the programme associated with the cricket team because of its magnitude within the community. The potential of the partnership with the national team can bring tremendous impetus to the cause. For, the sport has the tendency of bringing the nation together, and the concerned authority should capitalise on this to inspire people to come together in mitigating our tiger crisis. 
An ample portion of funding for tiger conservation needs to be directed in renovating our national zoo, for the zoo provides a platform for the community to understand and appreciate the importance of tigers by observing the handful of tigers albeit, held in captivity. By creating a better environment and focussing on activities for visitors in the zoo, the programme would be able to generate both awareness and funding for the cause in a city which possesses an educated community that can influence effective results in terms of conservation.
Perhaps our biggest threat to the protection of the Bengal Tigers would be poaching, for which a new approach is needed. Understanding the mentality of the poachers is important in solving this particular problem. Body parts of tigers, such as bones and skin, fetch large amounts of money. In order to discourage poachers from poaching, we must create alternative job opportunities in the Sundarbans. And by job opportunities I don't mean industrialising the area, but rather prioritising on ecotourism and sustainable development. Research centres and tiger breeding zones need to be developed, where these poachers can instead be trained as breeders, guides and trackers which will definitely put a dent in tiger poaching in the future.
A renowned conservationist mentioned that Bangladesh is yet to attain remarkable progress in biodiversity conservation due to many institutional limitations and lack of law implementation. We have a number of resources that are extremely capable of achieving results for the tiger conservation programme, and we must concentrate on utilising those resources at hand, instead of wasting our time and limited funds on creating new, unnecessary ones. And more importantly, if we are to address the conservation of the Royal Bengal Tiger, whom we consider our national symbol, then we must do it together in order to succeed. It is not only the government or conservation specialists who will bring a change in the scenario, but all of us in the community should work together to safeguard the 106 tigers and increase their numbers over time. The crisis at hand is a challenge for us Bangladeshis. Letting these tigers fade into extinction will be considered a failure for us as a nation and expose our negligence towards one of our most valuable heritage. Therefore, we must attempt to amplify the fading roars of the majestic beasts in the Sundarbans, for it is a golden opportunity for us to show the potential of our people in resolving a crisis as a united community.
The writer is an Environmental Economics and Policy major at Pennsylvania State University and co-founder and President of Footsteps Foundation.