Is SAARC coming apart?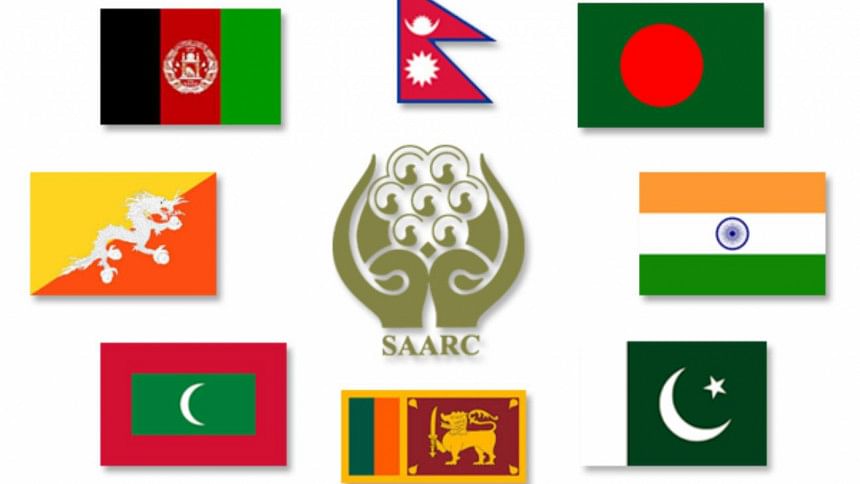 WHEN we speak of SAARC, we usually hear two reactions – cynicism and skepticism," Modi had told the 18th Kathmandu summit, which was to be held in 2012 but postponed to 2014. "Yet, South Asia is slowly coming together" he had added. Given that the latest Summit postponement is the ninth since SAARC came into being in 1985, one wonders whether the regional grouping is falling apart. 
The 19th SAARC Summit scheduled to be held in Islamabad on November 10-11 has gone for a six! It was postponed after Bangladesh and India had communicated their inability to attend, to the SAARC Secretariat. Reportedly, Bhutan and Afghanistan have also communicated their reservations to Nepal, which holds the current chairmanship of the organisation. Since the presence of all the member states is required as per SAARC's rules for the holding of its apex meetings, the postponement was inevitable and we do not know when the Summit might be held, and if at all in Pakistan. However, since India was represented at the recently held anti-corruption meeting in Islamabad by a high level delegation led by the head of its Central Vigilance Commission, India's decision has surprised a few. Nevertheless, many saw this coming after what happened in Uri. And this is perhaps another tactical move by India to fulfill its strategic objective of diplomatic isolation of Pakistan. 
India's justification is predictable. Its explanation is that, "increasing cross-border terrorist attacks in the region and growing interference in internal affairs of member states by one country have created an environment that is not conducive to the successful holding of the 19th SAARC summit in Islamabad." Bangladesh has decided to abstain on the grounds of Pakistan's repeated interference in its internal affairs demonstrated by its uncalled for reactions after the execution of war criminals in Bangladesh.
However, this is not the first time that a SAARC summit has been postponed but only once was it for a force majeure, imposed by the tsunami. Of the rest of the eight including this one, all were due to concerns of security and bilateral tensions involving either one of the two prima donnas of the region, or lack of appropriate level of preparedness. And the last SAARC Summit that Bangladesh hosted was the 13th Summit which had lived up to its numerological unpropitious tag, it being postponed twice before finally taking place in November 2005. 
In its very chequered existence, SAARC has had to encounter many ups and downs and mutual animus and distrust between India and Pakistan has dictated primarily the course it traversed. In fact, rhapsodic though it sounds, 'collective self-reliance' was the motive force behind the formulation of the association. The motivations were internally generated which made the need for its success all the more imperative. But its momentum has been regrettably stalled by developments affecting regional security, exacerbated by alleged complicity and abetment of one country. 
Certainly there has been a virtual state of freeze in Bangladesh–Pakistan relations following the latter's position on the trial of war criminals. Ministerial and secretarial level meetings under SAARC auspices were skipped or represented at levels lower than what the meetings called for. Bangladesh's umbrage at Pakistan's interference in its internal affairs is manifest in its absence at the anti-corruption conference now being held in Islamabad. 
Bangladesh's attitude was also evident in its downgrading of the level of representations in several very important meetings namely the SAARC energy regulatory conference and the home and finance ministers' conference held in Islamabad recently. In fact Pakistan's gross violation of diplomatic norms had been very evident particularly in relation to the trial and punishment of the war criminals. But recently it has ratcheted up its anti-Bangladesh stance by exploiting the platform of the Commonwealth Ministerial Action Group to pass strictures on Bangladesh, which of course it failed to do.
It is a fact that some members of SAARC see Pakistan as the promoter of terrorism in the region. And although Bangladesh has not articulated this in any international forum as yet, it was made abundantly clear by India and Afghanistan in the UNGA recently. 
Security experts, including some in India, feel boycotting SAARC Summit is a bad idea in terms of regional cooperation but there is very little to gain from this cooperation when one of its members is engaged in cross border terrorism against two of its neighbours and that the Summit would have witnessed only more acrimonious exchanges. And that is exactly where I differ. The SAARC platform could have been used to confront Pakistan for its acts. Instead of boycotting the Summit it should have been used to expose the country with hard facts. Extremism and terrorism are no longer bilateral issues but affect almost all the regional countries, and regionally must it be tackled. Not boycotting but utilising the Summit to address the regional concerns should be the agenda. And what better platform can there be than SAARC. A rethink on the decision to boycott, I feel, is in order. 
The writer is Associate Editor, The Daily Star.