Birth anniversary of Tajuddin Ahmad
Portrait of a Patriot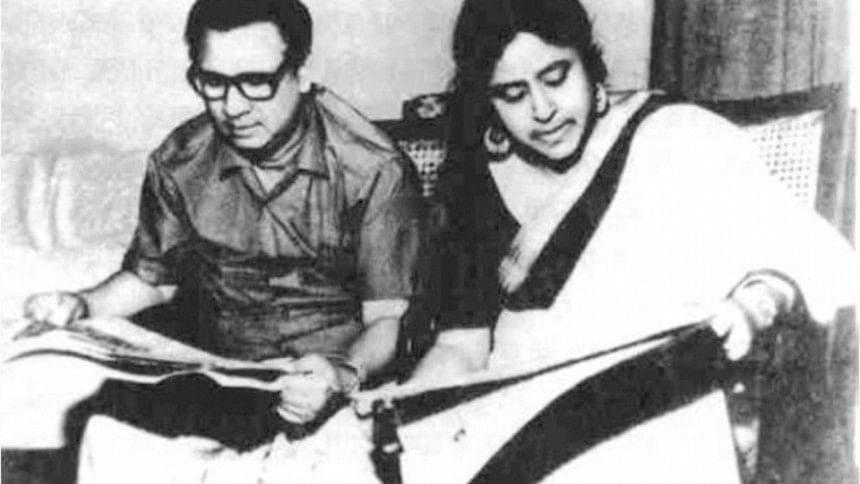 Tajuddin Ahmad, the prime minister of the provisional government-in-exile, would have been 90 this year. He was born on July 23, 1925 in Kapashia upazila. His life tragically came to an end on November 3, 1975.
In his early youth, he participated in the Pakistan movement. As he came from a rural middle class background, he could feel the hopes and aspirations of the common man. Immediately after Pakistan came into being, he realised that the feudal ruling class could not serve the interest of the Bangalis. He dissociated himself from the ruling Muslim League and joined the opposition camp.
A staunch nationalist and social democrat, Tajuddin played an active role in all the democratic movements against the autocratic Pakistani rule. He was one of the youth leaders who spearheaded the historic Language Movement and was arrested for his active participation in the movement. He joined the Awami League in 1953 and was elected general secretary of the Dhaka chapter of AL. He was elected a member of the East Pakistan Legislative Assembly in 1954 at the age of 29.
Tajuddin was elected general secretary of the AL in 1966. As a trusted lieutenant of Sheikh Mujib, he played a vital role in popularising the six-point charter. He suffered imprisonment many times in 1952, 1954, 1958, 1964 and 1966.
Tajuddin was not a revolutionary leader but was destined to shoulder a historic responsibility at a critical juncture of an armed struggle. After the crackdown on the night of March 25, Bangabandhu was arrested and Tajuddin, along with other leaders, crossed the border to organise resistance against the Pakistani army. They formally proclaimed independence on April 10. The swearing-in ceremony of the provisional government was held at Boidyanathtala, now Mujibnagar, on April 17 with Sheikh Mujibur Rahman as president and Tajuddin Ahmad as prime minister. 
After the swearing-in ceremony, Tajuddin in a statement, said, "Bangladesh is at war. It has been given no choice but to secure its right of self-determination through a national liberation struggle against the colonial oppression of West Pakistan." Giving a detailed background of the freedom movement, he said, "Sheikh Mujib, however, continued to seek a political settlement. In calling for a programme of non-cooperation on March 3, he chose the weapon of peaceful confrontation against the army of occupation as an attempt to bring them to success. ...Never in the course of any liberation struggle has non-cooperation been carried to the limits attained within Bangladesh from March 1 to 25. Non-cooperation was total."
People were united to achieve freedom at any cost. Sacrifice of the freedom fighters was immeasurable. But it was not easy to run the government-in-exile with its headquarters in Kolkata as there were bickering and groupings within the party and in its youth and student fronts. Tajuddin successfully managed them. 
A week before the surrender of the Pakistani army, in an address to the nation on December 8, Tajuddin said, "We in Bangladesh now complete the task assigned to us by history and drive the last nail into the coffin of a fascist state led by crazy militarists."
Many people who lost their near and dear ones during the Liberation War sought revenge against Pakistani collaborators, including the Urdu-speaking biharis. Basically a humanist, Tajuddin called upon the "citizens of Bangladesh to avoid the temptation to take the law into their own hands." He further assured them that the collaborators would be "punished according to the due process of law. If a single citizen of Bangladesh is harmed or hurt because of his language or racial identity, it will be a betrayal of the ideals of the founder of the nation and the flag of the free Bangladesh."   
The provisional government was a presidential form of government.
Upon his return from a Pakistani prison on January 10, 1972, Bangabandhu Sheikh Mujibur Rahman proclaimed a Provisional Constitution Ordinance of Bangladesh Order 1972 replacing the presidential form with a parliamentary form of government. Bangabandhu became the prime minister and Tajuddin was given the portfolio of the finance minister. As a minister, he was very serious, responsible and committed. He devoted all his time to the economic reconstruction of war-ravaged Bangladesh. 
Tajuddin did not do politics for personal gains. He did politics with complete honesty and integrity. But no man is above mistakes. Tajuddin was capable of rectifying his mistakes. He served with dignity. His progressive ideas and independent views led to his removal from the cabinet. He resigned on October 26, 1974.
Tajuddin had many virtues. He led a disciplined life. From his student days, he maintained a diary. He recorded daily events and his thoughts in his diaries, which are invaluable sources of study material for researchers of social and political history studying that period. His scholarship could have well taken him a long way in the academic field, but he preferred the challenging world of politics.
I knew him from up close. As a politician, he was a moderate. He was a man of extraordinary political insight and was friendly, affectionate and generous. He lived a simple life. Everybody who knew him well is aware of his humility and merit. 
Sometimes he differed with his leader but he was always loyal to Bangabandhu. As far as human qualities were concerned, loyalty and firmness of principles were what he valued most. He embraced death for his leader but he will remain in the hearts of the people of Bangladesh for ages.
The writer is a noted author, researcher and social activist.